.
Many folks have been asking about the solar setup. Well that fellow is the success story of the day. "Bob the (reef)builder" on the MASA site originally set up this screen that I posted a few weeks ago: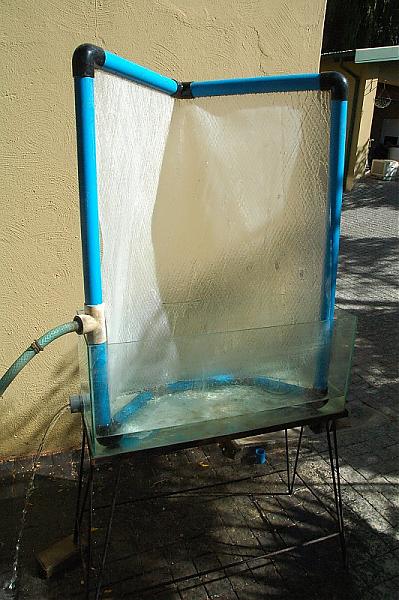 Here are his updates:
9/21: Thank you for the input Santa monica, I will definately be doing this on an expanded basis. I think I will put a three ft tank in the sun and do what you've got on a slightly larger scale. Great simple fix to an ongoing problem by most aquarists.
9/28: The film is plastic and gets wet totally. Its 1m x 1m in size. The water input is also the stand. The strands run diagnally which makes the water flow very nicely. I'm happy with it and will let it stand in the sun. Hopefully get rid of the hair algae problem I have. You should see my actual tank to know why I jumped at this idea. The construction is so easy though. And if it works a quarter as well as Santa says it does, it will be like Christmas.
10/19: I changed this one as the upright design did not get enought sun. I put it on a 45degree angle and that was better: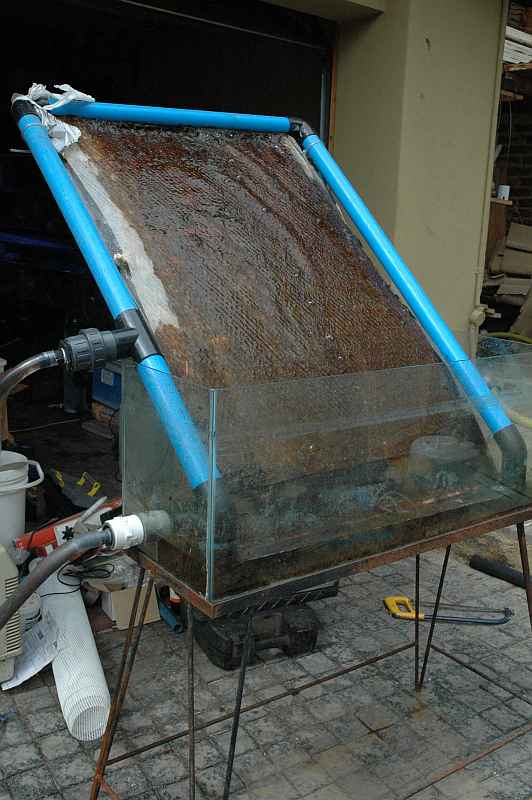 10/25: It worked like a bomb. Phosphates down to 0.02 - 0.01 ppm (this is on a hanna meter and is very low). Normal test would just read undetectable. [Previously] the best I ever got it to trying every trick in the book including Zeo and Vodka, Lanthinum and many other phosphate removers was 0.03.
.
Update Of The Day: Growth Progression

Blank screens usually start off with a light brown slime of diatoms, unless the water is really high in nitrate and phosphate, in which it might start with dark spots. After a few weeks, green slime or green hair will usually grow. And from that point on, it will be a mix of brown and green, all of which is easily cleaned off. After a few months, however, and if you have enough light (and maybe pulsed flow), you may start seeing real red/brown turf, or possibly bright green turf. You'll know that they are turf because they won't come off no matter what you do, except with a razor blade.
.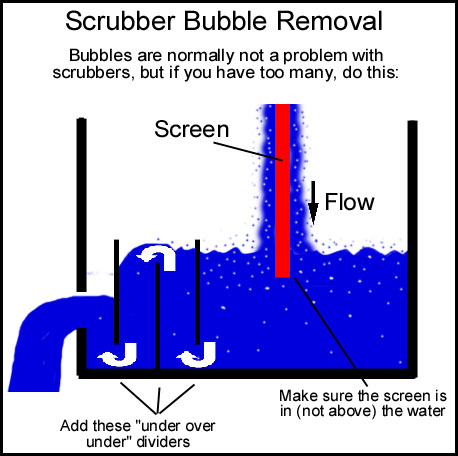 Text Version:
There should not be any bubbles if a scrubber is set up correctly with smooth flow into the water below. But if you have too many bubbles, make sure the bottom of the screen goes all the way down below the waterline, so there is no waterfall off the bottom, and design the scrubber with an "under over under" divider section like some people use in sumps.
.
.
.
Results Of The Day:

Corinna on the AC site: "Think we should just call you Santa!! After 3 weeks my screen is forming wine red spots, the pods are having pod parties and making babies, the seahorses are noticeably gaining weight and the water is decidedly 'sparklier'.Thanks."

jfdelacruz on the RP site: "Overfeeding does wonders! i dont know how and why but, the ATS seems to be an extra 20 gallons for my tank because even if I overfeed, nothing in my tank seems to be going bad! water is always crystal clear too! (I do have seagel in there running for about 2 months already) this ATS is a blessing."
.
.
bubble traps are always great. i saw ReefSki's thread on RC and i was wonder what that was and someone even explainded it, but the visuals really did that better. i'm considering this for my 55g, but not too sure yet.
---
And God said, Let us make man in our image, after our likeness: and let them have dominion over the fish of the sea...
75g Build
Kellsindells build
2.5 Pico Build
Member of DFWMAS ... PBITAWA
Michael Hernandez
Quick question, i don't think i saw the answer if i missed it sorry.

Do you have to wait for a cycle period before doing this? or a time after you start this? like 2mo or more? if you start too soon will it start a small cycle like a skimmer?
---
And God said, Let us make man in our image, after our likeness: and let them have dominion over the fish of the sea...
75g Build
Kellsindells build
2.5 Pico Build
Member of DFWMAS ... PBITAWA
Michael Hernandez
Kell: A scrubber does not cause any cycles, nor is it affected by any cycles. You can start one any time.
Reminder Of The Day:

If you are home when a power outage occurs, then just like you would manually try to oxygenate your tank, you would also take the screen out and set it in some water (even tap water in the sink.) Problem solved, no damage. It can sit there for two days with no ill effects. You could even put it in a shallow pan of water outside in the sun, where it will probaby grow :)

If you are not home, however, it becomes a question of which you lose first, your screen or your whole display. Long term (days) you are going to lose both, so we'll look at short term (hours). Somewhere in-between is the question: If you are not home when the power goes out for 2, 3, 4, 5 hours, etc., then how much of your screen will you lose, and how much of the nutrients will be "released" back into the water?

Well, most screens are designed to be up and out-of-contact with the water, so there will be zero "release" of nutrients during the power-outage. And floating screens that stay in contact with the water will not die or release nutrients at all in a short-term outage, because they stay wet. So immediate release of nutirents is not a factor in any situation.

The real question is long term loss of filtering, i.e., how much of the screen will die off during the outage. When you get back home, the screen has been drying for a few hours, but is still moist. What you do is put it in your sink with water and give the dead parts a chance to fall off. Not sure of how much time is needed, but just do a regular cleaning of the screen every few hours until it seems that most of the dead stuff is removed. Doing this in the sink will prevent any nutrients from getting back into the tank. You then put the screen back into operation, and it's no different than if you just did a regular cleaning. And this is the worst case.

I myself unplugged the wrong plug once and left the screen 6 hours with no flow. The fan was still on, but the lights were off at the time. It was all still moist, yet a bit hardened. I did not think at the time to remove the outer layers of dead stuff, so I just put it back into operation right way. What happened was the next day or two there was a very slight increase in N from zero (clear Salifert) to a very slight pink; probably got up to about .5 or 1. P did not ever increase, however. And this was without properly removing the dead stuff. So overall, I don't think power outages are really that eventfull for scrubbers.
Results Of The Day:

"pong" on the RP site: "Still havent cleaned my screen... and no water change... no problems! im just killing the pods by dosing kalk and all my top-off on the screen (since early october, no cleaning of the screen, last water change... august? september?)

"jski711" on the RS site: "the last phosphate test I had done at the lfs it was undetectable on the hanna phosphate photometer, and I only have the one side of my screen lit for now!!!"

"col" on the UR site: "Todays tests are P = 0.03, N = 5. the algae looks the same, green slime. Skimmer is still running 24/7, feeding 2-3 times a day for fat fish. Algae on the rocks is subsiding, and water conditions have never been better."
Posting Rules

You may not post new threads

You may not post replies

You may not post attachments

You may not edit your posts

---

HTML code is Off

---