Updates on the LED test. 3 pics from 2nd cleaning, and 1 vid from 3rd cleaning:
2nd cleaning, 7 days, top: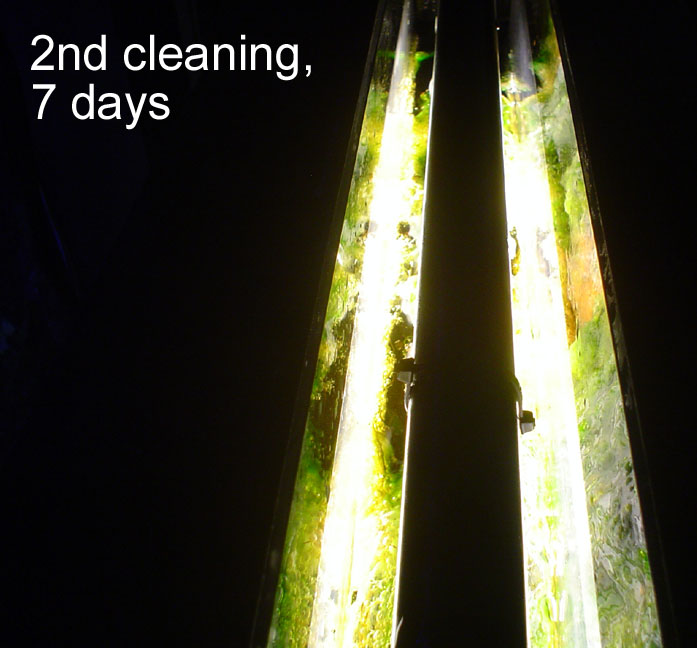 2nd cleaning, 7 days, T5: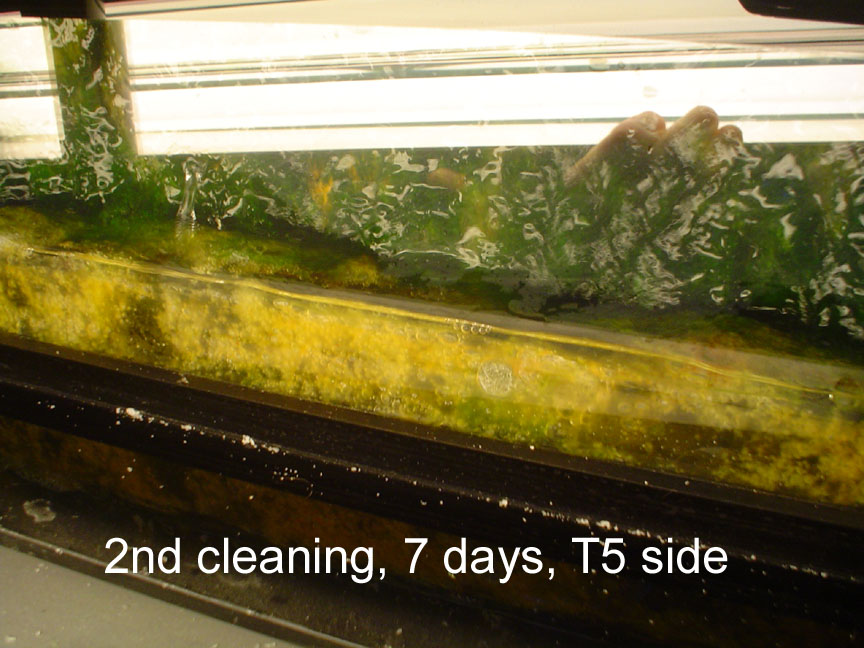 2nd cleaning, 7 days, LED: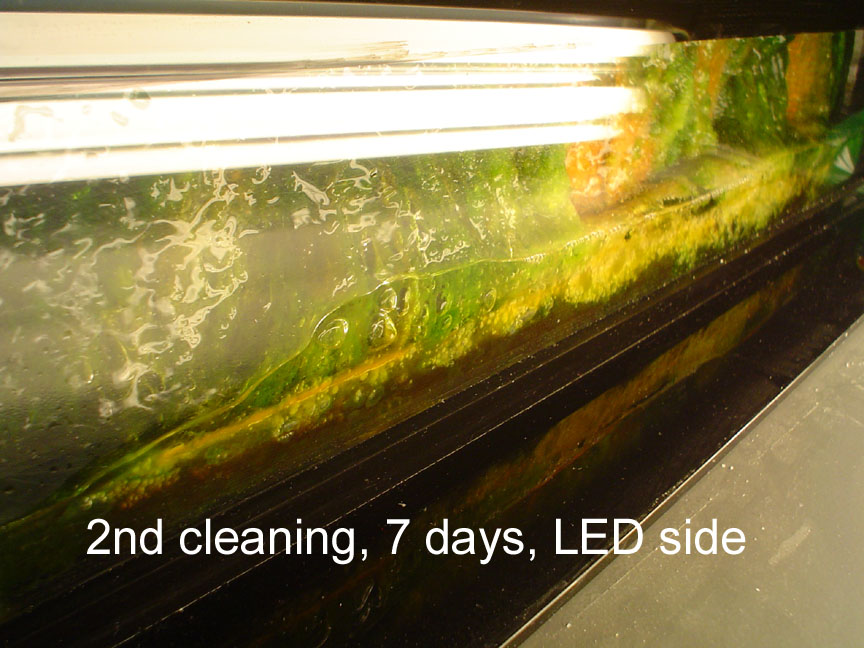 3rd cleaning, 11 days:
.
.
.
Coming in 2012:

Algae Scrubber II

(nano owners rejoice)
Update:

The cyano stage: Some people, who start using a scrubber for the first time, get rid of their nuisance algae but then get some cyano that they never had before. The reason for this is that cyano is able to "fix" it's own nitrogen, which means it is good at getting the last nutrients that are available. However, once these last nutrients are removed, the cyano will go away too. And the more powerful the scrubber is, the quicker this happens.
Since I've been working on the new scrubber, I've not done much with the 25 nano model. So if anyone would like to test, build, and market it, I could sell you the patent application and you could take it over. It is a U.S. PPA which expires March 7, 2012. You would then file your own U.S. NPA.
i had an idea about making one of these with some supplies that i already have laying around

i was thing about taking tubing and wraping it around a screen hachery links provided for better illistration
and place a light inside the hatchery and allow the alge to grow all around it make alot of surface area for alge in a small space that i could place in my fresh water sump i wanted to build

but i have one question in the first few pages of this post it said that the bottom of the screen needs to be in the water how important is this

any tips on how this would work or if it wont
and how important the water touching the bottom


thanks
---
i have a dog named fish
30g long
55g -planted
125g 4ft long octagonal
55g
MALAWIS COMING SOON
10g hospital
-empty- :]
You can't have any water in there... the waterfall needs to be in air.
New scrubber update: The new design will not require a slot in the pipe. If you have not built one yet, and you have trouble with DIY, then you might wait for the new DIY plans to be posted; there should be no hard-to-cut pieces (like a slot), at least for the very simple versions.
| | |
| --- | --- |
| The Following User Says Thank You to SantaMonica For This Useful Post: | |
Here is a comparison of the types of bulbs to use:
Need translator for Availability Schedule...
Availability Schedule
I have Chinese finished, but I need other languages too. So if you or someone you know can translate that page into another language and email it to me on a Word 2000 document, let me know how much $ it would cost.
Thanks!
Posting Rules

You may not post new threads

You may not post replies

You may not post attachments

You may not edit your posts

---

HTML code is Off

---