LA Fish Guys did a neat little scrubber review...

A reminder about lighting:

Stronger lighting is always better, until you start "burning" the algae. Burned algae will be yellow, because it is getting too much light but not enough nutrients from the flow. More light requires more nutrients, which give you more filtering.

So if you have yellow growth, increase the flow so that more nutrient are delivered to the algae. If you can't increase flow, then add some iron. If you can't add iron, then reduce the number of hours the lights are on. Do not reduce the wattage, however; stronger light for less hours is better than weaker light for more hours, because weaker light will grow darker algae. Stronger light grows bright green algae, which does the most filtering.
This is an experimental fix for brown/black growth, and also for extending the life of the bulbs past 3 months:

1. Use bulbs with twice the wattage as recommended; so use 2 real watts per square inch (6.25 sq cm) of screen. Thus a screen 10 X 10 inches = 100 square inches would get 200 total real watts of light instead of 100 watts.

2. Run the lights for half as many hours as recommended; this would be 9 hours instead of 18.

3. Around 3 months, when the growth starts to get darker (because the bulbs are getting weaker), start increasing hours until it grows green again. When you reach 18 hours, it's time for new bulbs.

This does a few things: The first is obvious; you will get longer bulb life as long as you remember to increase the hours when you get to 3 months. But stronger light can also turn black/brown growth into green, no matter how high the nutrients are, if the light is strong enough. The trick is just to not burn the algae; thus the hours have to be less.

When the light is strong (compared to the nutrients), more of the growth is physical algae, and it's also more green (less proteins). When the light is weak (compared to the nutrients), more of the growth is DOC and dark physical growth (more proteins).
Coming Soon: Good news for nano owners who want scrubbers. If you have not been able to easily put a scrubber below or above your tank, this might work for you. And you probably already have the parts to make it.
LED test on SM100:
9 days of growth after cleaning. Fluorescent on left, LED on right. LED is the 50 watt Grow Light from EshineSystems in China. Actually uses 41 watts per the KillOwatt. Was raised up 3/4 inch to fit in middle of scrubber window. Camera is unfortunately an old one, since new one is being repaired. Growth was very similar on both sides; too similar to tell them apart. Growth on the LED side was floating a bit higher since it had no light near the bottom. LED was about $140 including shipping, and I asked for the black case: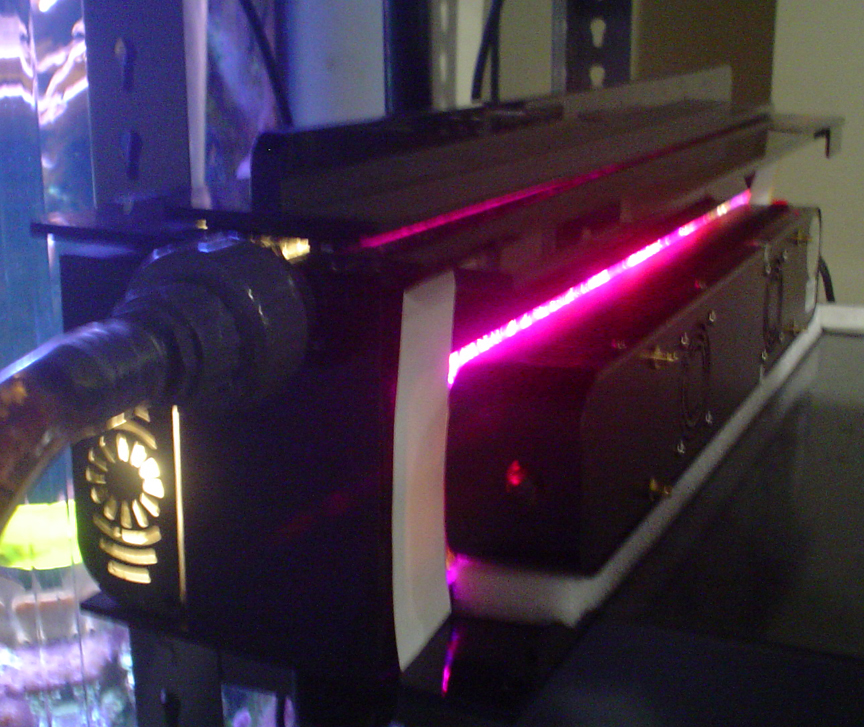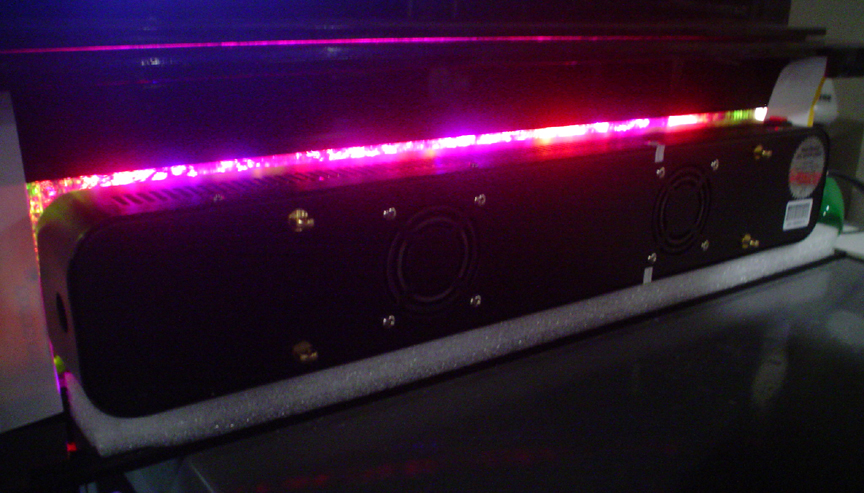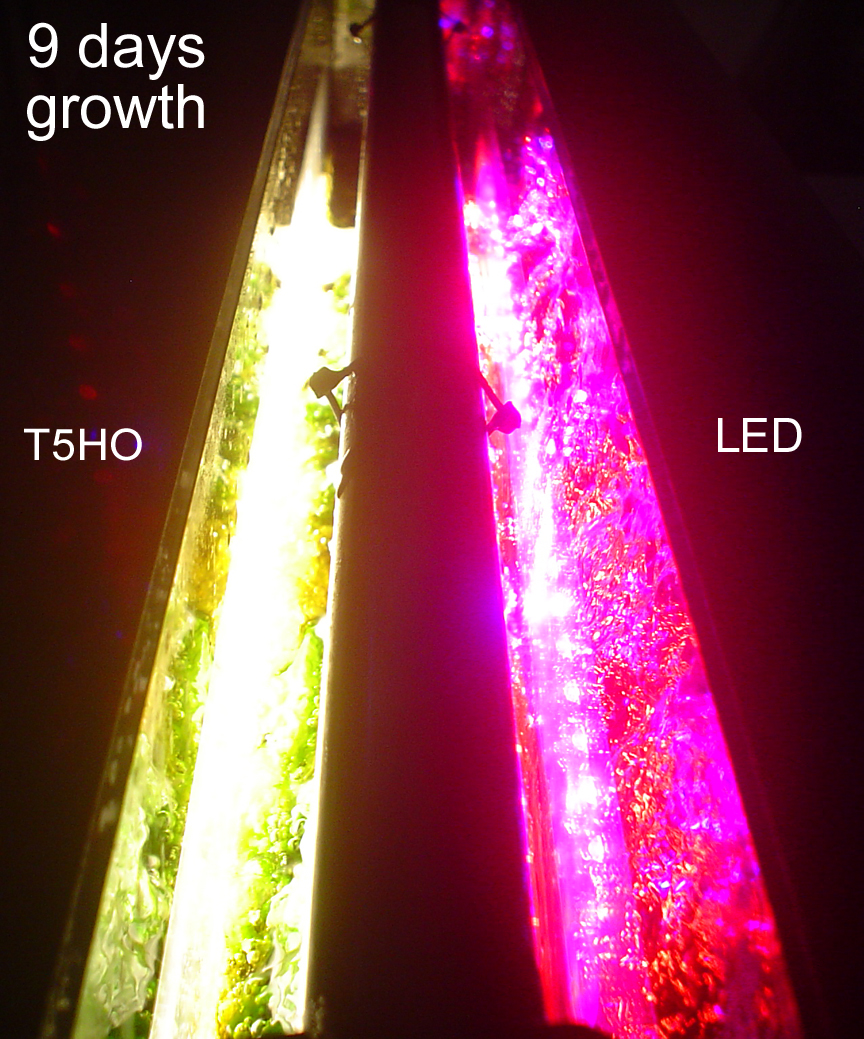 Video:
LED:
3G 50W LED Grow Light - LED Grow Light, LED Aquarium Light, LED Lighting...
New Scrubber Sizing Guideline (Sept 2011)

Scrubbers will now be sized according to feeding. Nutrients "in" (feeding) must equal nutrients "out" (scrubber growth), no matter how many gallons you have. So...

An example VERTICAL waterfall screen size is 3 X 4 inches = 12 square inches of screen (7.5 X 10 cm = 75 sq cm) with a total of 12 real watts (not equivalent) of fluorescent light for 18 hours a day. If all 12 watts are on one side, it is a 1-sided screen. If 6 watts are on each side, it is a 2-sided screen, but the total is still 12 watts for 18 hours a day. This screen size and wattage should be able to handle the following amounts of daily feeding:

1 frozen cube per day (2-sided screen)
1/2 frozen cube per day (1-sided screen)
10 pinches of flake food per day (2-sided screen)
5 pinches of flake food per day (1-sided screen)
10 square inches (50 sq cm) of nori per day (2-sided screen)
5 square inches (50 sq cm) of nori per day (1-sided screen)
0.1 dry ounce (2.8 grams) of pellet food per day (2-sided screen)
0.05 dry ounce (1.4 grams) of pellet food per day (1-sided screen)

High-wattage technique: Double the wattage, and cut the hours in half (to 9 per day). This will get brown screens to grow green much faster. Thus the example above would be 12 watts on each side, for a total of 24 watts, but for only 9 hours per day. If growth starts to turn YELLOW, then increase the flow, or add iron, or reduce the number of hours. And since the bulbs are operating for 9 hours instead of 18, they will last 6 months instead of 3 months.

HORIZONTAL screens: Multiply the screen size by 4, and the wattage by 1.5

Flow is 24 hours, and is at least 35 gph per inch of width of screen [60 lph per cm], EVEN IF one sided or horizontal.

Very rough screen made of roughed-up-like-a-cactus plastic canvas.

Clean algae off of screen every 7 to 14 days, so that you can see the white screen material.
Algae Scrubber
---
I have an algae scrubber with a 10 inch screen and a moderate flow- at the moment- and I am getting loads of algae which I clean off weekly. I intend to add two mandarin fish next week. I have a 6x2x2 with good flow and moderate stocking levels. I have a huge amount of "live rock" and reasonable lighting. I am hoping for almost zero nitrates & phosphates because if these levels are high a reef tank does not flourish. Will keep this up to date- hopefully on a weekly basis. John
Sounds good.

You'll probably want small mandarins, who can eat the baby copepods that come from scrubbers.
Pods
---
I was hoping that I would be able to get normal size mandarins and that the pods will be so numerous that some will get into my live rock and grow. John
Start with one then, and make sure he has not been raised on any kind of large food.
Posting Rules

You may not post new threads

You may not post replies

You may not post attachments

You may not edit your posts

---

HTML code is Off

---