Then it's not related to the scrubber. You just need a powerhead pointed up at the surface.
Cool thanks for the tip although i do have power heads running on the top of my tank but not in the bucket .. oh well i guess it doesn't hurt anything it's just an observation that i have made since i turned off my skimmer.
thought i would share my water test results:
PH: 8.1
Ammonia: 0.3
Nitrite 0.1
Nitrate 10
Calcium 460
Carbonate hardness 10
Phosphate 1.5
Salinity 1.026
All of these are in ppm. so it works .. yay :P I'm expecting it to come down over the coming weeks. but it might take a bit longer as i gave one of my screens away to a friend to get his going a bit quicker.
I built his using my second ver design, and made it all easy to get at with quick release cam locks with a 25 ml barb on one end and poly pipe fitting on the other (45 ml) and just a 45 ml end cap to finish it off. It's lit with 5000k CFL globes and the screens are held up with green plastic coated garden ties. It's not quite operational yet but i have high hopes for it i have included a pic of that :) sorry the pic is a little grainy as it was a bit dark and it was taken with my phone.
You might want to put some reflectors on those bulbs
Quote:
You might want to put some reflectors on those bulbs
would it be possible to post a pic of the type of reflectors that your refering to .. i have not had much luck tracking something down that would work .. all the ones i have seen go all the way around the globe .. i would be thinking that the ones that your talking about would only go half way ?
---
Last edited by wake49; 03-18-2010 at

01:40 PM

.
| | |
| --- | --- |
| The Following User Says Thank You to SantaMonica For This Useful Post: | |
that's cool .. i have not seen anything like that for sale but i will keep my eyes open :P
but i'm not sure that my scrubber that i have just built would need it .. it's basically in a white box the tank stand is made out of white malimine and i had a shelf made by a mate who is a cabinet maker out of the same stuff and the open bit that you see is a door .. which is again .. white so it should have quite a lot of reflectivity when the door is closed ?
but there isnt anywhere else where the light escapes .. it's sealed pretty well, i also have some pics of it going i finished it off yesterday and the owners are pretty happy with it .. it's quiet too more quiet than mine lol even though they are running more pressure though it .. as they went with a 2400 L an hour return pump, but i suspect that it could run a lot more than that maybe up to 3500L ? but at 2400 they have a pretty good flow over the screen.
anyways thanks again guys this has been heaps of fun and it's a great project to undertake :P
A reflector would double your growth. Or, would cause green to grow instead of brown. And would double your filtering too. Light-power, and getting the light to the screen, are critical. If you look at my acrylic pics, even at the end of the screen where the bulbs end, it starts turning brown, even though the bulb is only 2 inches away (and with a reflector).
What to dose when you don't do waterchanges, for those with SW tanks also....
Many folks ask if anything needs to be dosed, if they stop doing water changes. If a reef tank, you'll certainly need to dose Calcium and Alkalinity. Then some Magnesium when needed. And maybe Strontium. The easiest way to dose Cal and Alk is by mixing some powdered lime with your topoff water. For details, search for "kalkwasser dripping". The powder is cheap from here:
http://store.mrswagesstore.com/mrswagpiclim.html
Everything else is supplied by the food you feed, and by the organics from the scrubber. This includes all the trace elements that you always hear about. Remember that in the ocean, 90% of all life (besides bacteria) is algae. Algae provides all the food for everything that lives in the ocean, by coverting the sun into organics. And included in these organics are the trace elements that your tank needs too. Cal and Alk, however, are inorganic, and are used up quickly by corals and coralline, so you need to dose them often or continuously. Mag is dosed when your test says to. And the same with Strontium.
Here is the design for the nano scrubber box. This can be easily built by giving the plans to an acrylic shop. They can either build it for you, or, they can cut the pieces for you and you can silicone it together (use only aquarium-safe silicone)...
full size:
http://www.radio-media.com/fish/25.jpg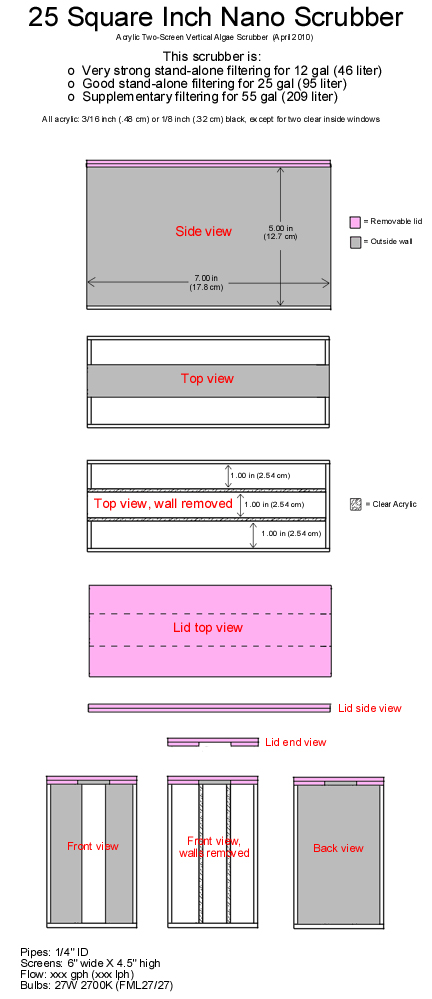 thats awesome!, i am in the middle of designing and building a sump for my reef tank and i will deffinately make one of these for my tank!
Posting Rules

You may not post new threads

You may not post replies

You may not post attachments

You may not edit your posts

---

HTML code is Off

---