Quote:
the corals could use a lot more food if you want them to live like the do naturally. If you have ever had a bleached coral, you are looking at starvation. The amount of food available in a tank is a tiny percentage of what's available on any reef. Yes it has been measured, and in order to give your corals the same amount of food (and thus the same amount of growth) as in the ocean, a 100 gal tank would need to be fed over one pound of food every day.
Are you recommending putting 1 pound of food per day per coral into a tank with a scubber? Of course not. Lets talk apples to apples if we are going to have an intelligent conversation.
Quote:
And of course there are the entire group of pure non-photo corals which have zero chance with a skimmer.
Obviously, but this is a tiny tiny percentage of the hobby. Clearly we have to learn the conditions that our animals need to thrive before we purchase them. The animals you describe have extremely high difficultly levels to care for. Charles Delbeck recently published an article in Coral Magazine on such a system, and he is learning day to day on the demands of such systems. I won't pretend for a second to be an expert on non-photosynthetic corals. Only a few select people in our hobby has much experience in this area. This topic has no relevance to the internet forum member.
Quote:
And even with a skimmer, you still need to spend more money and time adding on some way to remove Inorganic Nitrate and Inorganic Phosphate, since skimmers don't.
I simply have no understanding why you continue to attempt to say that our systems do not function properly to have success in keeping reef tanks. A protein skimmer, live rock, and live sand is a proven technique that is widely successful all over the world. This conversation is you against thousands of people with successful tanks. The most obvious is David Saxby.
David Saxby | January 2007 Tank of the Month | UltimateReef.Com
Please tell me how his aquarium is not an overwhelming success.
Again, I am not saying your method does not work. I simply do not understand why you would feel the need to attack the competition. It is inappropriate, unprofessional for a businessman (which you are, given that you sell these units), and reeks of used car salesman.
Quote:
Proteins and nitrates are not acids. What you are referring to is the first part of the nitrogen cycle which uses one unit of carbonate for every unit of ammonia. However, (1) the second part of the nitrogen cycle puts the carbonate back.
I'm not going to take the time to pull out the books. I have posted countless references on this forum that explain how carbonates are removed during the process of biological breakdown. I will leave the burden of proof in your court, given that you are the one offering a product for sale and actually have something to gain in this debate. I am just here helping people have successful aquariums. Either way, if I am understanding algae scrubbers correctly, both the scrubber and skimmer help to prevent his situation from occurring.
Quote:
I'm not against skimmers either. But I am against people having the wrong information. I'll guarantee that most everyone reading this thinks that the stuff that skimmers pull out is "bad stuff", and have no idea that it's actually coral food, and that it IS the stuff that feeds coral in the ocean. Now of course if you have not corals to feed, it's a different story.
Actually you are very much against skimmers. You attack them when given the opportunity. And this is the sort of misinformation that causes people to make ridiculous decisions such as attempting to use freshwater filtration concepts on a marine aquarium. I have no problem with preaching algae scrubbers as a less expensive alternative to skimmers, but to attack the benefits of a skimmer hinders the progress in this hobby.
I am not looking for a long running debate on this. But from time to time the other side of this discussion has to be given, because your thread is full of authoritative sounding information that is outside of the mainstream of what the experts in this hobby support. You only have to reach for the nearest magazine or book, or visit behind the scenes of a public aquarium to see this in action.
No I don't think your pump has enough gph for the 100. You don't want to under-power the 100 (it is not an economy design). So here are some options:

1. Get a separate pump for the 100, and set the scrubber on top of your tank so it can drain into it (this is what it was designed for.) This will be the most money and most space used in your display, but will the be strongest filtering (no more nuisance algae again).

2. Reduce the length of the scrubber. If your pumps does 1800 lph, that's 473 gph, so you can have a 473 divded by 35 equals about a 13 inch (34 cm) wide screen. Your tank is 75 gal, so 75 square inches of screen is fine, which would make the screen 75 divided by 13 equals about 6 inches (15cm) tall. The difficult part here would be finding lighing units that are about 13 inches long, and which put out about 25 watts each. You could custom-fit some T5HO's if you know how (best).
Santa Monica 100 growth pics for first 7 days:
No seeding. Screen is one layer of roughed up playsic canvas, never used before: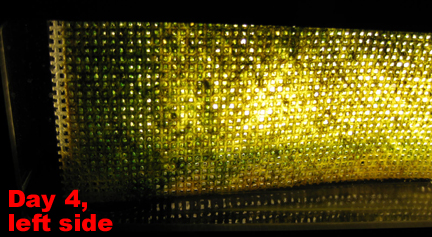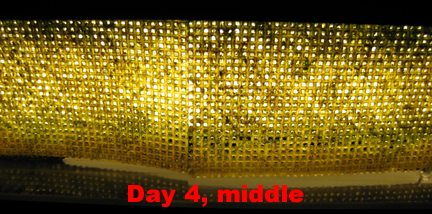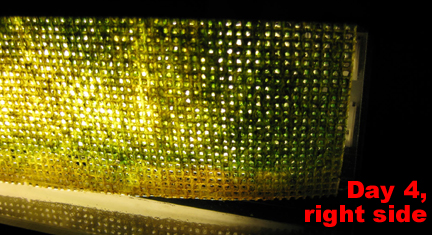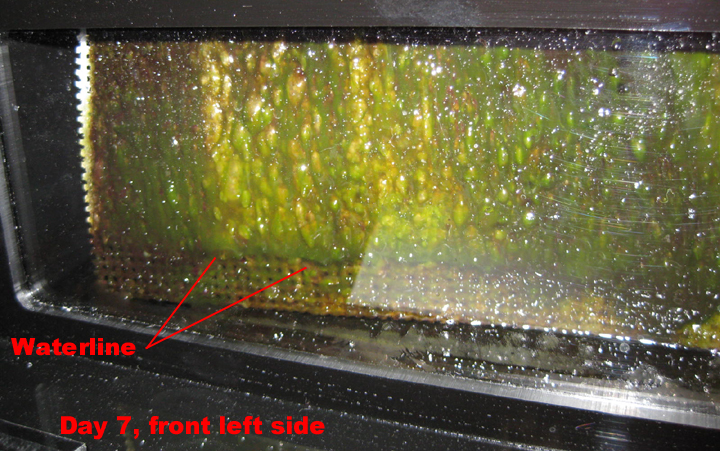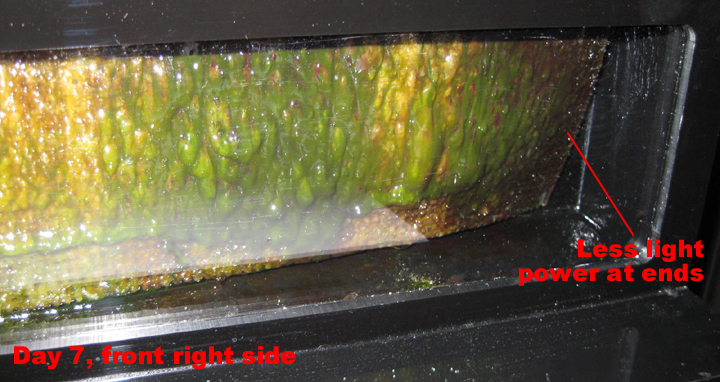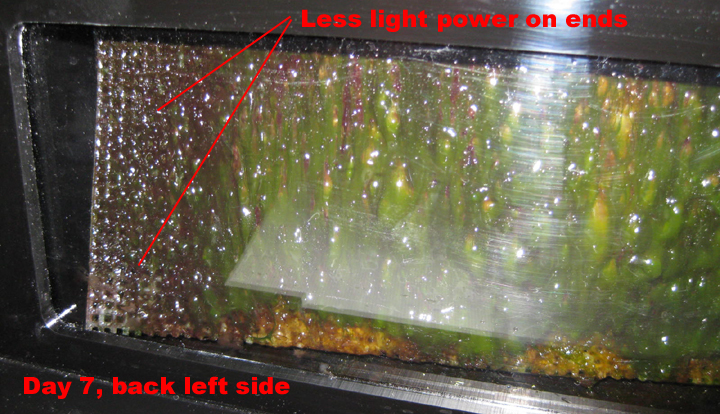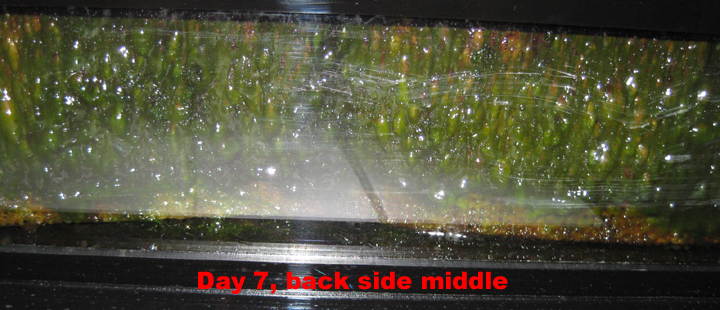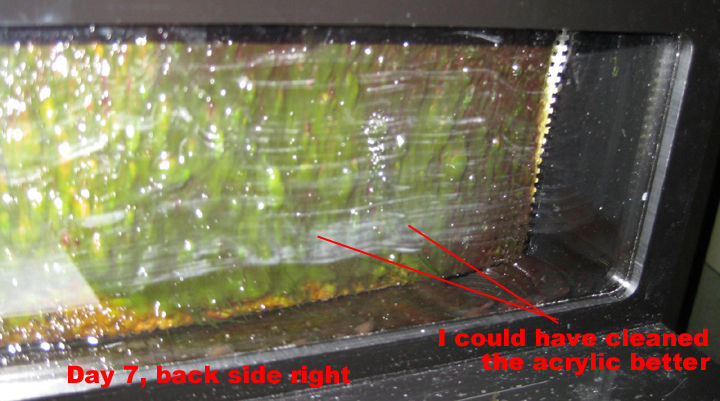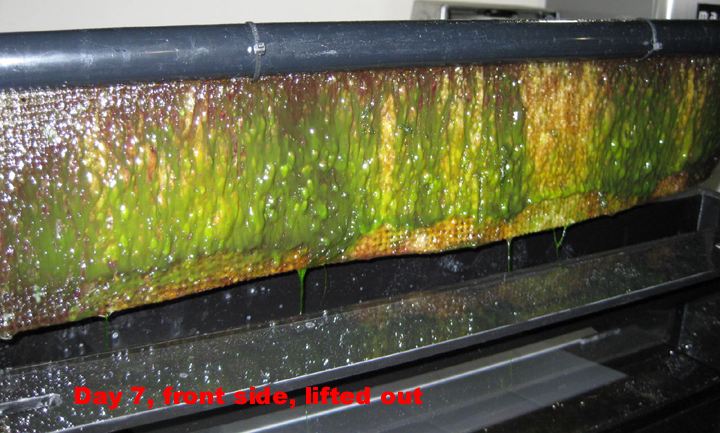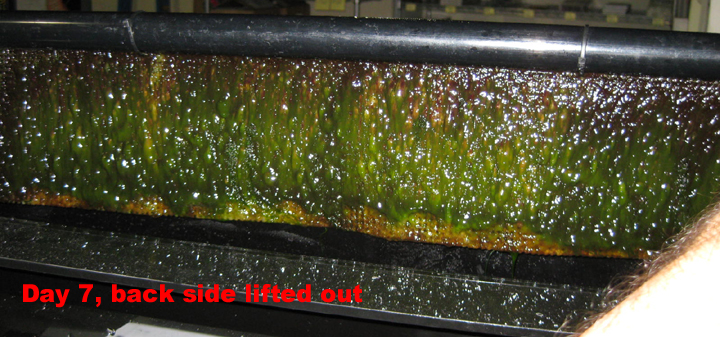 Videos:
Front Side:
YouTube - Santa Monica 100 -- First 7 days of growth, front side
Back Side:
YouTube - Santa Monica 100 -- First 7 days of growth, back side
.
.
.
Here is the initial design for a nano scrubber. Nanos have always been the hardest to DIY a scrubber for. This scrubber is designed to be mounted above the waterline of a nano, and then drain down into it, without needing a real sump below the tank. It will come with a pump that will go into the display (like a powerhead) or into the hidden "sump" section at the back of the tank. I'm building a test version of it now, and if it works out good I'll post the plans for others to build: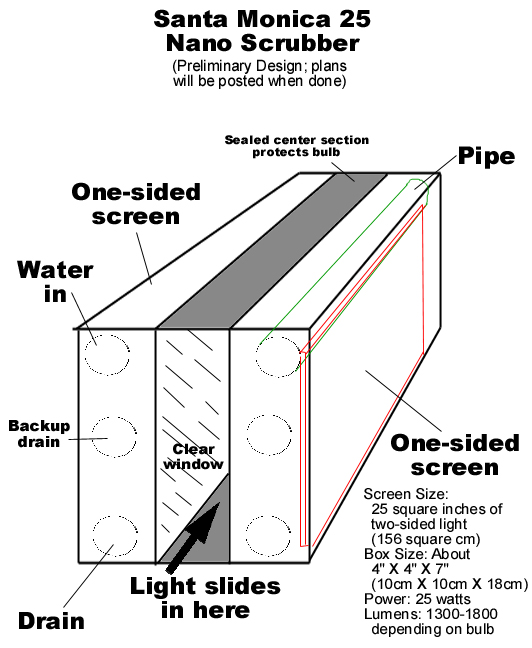 Hey guys,
Just a quick post to update you on how i went with my ATS. i have built a prototype scrubber and it "seems" to be working .. i havnt been game enough to take a water sample in to get tested but my last one looked ok, i still had to clean my glass today and i don't think my screen is growing as i would have expected it too. But this is what i have built, i had to make a few compromises to allow for the wife factor, and the amount of money that i was aloud to spend on this project. I have made a poly pipe frame using 2 T pieces 4 end caps 2 corner pieces and a 3rd t piece for the inlet i have reused all the aqua one marisys pipes clamps hang on box and 2000 Lt an hour return pump.
i probably have not explained that very well but i have pics :)
Few days in:
Few more days in:
Today :
it seems to me making spurty noises but i think it's because i didn't make the slit that the screen sits in quite large enough, or i have an air leak somewhere either way am looking to make ver 2 which will be made out of flexible hose and snap on fittings will hang it will curtain hooks and larger pipe am thinking that it should help with the noises as it wont be held together with silicone :P
the plastic canvas i found at spotlight were the largest ones that they had .. i was going to make it larger but the space inside my cupboard is limited so am hoping that i have enough surface area for algae growth.
i welcome comments and suggestions :P
You have plenty of area for up to a 100 gal tank, as long as there is a bulb on both sides. That bulbs looks pretty strong, so it is going to over-power the center section. If you can move it farther away, and then use a reflector, you will get more even coverage across the screen.

I like that you have two layers of screen... did you rough them up?
Hi guys thanks for the response.

[QUOTE]You have plenty of area for up to a 100 gal tank/QUOTE]

my tank is 285L not sure what that is in gallons .

[QUOTE]That bulbs looks pretty strong/QUOTE]

yea it's a 6000k globe and Bunnings didn't sell reflectors :(

[QUOTE]I like that you have two layers of screen... did you rough them up?/QUOTE]
yea i roughed it up with a brick on the concrete at the back of my house .. not ideal i know but it worked :) probably not as well as using the hole saw though.

how much growth should i have on my screen by now and do you think it's at the stage where it needs a clean ? it's been about 7 ish days since it started.

many thanks for all your help and grats on a very helpful and informative forum :)
another thing that i have noticed is that i seem to have more protein bubbles both in the bucket and on top of my tank is that normal too ?
Is 75 gal.

Time to clean.

Scrubbers don't affect skimmers. The amount of skimming is based on how much you feed, because that's what the skimmer is removing... food, and waste, which is coral food too.
Quote:

Scrubbers don't affect skimmers. The amount of skimming is based on how much you feed, because that's what the skimmer is removing... food, and waste, which is coral food too.
there is no skimmer running on this tank .. only the scrubber .. no other form of filtration
Posting Rules

You may not post new threads

You may not post replies

You may not post attachments

You may not edit your posts

---

HTML code is Off

---