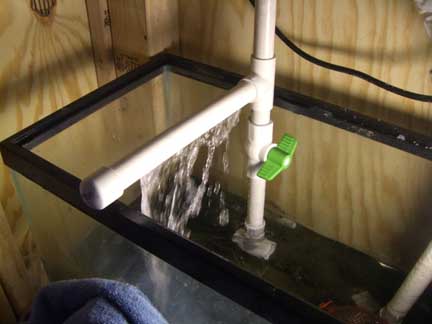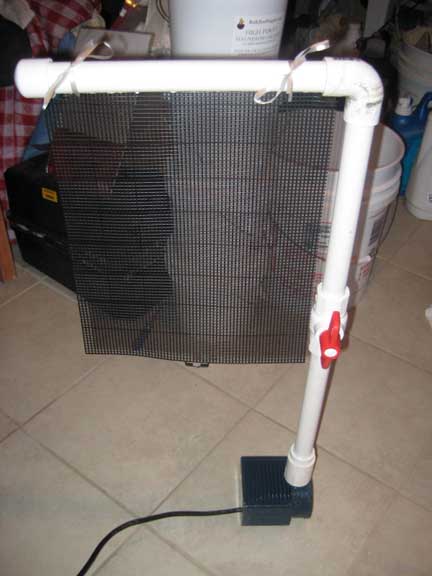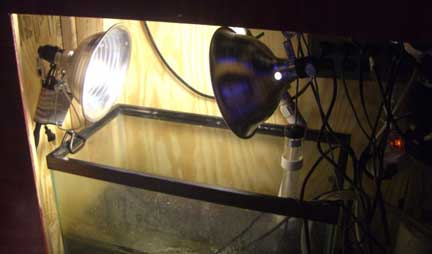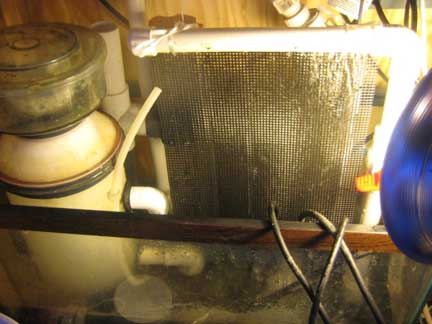 FiveSmallWorlds on the TCMAS site: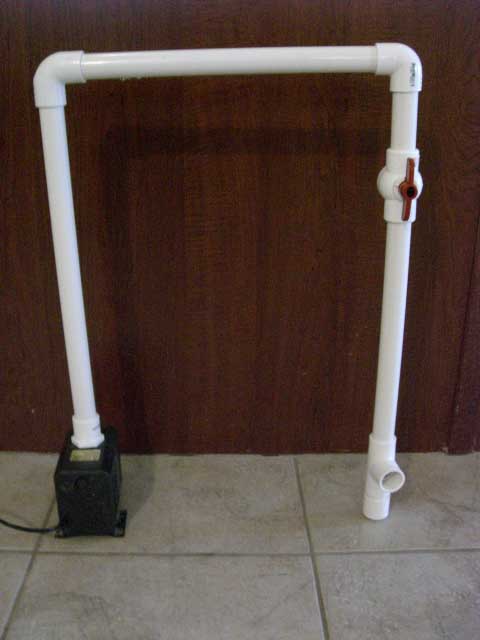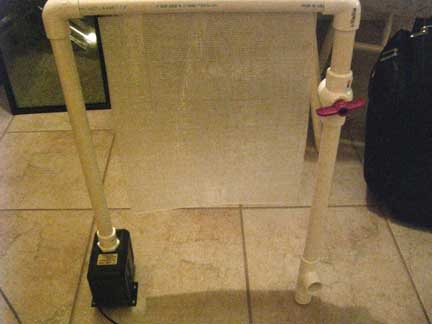 Craigg on the UR site: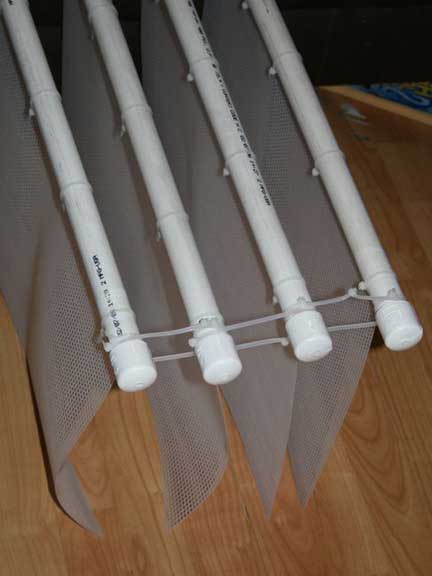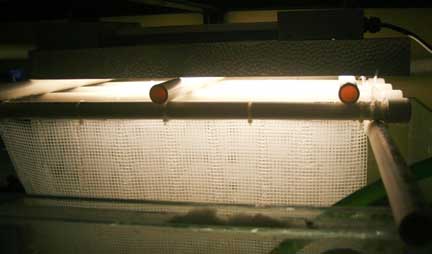 Wormside on the UR site: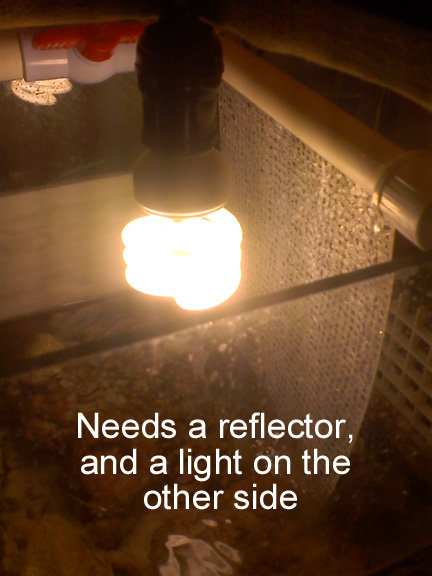 Update: Best way to rough up your plastic canvas: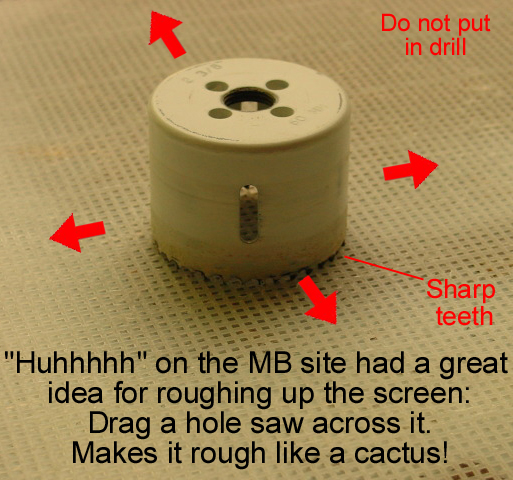 Update: Signs of scrubbers wearing out
Since my acrylic scrubber is approching one year old, it's the first one to experience signs of wearing out. Of course I'm also experimenting with large amounts of continuous feeding (which makes things worse), but I'm still seeing some of the same signs in other peoples' scrubbers, even though they are feeding normal amounts, and even though they've replaced the bulbs every 3 months. This is typically what starts happening:
Glass-cleaning is needed more often
Scrubber starts growing darker algae
pH stays at a lower point
Rocks get a light green covering
Cyano starts showing up
Nitrate and phosphate start staying at higher levels
What is probably happening (and what happened to mine) was that the flow had been greatly reduced to the scrubber. My screen is 22" wide, and only half of it was getting any flow at all (I'm surprised half of it did not die); the other half was still getting some flow, but it was so little that the bottom of the scrubber was almost dry. My problem was the pump: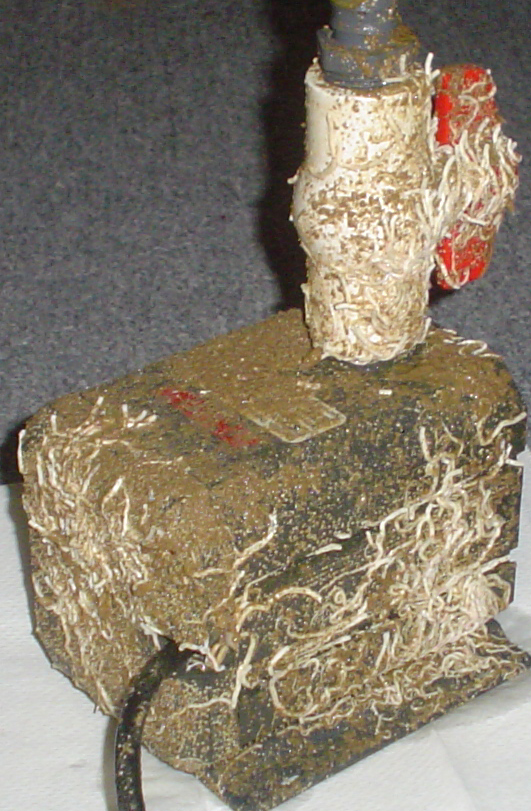 This is a case of scrubbers causing their own unique problem. When you run a scrubber (without skimmers or mechanical filters), not only do the corals and small fish get much more of the food that you feed, but you will also grow all sorts of filter feeders like the ones you see all over the pump in the picture. They grew all through the display, of course (to be eaten by a wrasse), but they also grew up into the impeller area of the scrubber pump, which was the problem. Also in the pic, you can see the brown stuff which was the result of my experiment in large amounts of continuous feeding in a system with a poorly designed sump (which allowed too much settling). The case/impellor was so locked up that I had to soak it in pure vinegar for several hours to even get it open. So while waiting on that, I opened the Eheim 1262 (900 gph) that I ordered as a backup :) So now my scrubber pump is pumping 2X as much as my return.
Once the new pump was in place, there was a forceful waterfall across the screen again. There is so much water in the acrylic box now that it is 1" deep before it goes out the drain hole (whereas before it was almost dry).
Point is, check your scrubber pump often for internal fan worms or food buildup. Just like the lights, you may not be able to see the lower output (since it happens very slowly over time), so you have to open it up and check. Running the pump in vinegar every three months should keep it clear (vinegar disolves fan worms).
Tarraza on the AS site: "THANK YOU SM. without this site my tank was a mess. Now I can enjoy this hobby for ever. 8 months now and i forget what NITRATE, PHOSPHATE IS ALL ABOUT, AHH!!, WATER CHANGE? NOT FOR ME ANY MORE!!!!! GOD BLESS YOU GUYS!!!!"

Firestarter on the SG site: "I was rather hesitant to change to an algae scrubber at first and doubted it would really work, as it was too good to be true. Almost 1.5 weeks of converting to the scrubber, I can see such great results! My corals are finally doing better, pods population has almost tripled, and I don't even need to clean the tank glass at all (usually by now it would be covered my a thin film of brown diatoms). Its amazing what the results were. Forget expensive skimmers, denitrators etc, just a good light source and good flow will do. One of the main reasons why I changed to a scrubber was because of my high nitrate reading. When I finally bought a test kit and tested it, the reading was more than 100mg/l and now it has dropped significantly to 25mg/l. Another advantage was that I could skip the skimmer pump which resulted in my water temp dropping 0.5 - 1 deg."

Craig on the NZ site: "My tank water is so clear and clean looking, and the sand is clean.
I have a Dragon Goby and he has gotten fat ever since I moved to the scrubber and removed my skimmer, he moves a heck of a lot of sand. But I stirred up my sand like I occasionally do and this time there was no muck coming out as I stirred it. My [nuisance] algaes in my overflow have receded, and the coraline on the rocks has grown quite quickly over the last few days. Even the water in my sump (even thou there is a bit of crap on the bottom) is clear and clean."

Gannet on the NZ site: "i have gone from cleaning the glass on the front of the tank 2-4 times a week to once every 2 weeks ... my nitrates has gone from 80ppm and is now 0-5ppm ... and the pods and mysis, i have that many in my sump now that i scoop them up with a net and feed them to my fish works a treat."

ImDaring on the LR site: "I built mine [scrubber] because I had to clean my glass every day because of green algae, and then to top it off I had a Brown algae breakout... it had covered the bottom of my sand bed it; looked like slime. the first week of having my scrubber hooked up I only cleaned my glass 1 time, now on my 2nd week I have not had to clean it at all, and the brown algae is almost gone."
Update: Screens that are too small
This is an example of why a too-small screen can cause problems. The algae gets thick too quick, and the bottom layers die and go back into the water, causing cloudiness and lack of filtering. If you must use a too-small screen, clean it every 3 days instead of 7.
Click here if you can't see pic below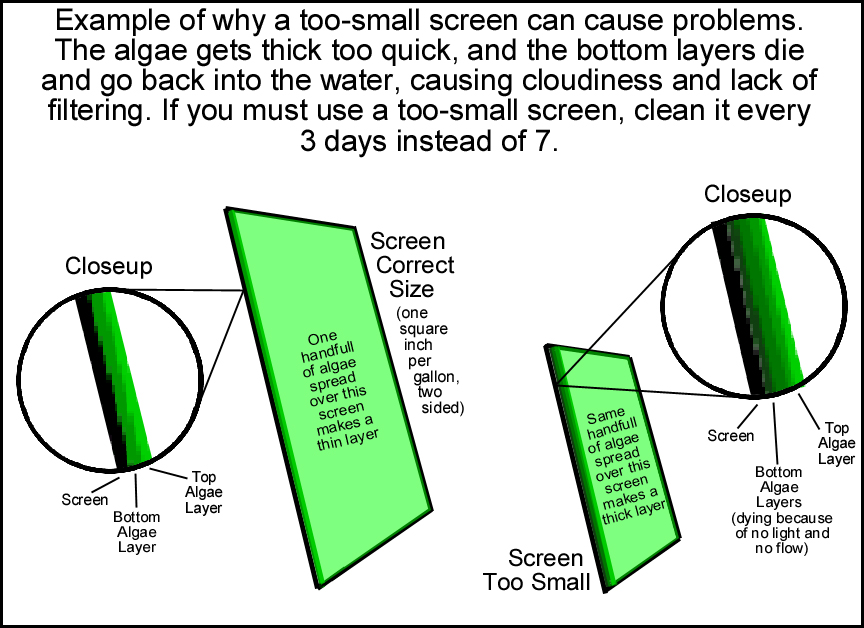 Here are several updates:
Milburnr on the SC site had this great pic of his flow: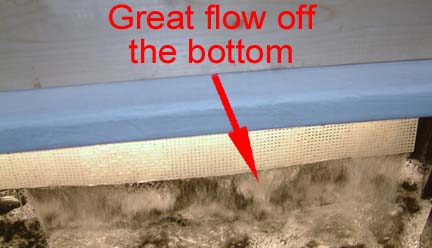 Quick review of why scrubbers work:
1. The light is very near the screen, and is not blocked by anything.
2. The flow is very rapid, which transports more nutrients to and from the algae.
3. The flow (on a vertical waterfall) is very thin, which breaks up boundary layer,
and which lets the most light through.
4. 7-day cleanings keeps the bottom layers of algae from being shaded and dying.
5. Using FW to clean, kills the pods that normally destroy the algae.
Seeding a new screen is no longer recommended, because (1) you get good growth in a week anyway, and (2) the seeding just washes off and adds nutrients to the water.
Barbianj on the RS site made a great high-power CFL setup: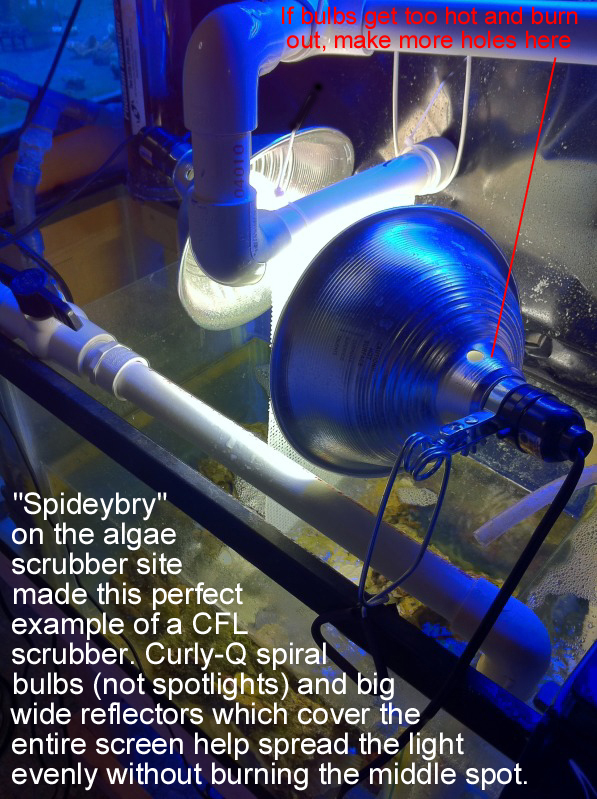 Long vacations: Some people want to use a scrubber, but are gone two or three weeks at a time. Here are the options: The easiest is to do nothing. In this case, after three weeks, the underlying layers of algae will have died. When you return, the water may be cloudy and colored, and the nitrate and phosphate may be increased, but after a screen cleaning and some carbon, it will be back to normal in a few days. This option is ok if you leave only once or twice a year. Nothing should be harmed, however. The next option is to remove the screen. For very long trips, and for cases where you have lots of LR and DSB, this might be best. Of course your tank may develop nuisance algae during the trip because of lack of filtering, and you'll have to start the screen from scratch when you return.
RonRon on the RP site built one with just a tupperware box: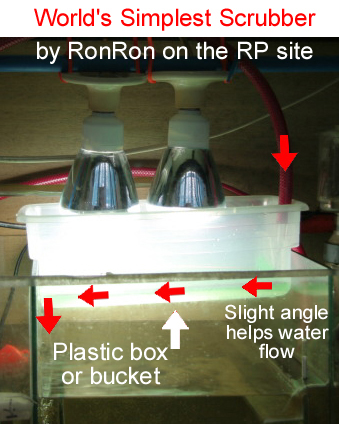 Here's another option to attach your screen: Curtain rings...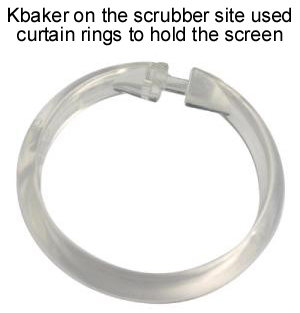 Scrubber News:

Awards: It's finally happened... A scrubber-only tank (no skimmer) has won Tank Of The Month. "Mudshark", whose pics have been posted here for a while, just won the August Tank Of The Month at MASA site.

RC: They have done a few things to keep people from finding out about scrubbers. They've made it so that when you try to post "algaescrubber.net", it is changed to "clay-boa.com". Also, if you try to search for anything scrubber related there, it seems to always have an "error".
What is a boundary layer, and why is it important? It the layer of water that is microscopically close to the algae; the water molecules that actually touch the algae: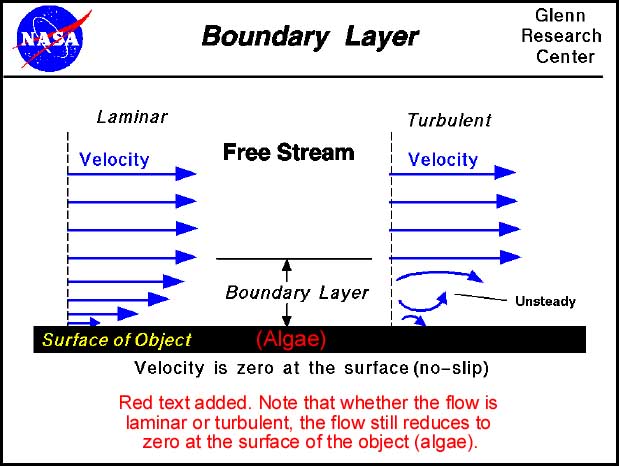 This boundary layer area of the water has zero flow, because it has to have the same flow as the algae, which of course is zero. Since there is no flow (velocity) here, nutrient transport through it is slow. The faster the water flow, the smaller the boundary layer, and the faster the nutrients can get to/from the algae from the water.
One point to clarify about nutrient exchange: Contact with air is not needed. Scrubbers operate the same whether they are sealed or open (except for cooling/evap), because the exchange is not with the air; it's with the water. The reason algae grows better in an overflow, or where water hits a scrubber screen, or where waves hit the beach, is because the flow is higher here and thus the water's boundary layer is thinner, which allows for better nutrient transfer between the algae and the water. This is what a vertical waterfall scrubber tries to achieve: Fast flow from top to bottom. Further info can be found here:
Seagrasses: Biology, Ecology, and Conservation, p 199, by AWD Larkum, Robert Joseph Orth, Carlos M. Duarte:
"As water flows through seagrass [or algae] beds, a boundary layer develops on the sediment surface, as well as on each seagrass [and algae] component exposed to the moving water. The faster the water moves, the thinner the diffusive boundary layer (DBL) becomes, and consequently, the faster the transfer of molecules from the water column to the sediment and/or seagrass [or algae]. It follows then that when currents [flow] are weak, the flux of molecules to the seagrass [or algae] surface may be limited by diffusion through the [boundary layer] (i.e., physical limitation). Under those conditions, many biological sites or enzymes in the seagrass [or algae] tissue are available to assimilate molecules when/if [!] they reach the plant's [or algal] surface.
Several Updates:
1. Change CFL or T5 bulbs every THREE MONTHS!
2. Wattage recommendation: 0.5 Watts per gallon for medium filtering. 1.0 for high filtering.
3. CFL bulbs: 55W is the max that works good. If you need more watts, get two or three smaller ones, or go to T5HO (best)
4. Skimmer overflow: Be careful of your skimmer overflowing (if it does not have an overflow tube.) The rotting food in the skimmer cups has been growing bacteria, and thus producing ammonia, so if it overflows into your sump, the ammonia can kill things. If this happens, then a scrubber removes this ammonia from the water (skimmers do not remove ammonia; they only make ammonia in the cup.)
5. Current best place to get plastic canvas:
Plastic Canvas Supplies - Find it all at Everything Plastic Canvas!
6. Surges are not recommended for scrubbers, because (1) the have not shown to improve operations, (2) they are hard to diy, (2) they are noisy/messy, and (4) they reduce the filtering contact time with the water.
7. Cleaning: If your screen goes up into the pipe, you can clean the screen extra good in that area, so that less algae will grow up into the pipe.
8. Purple growth: If your screen is new, and you are getting thin purple growth in spots, it is probably cyano because of weak lighting. If your screen is 3 months old or more, and you start getting purple growth, feel it. If it's is furry, then it's turf. If it's not furry, then it cyano.
9. Never run the lighting 24/7.
10. Cyano in display: Sometimes, after an algae scrubber has removed most of the nuisance algae in a tank, cyano will grow a bit more. This is normal, because cyano does not eat the same thing that nuisance algae does (thus, the cyano now has less competition). But the cyano will reduce too eventually. The cyano occurs because it has the capability of getting nitrogen directly from the water, without needing Nitrate, Nitrate or Ammonia/Ammonium (which is what algae gets nitrogen from). But as the scrubber continues to filter, the cyano will have a harder and harder time holding on.
11. Why "polished" water is bad: The "clean" water look you get with a skimmer and other mechanical filters is because the food (i.e, waste "protein") has been removed from the water. This is what you want if you have just large fish. But if you want a "real" natural reef, you don't want to do this. Go diving some time and look at the water on a natural reef; there are millions of specks and dots and particles and things floating in the water in a super thick soup. And that's just six inches in front of your face. These things are what feed everything, including small fish.
Posting Rules

You may not post new threads

You may not post replies

You may not post attachments

You may not edit your posts

---

HTML code is Off

---