Quote:
PASFER told me to put more sand in my 55 because i had the exact wrong amount of sand at 1.5 inches i have 40 lbs of sand in my 55 now ,i have a seprate 20 long under the 55 with 20 lbs in it should i take that sand and put it in my 55 i have explained this on my thread under filtration on "too much filtration"
i m worried if i remove all the floss at once it will be bad i m not shure about the rocks in the tank being able to filter scince the rocks are not all live rock?
please read my thread sm it is explained there
thanks
answer?
Ask on the plumbing forums about the pump; I'm really not sure what makes it safe for saltwater or not.
i cant find info on this pump any where! hey sm did you have a chance to read my thread yet, i m also havin trouble with the spray bar on my scrubber
No, you need to post your info here.
Hi, great thread. I read it and decided to build a scrubber for my tank. I built my own overflow ($15, works great) and added a 10g sump under my 55g display tank. I'm using a 330gph return pump. I have a one sided 10 X 12 screen run by the overflow using a clamp on light with a 60w cfl 2700k bulb. My question is how long should I wait to remove the media in my canister filter? I plan on replacing the filter media with live rock. The scrubber has been running for 3 days now and brown algae is beginning to grow.
---
------------------------------------------------------------------------------------
55g reef - softies, LPS, chromis, tangs, blenny, damsels, clown, royal dotty - 10g sump/fuge with ATS

60g oscar & jack dempsey

29g guppy tank - started with 3, now over 60
2.5g desktop reef 2 damsels, softies, and cleanup crew
her you go sm, this is awsome!i want to try a "scrubber" before i go and get a skimmer. i know skimmers work but i want a bigger tank and i want to get a huge skimmer for it when the time comes so i was gunna give the scrubber a try( its almost free)
how much sand should i have, i have bout 40 lbs in my 55 now
i also have a 20 gal long under my 55 not attached ,it has a nasty blue damsel in it and it has bout 20 lbs of sand in it should i put this sand in my 55 little by little,i also have 40 lbs of crushed coral ,dry in a bag should i put this in the 20 gal .the 20 has a fluval 4 w/ a costom spray bar and a heater and sum reef rubble

my rocks are not all live rock there a mix from when i had my brackish setup (maroonish "volcanoe" rock very poreis,and "lace"rock ,both bought dry and i put them in my brackish setup and they have been in the tank ever scince but when i went full salt i got like 30 lbs of live rock to fill up the wall of rock i was cerating has the non live rock become live with bactera?i have got corriline alge growing over sum of them...
please help me dude
well i got male and female clownfish(amphiprion ocellaris),one tomato clown(amphiprion frenatus) ,canary blenny(meiacanthus ovalanensis),and one (fridmani pseudocromis) i have 12 hermit crabs,four turbo snails,a sally light foot crab ,and a pepperment shrimp. i have about 1 1/2 inch of sand(40 lbs),i had most of the rock work when the tank was setup for brackish water and i had 2 figure 8 puffers that i converted to full salt and then gave them back to the pet store when i got my clowns .i got sum live rock to fill the rest wall of rock.probabaly 100 lbs of rock. i have a regular shop light with 2, 6500k bulbs and i have an atinic light on one end.i have button polyp rock and two kinds of star polyps under the atinic light witch i have had for a year and they are growing fine .i supplement with seachem reef advantage calisum and seachem reef builder. i have an aquaclear 500 with just a sponge in it ,a fluval 404 with sponges and prefilter and biomax.i have two power heads ,and rigged a in tank refugium with cheatomorfia* alge and a little fountain pump fof circulation .the tank has been running for like 2.5 years.i had a seastorm sand filter on there too but i took that off because i could not keep snails without them dieing. i hope this has helped you help me thanks
2 plastic cereal containers from wal-mart $3 ea.
Set of 4 L brackets from Lowes $3
3/4" pvc threaded adapter $0.33
3/4 to 5/8" barb adapter $3
6 ft of 5/8 hose

I'll post pics when I get a chance.
---
------------------------------------------------------------------------------------
55g reef - softies, LPS, chromis, tangs, blenny, damsels, clown, royal dotty - 10g sump/fuge with ATS

60g oscar & jack dempsey

29g guppy tank - started with 3, now over 60
2.5g desktop reef 2 damsels, softies, and cleanup crew
Heres some pics:
Sorry about the sizing/quality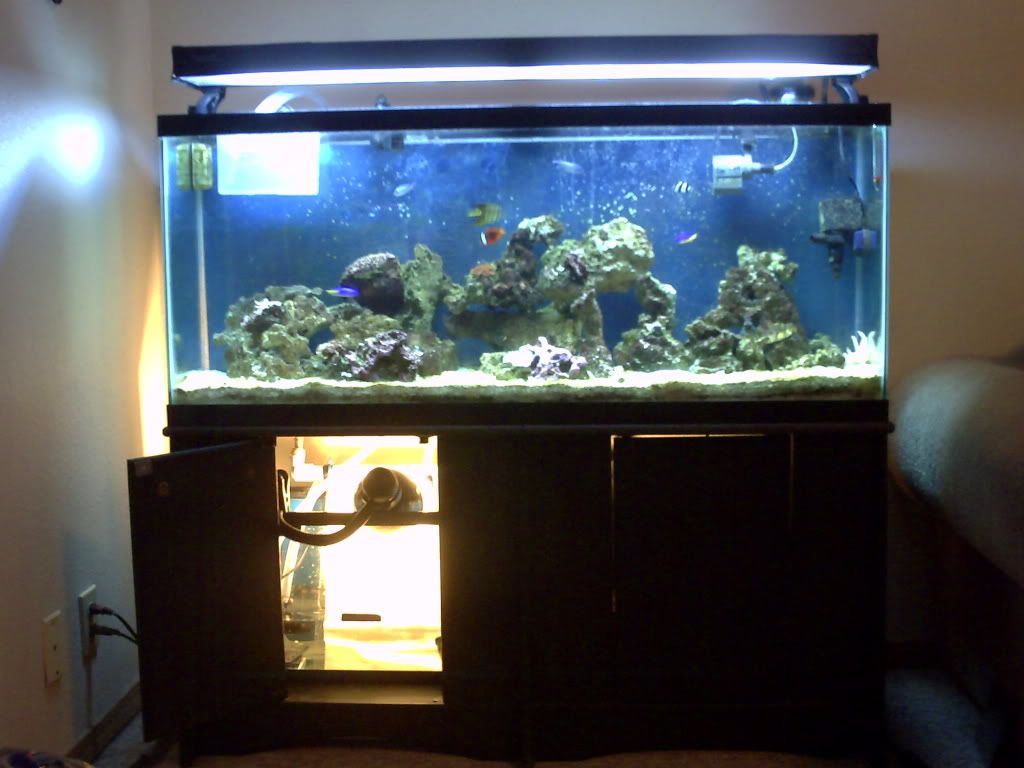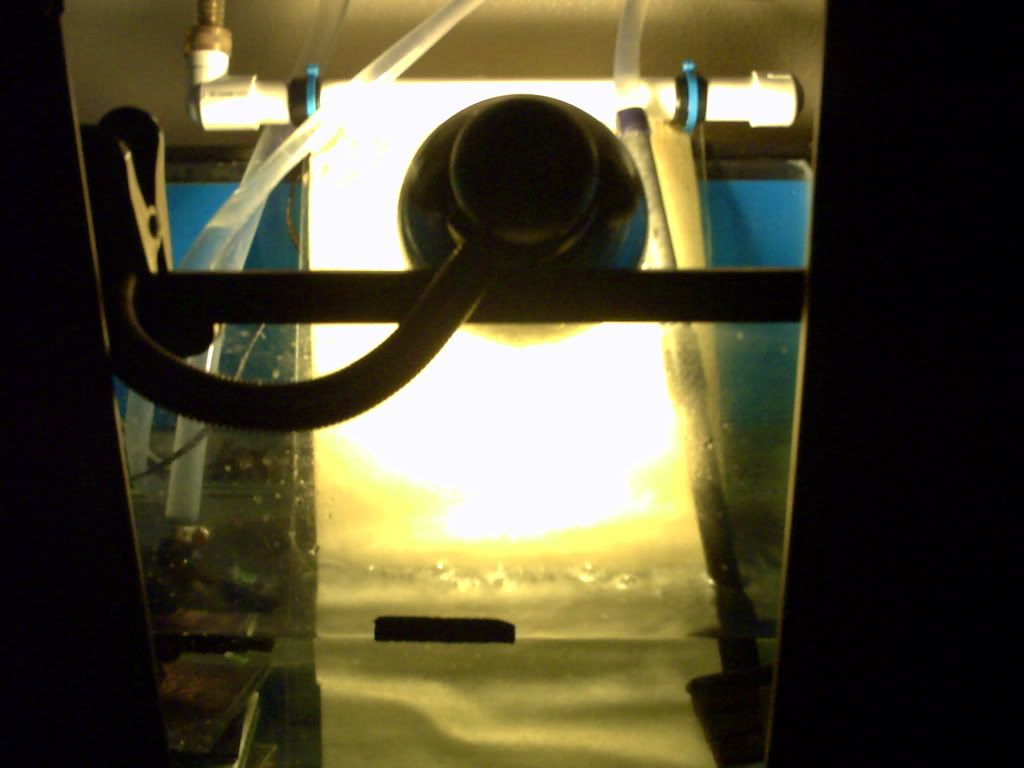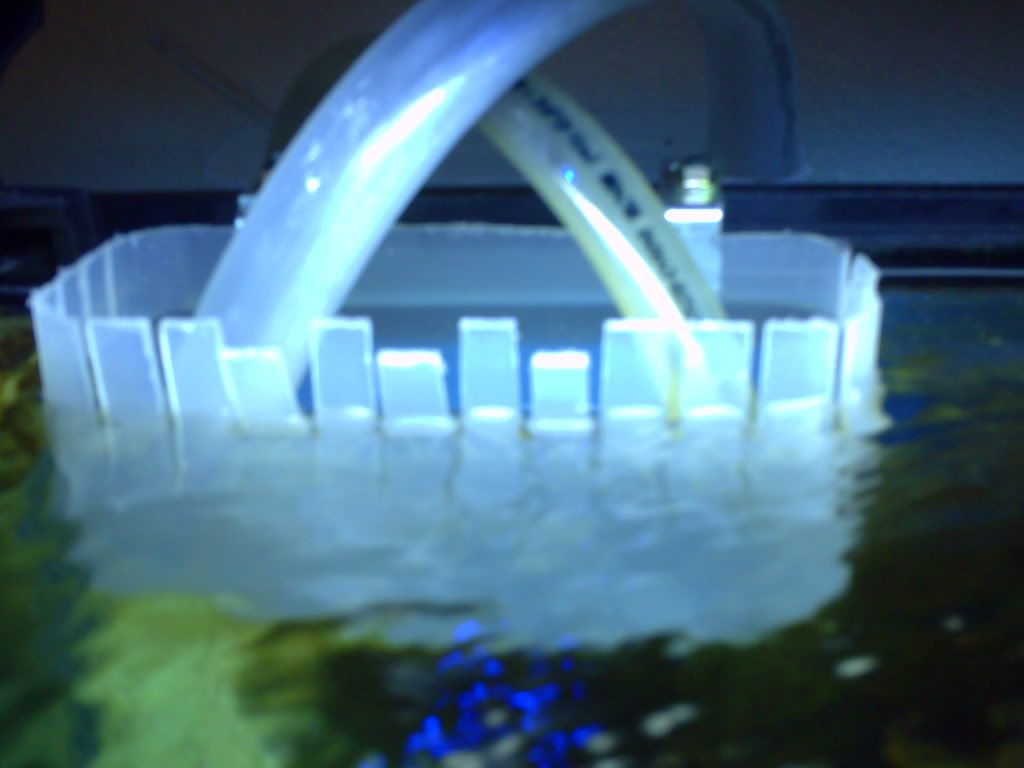 ---
------------------------------------------------------------------------------------
55g reef - softies, LPS, chromis, tangs, blenny, damsels, clown, royal dotty - 10g sump/fuge with ATS

60g oscar & jack dempsey

29g guppy tank - started with 3, now over 60
2.5g desktop reef 2 damsels, softies, and cleanup crew
Posting Rules

You may not post new threads

You may not post replies

You may not post attachments

You may not edit your posts

---

HTML code is Off

---