Part 2 of 2:
Notice that it takes several days before you can see any growth at all. And yes, I did seed the screen. Going back one day to Day 10, here are some closeups: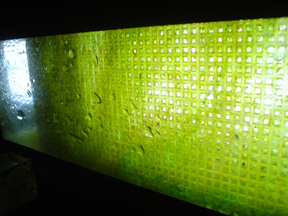 Hi-Res:
http://www.radio-media.com/fish/Acry...seup1Day10.jpg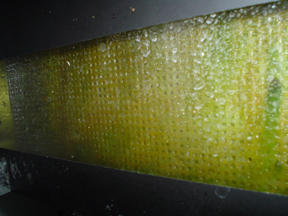 Hi-Res:
http://www.radio-media.com/fish/Acry...seup2Day10.jpg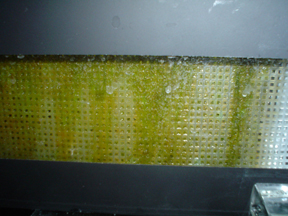 Hi-Res:
http://www.radio-media.com/fish/Acry...seup3Day10.jpg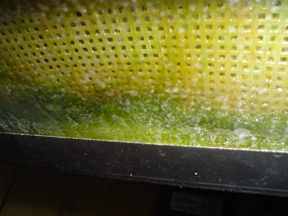 Hi-Res:
http://www.radio-media.com/fish/Acry...seup4Day10.jpg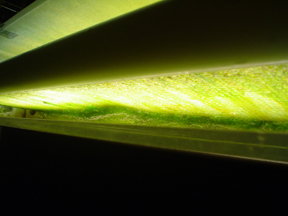 Hi-Res:
http://www.radio-media.com/fish/Acry...seup5Day10.jpg
And here is a closeup from Day 11: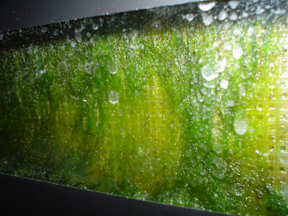 Hi-Res:
http://www.radio-media.com/fish/AcrylicDay11closeup.jpg
And what it looks like out of the stand. Note the algae coming out of drain; it was almost 2 feet long before I pulled it out for this pic: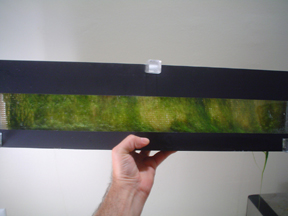 Hi-Res:
http://www.radio-media.com/fish/AcrylicDay11heldup.jpg
Here's the growth on the 3000K side: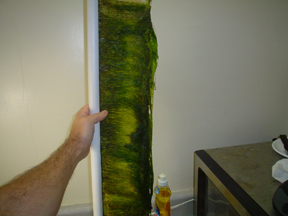 Hi-Res:
http://www.radio-media.com/fish/Acry...11out3000K.jpg
And the 6500K side: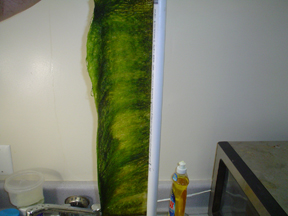 Hi-Res:
http://www.radio-media.com/fish/Acry...11out6500K.jpg
Instead of following the rule of cleaning only one side at a time, I had to do both in order to measure the algae of the 3000K side versus the 6500K side. Here is what was pulled off, like pulling a rope: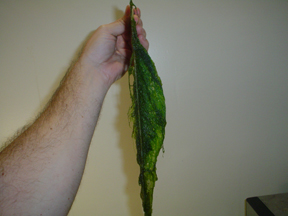 Here are the algae amounts removed, after a cleaning: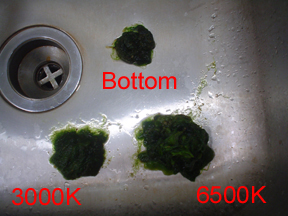 And here's the screen after cleaning; this is why you don't clean both sides, becuase it leaves left nothing on the screen for filtering: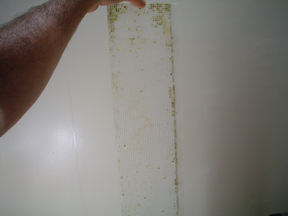 A few notes:
o The screen is only 1.5 inches from the acrylic wall, and thus some water does get on the wall. But this unit is currently not setup for airflow with a fan, and it has a lid, so the water never gets a chance to evaporate. As a result very little saltcreep forms. I think I wiped it twice during the 11 days; however it did not do anything, just redistributed the droplets. On day 11 there was a small amount of creep; when I pulled the screen out I just reached in an splashed some water on it and it came off.
o There was a great increase in algae between day 10 and 11. I've seen this many times: once the hair algae gets to a certain point, the next day it covers everything.
o When the screen get covered, algae start flowing down the scrubber and out the drain. Not a little, but a lot. It easily reached the botton of the sump 18" below. I just grabbed it and pulled it off. This might be a way to feed tangs, if the unit were placed on the hood of the tank.
Reminder Of The Day: Flow...

The basic rule of thumb for flow for a standard pipe slot is 35 gph (US gallons per hour) (140 liters per hour) per inch (2.2 cm) of screen width. Thus a screen 2" wide would need 70 gph. This should cover the entire screen with a swift flow on both sides, and leave you with a little room for adjustment. The more flow, the better, but this amount has proven to work well. How tall the screen is does not change the gph, however; only the width does. Here is the chart:

Screen Width-----Gallons Per Hour (GPH)

2" 70
3" 105
4" 140
5" 175
6" 210
7" 245
8" 280
9" 315
10" 350
11" 385
12" 420
13" 455
14" 490
15" 525
16" 560
17" 595
18" 630
19" 665
20" 700
"Sly" on the SWF site is getting great growth in just 6 days from his trashcan-scrubber with built-in surge device: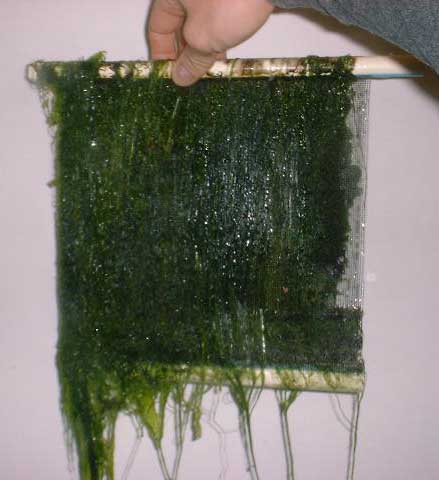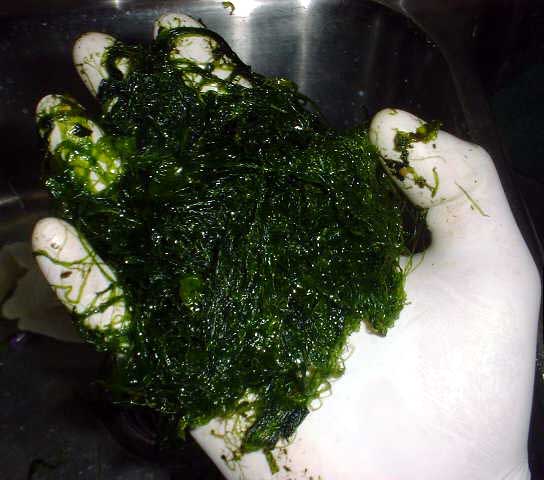 .
.
.
.
.
.
.
.
.
And what is this.... dinner?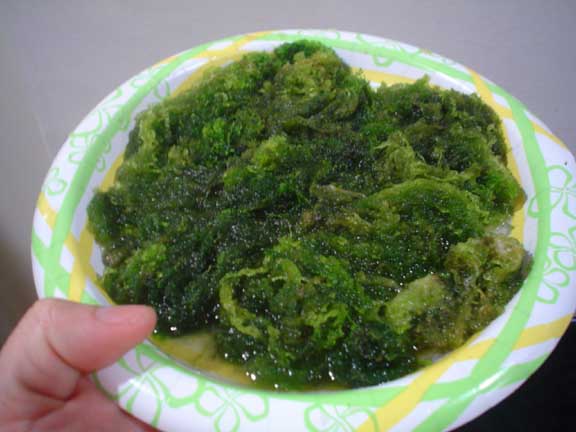 ...Nope, it a week of growth from just one side (the 6500K side) of my acrylic unit.
.
.
.
Well this one takes the cake. Not only is it the biggest, but it's also the first one to use halides for lighting. "Reefski" on the MD site has a 700g tank and 800g sump, and had the entire garage to use for fish stuff, so he spared nothing in building his scrubber: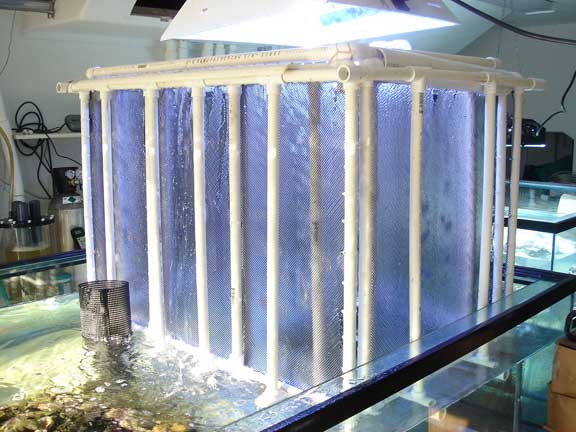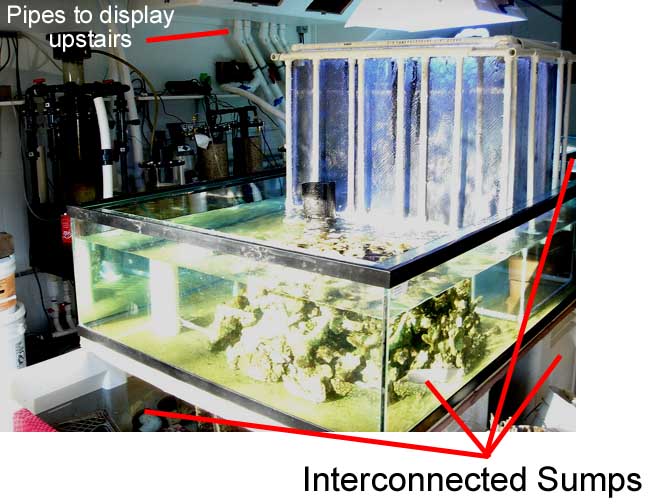 By the way, if this weren't enough, his entire back yard is a koi pond :)
.
.
.
Haha...that's ridiculous. There's no way that guy's married. No fair showing us pictures of the sump and scrubber without showing pictures of the display!
---
4 8 15 16 23 42
He's married for 20 years :) And he's cleaning/changing up the tank; will ask him if he's got new pics yet.
Well I'm trying to get caught up with the posts; gonna have to combine a few here to get them out without postponing anymore. Seems to be a lot of interest in scrubbers that are unique, like the giant one, and the solar one. Well today is another unique one, but first here are some results feedback:
"Pong" on the RF site said "i had a lot of green hair algae growing on my screen. noticed that the red algae in my DT has lessened dramatically."
"Johnt" on the UR site said "I've always used phosphate remover. I've tried most makes but always ended back using Rowa. since running the scrubber I've stopped the phosphate reactor and despite the scrubber not yet being at the Turf Algae stage the phosphate readings are dropping."
And "thauro77" on the SWF site said "Here are my test results, the dates are the water changes dates as well:
08/28
Calcium 660mg/l (when I first used the filter)
Carbonate 196.9 ppm/kh
Phosphate 0.5
Nitrates 20ppm
09/04
Calcium 500
Carbonate 214.8
Phosphate 0.5
Nitrates 10ppm
09/09
Calcium 440
carbonate 143.2
phosphate 0.5
nitrates 10ppm
09/23
calcium 440
carbonate 214.8
phosphate 0.25
nitrate 5.0ppm
And now for the first screen on any thread to use LEDs! "Snailrider" on the AC site built it: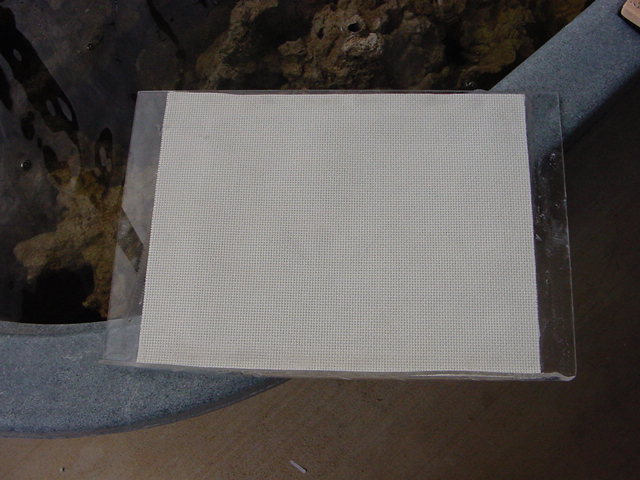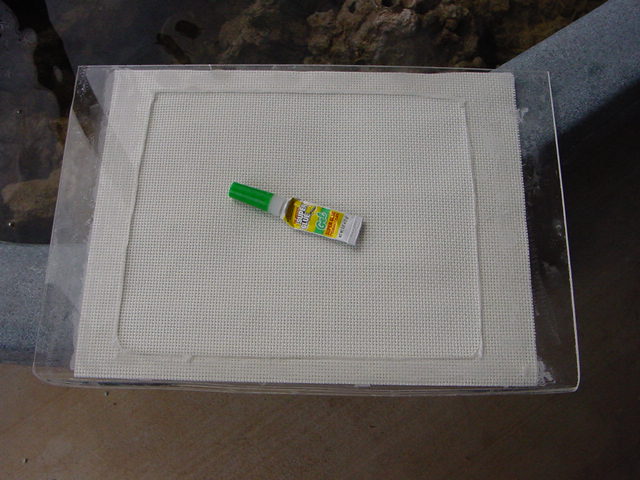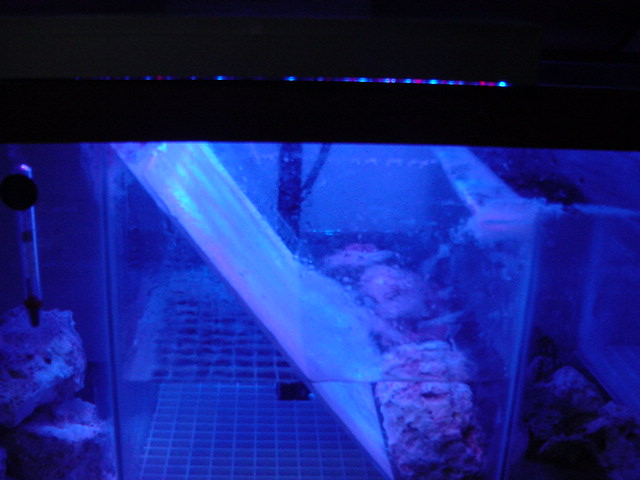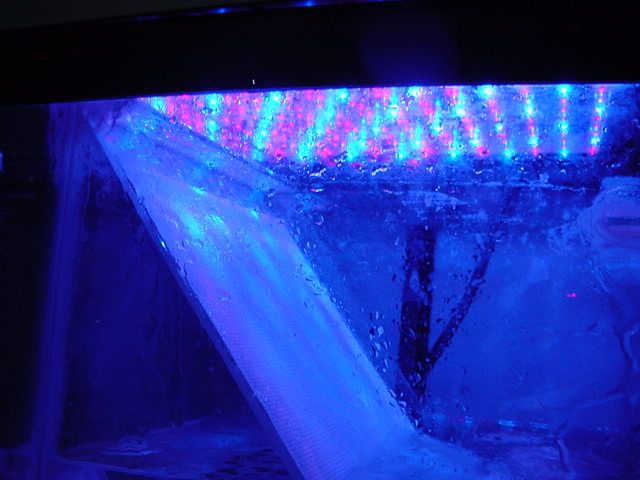 He knows that the part of the screen underwater will not contribute, so he made sure the part above the water had enough size to handle things. We'll see how LED's work!
.
.
.
I am defiantely trying this out soon on my 10G reef.
But, I have a question.
I am planning it like this: Two pumps (
http://www.drsfostersmith.com/produc...01&pcatid=4601
), one inside my display, and one outside in a 2.5G tank that sits right next to the main tank. I would use some sort of tubing to get it to the 2.5, and then use PVC for the waterfall. Add the mesh, lights, etc. Then, have a return pump on the bottom of the tank pumping water back in. Makes sense?
I would use either a 3" wide mesh (with 110GPH), or 2" (with 70GPH).
And, what is the bare minimum lighting cycle (how long lights should be on for)? My tank is in my bedroom, and the lights cannot stay on past 10:30. My schedule is from 12:30 to 10:30. Is this logn enough, or should I extend the mesh lighting?
I am gonig to be ordering new supplies soon. :)
Great to hear you're gonna try one :)

However let's make a few changes in your design... you don't want to have two pumps, only one. Can you elevate the smaller one so it will work as the "sumpless" design on page 1, or, put the smaller tank lower so it will work as the "overflow" design? You don't need the ball valves, because that pump has a built-in flow adjust. If your 10g is not drilled for an overflow, I'd recommend the "sumpless" version because there is no chance of it losing its siphon and drying out the screen. If it is drilled, then do the overflow version which will then give you a sump too.

Use the 3" wide screen (presumably 3 or 4" long, and lit both side), unless you want to save on bulbs by using a just one-sided 3 X 7.

Definitely extend the lighting, up to 18 hours ON.

And we'll want pics..........
I must have over looked that orginally. I will see what I can do with that design.
Posting Rules

You may not post new threads

You may not post replies

You may not post attachments

You may not edit your posts

---

HTML code is Off

---