Update: FW cleanings
Pods eating the algae: The reason you need to run freshwater over your screen every week is because you want to kill the baby pods that start to grow and eat the algae. You may not see the eaten areas, unless the algae is very thin like this: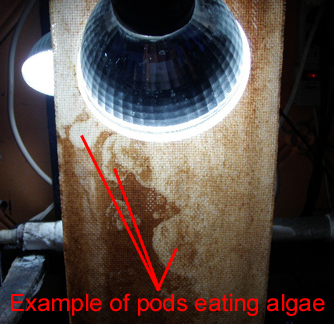 However, pods are always growing and multiplying. And they eat algae. The reason this is a problem is that (1) pods are constantly flowing out of your scrubber into the tank. If they eat algae first, then the nitrate and phosphate that is in that algae gets released back into the water, and (2) you now have less algae to do the filtering. Unlike the picture above, however, the algae is usually too thick for the eaten areas to be seen. The pods stay out of the light, in the underlying layers; so you don't see what they are eating. By cleaning your screen in freshwater, you kill the pods that are on your screen. They will start multiplying again within a few minutes, but at least you can keep them under 7 days old. And even if you clean only half of the screen each week, you still want to wash the whole screen in FW.
Successes Update:

sean48183 on the SWF site: "Alright, just tested NO3 and ta da! 0 NO3! Awesome. Still have some hair algae in display, but appears to have slowed down. My scrubber is still getting mostly brown slime and some green. Don't really care. It is working. Have to clean every couple days because it is growing so fast. Anyone who is debating trying -- quit debating and just do it."

ScubaDrew on the RS site: "I built a small one using the basic plans posted in the first few pages. I used a dremmel to cut the slot in the PVC and used fishing line through the small holes in the plastic divider material to hold it up. My tank measured 0's in all the algae related categories prior to building it, but my tank was still growing a lot of HA and some cyano. I've only got one florescent 'flood' style light on one side of the scrubber right now due to having placed it in an already crowded sump. I had a full coat of algae in about 10 days, and cleaned off about ¾ of what had accumulated at that time. Now I need to clean off a large, heavy, handful every week! With continued cleaning in my DT, I've really made progress in getting the DT algae free. Thanks for the info, I think the ATS will be a part of my system for a long time to come."

RiaanP on MASA site: "Scrubber running now for four weeks. NO3 0mg/l (first time EVER). PO4 between .025 and 0.5 mg/l. 4 weeks ago NO3 was over 100 mg/l and PO4 was over 2 mg/l. So a scrubber really works."
Part 2 of 7:
Taken from "From the Food of Reefs to the Food of Corals" by Eric Borneman
From the Food of Reefs to the Food of Corals by Eric Borneman - Reefkeeping.com
"Nitrogen levels in [natural] coral reef waters are typically extraordinarily low, with most being found as ammonia. This is in contrast to aquaria, where the dominant nitrogen species is usually nitrate. Nitrogen is the be-all end-all for zooxanthellae growth and reproduction [zooxanthellae is what photosynthesizes light into food for corals]. By limiting nitrogen in the form of excretion products, the [coral] polyps keep the zooxanthellae in the numbers and density that maximize photosynthetic efficiency for its own use. Using several released compounds, most of which are still unidentified, the [coral] polyp stimulates the zooxanthellae to release virtually all of the products of its photosynthesis, and these are then used by the polyp for its own needs. If nitrogen was made readily available to the zooxanthellae (for example, if high levels were present in the water and this dissolved nitrogen diffused into the coral tissue), it could then be accessed by the algae without limitation by the polyp, and zooxanthellae could begin to grow and reproduce like a phytoplankton culture. In this case, the symbiosis becomes less advantageous to the coral, and it will expel some of the symbionts to try and re-establish maximal benefit from its algal partners. As a practical note, when very high densities of zooxanthellae exist in coral tissue [because of to much nitrogen], the resultant coloration of the coral is usually a rich or dark brown color.
"Coral mucus, in turn, and as was shown in the previous article, is itself a food source to the reef.
[Skimmer remove mucus, but do not remove nitrogen]
No, those were the only pics they posted.
lowes has 6500 k bulbs to with 3050 lumens and 75 cri called "daylight" for $6.98 . i got two and put them on my 55 gal instead of the regular shoplights.and i have seen massive groath in the cynobacteria.it looks to be helping groath on the live rocks tho.the srrubber can us these lights too? , if i got like two 18 inck or should i use a flood light? im tryin to experement with this tank and have sum soft corals nothin special but i want to do it fairly cheep and do it my self.the tank has been up for almost 3 years!
Use those lights on a scrubber. And for the display, get a 14K T5... it won't make as much algae grow.
the 6500k lights are 48 inch on my display tank kinda hard to mount on a srubber
i did not see any t-5s, plus that would mean i would have to get a new light fixture (not in the bugget right now)
but while i was at lowes i got 1/2 inch pvc pipe and sum fitings and got the screen at wal-mart the screen is 13.5x10.5 inches they came in a six pack,i also got the compact florissient spiral light bulbs 6500k and 1600 lumans for the scrubber.
my nitrates are very high i poasted a thread "too much filtration?" i have cyanobacteria like crazy this scrubber should help right even if the cyano does not grow on the scrubber it should lower the nitrates to the point cyano wont grow correct?
PASFUR
PASFUR responded to my other thread and told me to take the foam out of my aquaclear 500 to aid with nitrates but now my water is not as clear because of the lack of mechanical filtration, should i make the scrubber in the back of the aquaclear i have thought about how i can and came up with a plan, kinda. got any imput?
please will you read my thread and respond back
"The
"The Scrubber" seems to be a great idea cant wait till i make mine
your time and thought would be greatly appreasheated and i plan on poasting my reasults ,good and bad
thanks!
Posting Rules

You may not post new threads

You may not post replies

You may not post attachments

You may not edit your posts

---

HTML code is Off

---