Thought Of The Day:

A few folks have seen (or thought that they had seen) their skimmers "working less" or "producing less" after their scrubber started working. While this may have happened for other reasons, there is really no direct reason that a scrubber should cause a skimmer to produce less. This is because a skimmer and a scrubber remove different things: Scrubbers remove Inorganic Nitrate and Inorganic Phosphate, which are invisible, and which are the things that your test kits test for. Skimmers remove food (Organics). So having a scrubber remove the Inorganic Nitrate and Inorganic Phosphate really shouldn't cause a skimmer to remove any less food (unless you are feeding less). What MIGHT be happening, is that less Inorganic Nitrate and Inorganic Phosphate in the water means there is less food for bacteria (bacteria eat Organics AND Inorganics), and if there is less bacteria, then there is less to skim out.
Home depot has par 38 2700K 2 pack for 14.00 in case anyone needs any & they are the correct ones
Update of the Day: New Research on Skimmers and Organics:
The whole point of scrubbers is that they remove Inorganic Nitrate and Inorganic Phosphate, which are the things your test kits measure, and which are also the things that cause nuisance algae to grow. The other good point about scrubbers is that they leave Organics (food) in the water for the corals and fish and bacteria to eat (the bacteria also then become coral food.) People who prefer skimmers, however, say that skimmers removes Organics (food) before they break down into Inorganic Nitrate and Inorganic Phosphate.
I say, why not just feed less, instead of feeding more and then removing it with a skimmer? Let's look at it from their viewpoint. Their viewpoint is "Feed more, and remove the excess Organics (food) with the skimmer." Well, the current January 2009 issue of Advanced Aquarist just published extensive research into how well different skimmers remove Organics. They refer to Organics as "TOC", which is the Total Organic Carbon; TOC is the the combination of Dissolved Organic Carbon (DOC), and Particulate Organic Carbon (POC). Here is the article, and this is what it said:
Advanced Aquarist's Online Magazine - Feature Article: The Development of a Method for the Quantitative Evaluation of Protein Skimmer Performance
"In addition to some dissolved organics, small particulates and microbes (bacterioplankton, phytoplankton) can be removed at the air/water interface of the [skimmer] bubble as well (Suzuki, 2008). The skimming process does not remove atoms/molecules that are strictly polar and readily dissolve in water, such as some organics, salts, inorganic phosphate, carbonate, etc.
"The skimmer pulls out all of the TOC that it is going to remove by the 50-minute mark. Beyond that time point, nothing much is happening, and the TOC level doesn't change much.
"Thus, all skimmers tested remove around 20 - 30% of the TOC in the aquarium water, and that's it; 70 - 80% of the measurable TOC is left behind unperturbed by the skimming process. It may be possible to develop a rationalization for this unexpected behavior by referring back to Fig. 1. Perhaps only 20 - 30% of the organic species in the aquarium water meet the hydrophobic requirements for bubble capture, whereas the remaining 70-80%, for whatever reason, don't."
So, the strength of skimmers (since they don't remove Inorganics) is supposed to be that they remove Organics before they break down. But this research shows (once again) that they don't even remove the Organics. Here is additional 2008 reasearch that shows the same:
Advanced Aquarist's Online Magazine - Feature Article: Total Organic Carbon (TOC) and the Reef Aquarium: an Initial Survey, Part I
Advanced Aquarist's Online Magazine - Feature Article: Total Organic Carbon (TOC) and the Reef Aquarium: an Initial Survey, Part II
In my related research of reducing Inorganic Nitrate and Inorganic Phosphate, overfeeding was always an issue. Scrubbers help, by introducing live (instead of dead) copepods to the tank, but the rest of the feeding always causes excess food to get stuck in the rock and sand, and rot. The solution to this could be an Automatic Continuous Feeder. The writeup is here:
http://www.fishforum.com/saltwater-a...-feeder-20896/
Results of the Week:

jtremblay on the MD site: "the last few strands of HA have disappeared from my 40's display, and the build-up of detritus is continuing to go down, despite there being no skimmer on this tank."

nitschke65 on the SWF site: "My biocube is currently being filtered by my custom [nano] turf scrubber in chamber two; there is also a ball of chaeto in the bottom af chamber two, and a bag of Chemi-pure Elite in chamber three. My protein skimmer stopped working two or three weeks ago. (My mushrooms and zoas have never looked better!) I also have some polyps, hammers, and galaxia. There's a few nassarius, and a few hermits, an emerald crab, and possibly a pepermint shrimp. There's a lawnmower blennie, two green chromis, a scarlet hawk, and a Potter's angel. I haven't cleaned my screen or done a water change in 2 weeks [bad!]. This mornings readings: Ammonia - 0 Nitrites - 0 Nitrates - 0

Skunkbudfour20 on RC: "Yes i built one, Yes i am running it, and YES my nitrates, nitrites, ammonia and phosphates all dropped to almost 0 within the first 3 weeks, and yes algae growth in my display has come to a stop, and slowly recedes... I am still running my skimmer, even though it doesnt seem to be doing AS much, its still doing something for now."

Worley on the AS site: "As for lights, I have seen an improvement in the type of algae growing and in the overall amount of growth since changing bulbs to the lower 3500K colour temp. I've been getting more hair [on the screen], macro algaes, some interesting dark green very very long hair-like algae (6"+ long). The cyanobacteria [in the display] is nearly completely gone, along with less brown slime algae, both in the tank and on the screen. And best of all, still no water changes, nearly 5 months on, with good calcium, dKH and PH. I've easily saved the price of the equipment used to make the scrubber from not having used an entire bucket of salt, and everything in the tank looks more healthy than I've ever seen in a marine tank I've kept before, I'm loving it, and so is my girlfriend!"
SM, I installed mine this evening. I will test the water tomorrow after work to get a starting point.
Thought of a idea for mounting. In sump with aquarium above. Screw a cap into a board that attaches to crossbraces. Put in a quick release carter pin, or after I go to HD will just be a pin. Water does not actually go thru this PVC.
See pics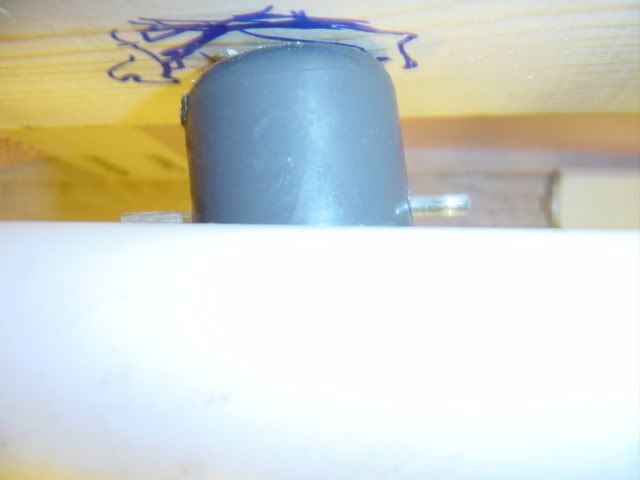 Can you post the pic of the mount again?... came out halfway.
Posting Rules

You may not post new threads

You may not post replies

You may not post attachments

You may not edit your posts

---

HTML code is Off

---