Here goes.......
---
Well I've set up a little 48 litre tank (12 1/2 US gal or 11 1/2 GB gal) with about 8 or 9 Kg of live rock purchased from a chap in my local fish shop who was moving back to freshwater. I mixed my own water from the tap with proprietry salt and laid a base of sand of 1 inch.
After a few days the sg is about 1030 so I added a little water from the kettle to bring it to 1021 and that's were we are at the minute.
I have posted some pics for comment and as they say...........
Here goes.......
David.
tfl :)
A quickie.............. Is there a skimmer that fits into this (Resun dms400) tank without too much modification?

Thanks in anticipation.....

David.
Looking good David. By the way, is there a filter pad in that filter? If so, you probably want to remove it. Mechanical filtration in a marine system is generally a bad idea, causing rising nitrates and phospahtes.

I'm not sure a skimmer would be all that critical in a tank of this size. You may just use activated carbon and replace it every 2 weeks. It provides a lot of the same benefits, and dose so well on very small tanks.
Thanks for the reply Pasfur,

There is nothing in the back chambers as I removed balls, rings and sponge that came with the tank, there is a bag of carbon to use but I have not put it in the tank yet :) I thought a skimmer was the way to go. I am , of course, open to guidance and advice.


Thanks
David.
No doubt, skimmers are an absolute necessity on most tanks. I'm just saying you could probably be just as successful on a tank of this size without one. I generally start adding skimmers to tanks when they hit 20 gallons in size. The live rock and sand will be all you need, with carbon as an upgrade. I'd almost rather see you spend the money on a UV if you just have some cash to blow.
OK,
Thanks for that I'll check out the UV side of things. As I'm in no rush to stock the tank I can afford to try things out. The live rock is now in parts turning quite a gold colour and it seems to be becoming "hairy" in places. It appears to be getting a bit more life into it although I'm not sure if this is good or not so good as I can't tell the algaes etc apart at this stage. I swear that I saw "something" crawl into the rock as I switched on the tank light this morning but it has not reappeared as yet....... My immagination?? The sand is also getting a golden tinge in places as well.
I'll try to look info on it up here and of course any comments are welcomed.
The sg is still 1021 and the temp around 24/25C and I've put a Hydor Nano in to increase water flow. I'll update the pix when I get a chance.

Tnx
David.
Up the salinity a little bit? I think I can do that OK :)
A little update and some more pix.
How the tank looks after about 8 days. A lot more colour there now, especially golden/brown.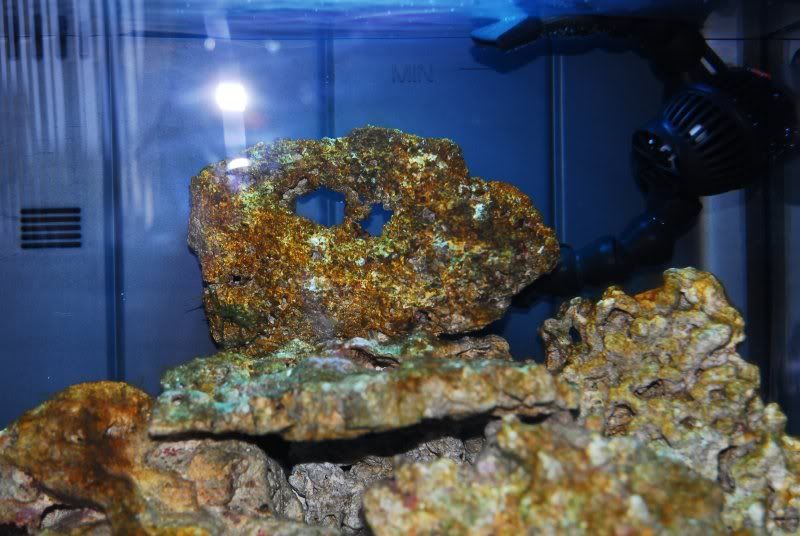 Another angle
Some of the "green stuff" & some of the "hairy stuff".
This little critter....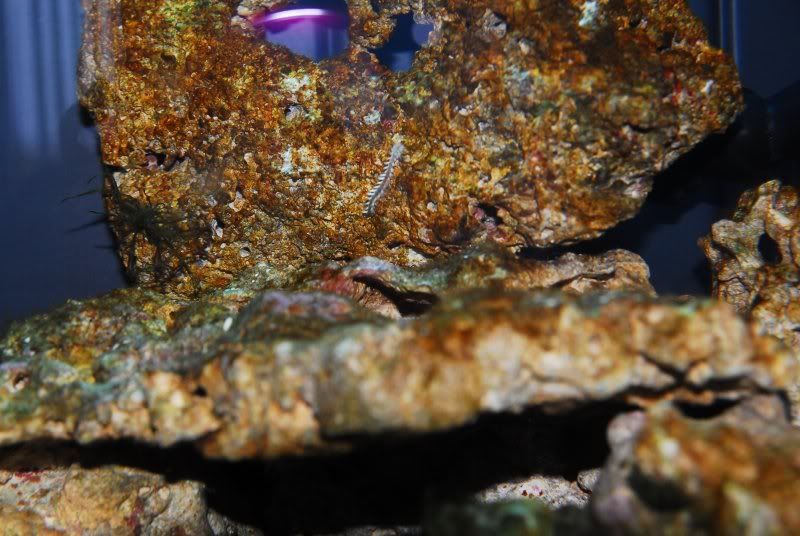 And this little thing.....
So...... Can you say if this is good or bad? Do I need to be doing anything else at this time? I wonder..... I am checking out various test kits and intend to get some next week but I suspect that the water isn't too bad if it is exploding with life. (Good or bad) The LR certainly seems to be full of life and appears to be "contaminating" the sand already. Is now the time to put in a clean up crew? So many questions..........
tfl
David.
It looks like your diatom bloom has started. It's about time you start testing for Alkalinity and Calcium, and post the results. The fourth pic is of a bristleworm. You need not worry about them, just don't overfeed. The last pic is of aiptasia. You can squirt about 1 ml of pure lemon juice straight into his mouth and that should kill him.
---
Nothing good happens fast in an Aquarium
My 30 Gallon Long Marine Tank
My son's 20 gallon FW Community
Thanks,

I have picked up a couple of test kits and done a small water change with pre mixed water to start bringing the sg up a bit. I also added a bit more LR and I think I now have plenty. I'll update with pix in the next day or two :)

David.
Posting Rules

You may not post new threads

You may not post replies

You may not post attachments

You may not edit your posts

---

HTML code is Off

---