Quote:
Originally Posted by
DisneyCoralReef
View Post
Outstanding!  I will definitely be adding you to my private email list. Thanks aain for all the information and your honesty. On my way to work now but will be posting some questions that came up over night.
Thanks again 
Posted via Mobile Device
Hey, No Problem. best to drop me pm's if i dont answer. always keep in mind there 's a million ways to skin the same cat so when you get info you will have to evaluate if that's the route you wanna go. Personally for me i try to keep things as simple/inexpensive as possible. if you make the aquarium easy to maintain you will more likely keep up on maintenance. my tank is sooo easy to upkeep it's unreal. After 16 or so years i finally figured out what's easiest for me and what works. I'm now in the process of adding an algae scrubber design that should allow me to do alot less water changes. I'm shooting for 10% change every 6 months or so. right now i'm doing 10%/month. i'll have to keep an eye on my supplements, vitamins, cause the ca, mg, alk is all automated and i check that about once every 2 months or so with test kits.
Thanks again for all the info. Definitely appreciate your input and again appreciate the honesty. Not having done this before and learning as I go along, it's great to read all your pro inputs on building this tank. A lot of ideas brought and things suggested that I would have not thought about without it being brought up here.
Please keep the suggestions and advice coming.
Posted via Mobile Device
where ru you in the process of setting up a SW tank? what equipment have you gotten so far? what are you thinking of getting?
Gah it was all typed and I lost it...
I am doing research to buy all my equipment. I currently don't have anything. I just got a quote for a full 120g set up including a sump:
http://www.aqueonproducts.com/produc...aflow-sump.htm
(model 4). The tank as per your suggestion was a 18.5 wide, 25.25 tall and 55-60 inches in length.
Bigger than what I initially thought of doing.
I went out there to figure put what tank would be best when you brought up the purpose of the tank.
What did you guys think of this so far? Does the sump look appropriate for this? Is it one you would suggest getting? Yes no? I'm really considering getting this tank.
I've also thought about looking online for a used one but don't know of it's a good idea for first purchase. I might be safer just buying it directly from the store? I'm also worried that the size of the tank might be something bigger than what I cam chew as a first time tank builder.
Thanks for the info everyone, you're all my saviors.
Posted via Mobile Device
thats a freshwater sump, and you esp dont want bio-balls.

is it possible to get a used tank and silicon sheets of plexi as baffles for a DIY sump?
Hmmm...I must have copied his link wrong. It was a model 4 sump. I'll have to search through the site once home to put the correct link up. Thanks for the correction.
Posted via Mobile Device
I'll tell you what my requirements are for a perfect tank/stand combo is and let you decide if that tank you chose is a good fit for you.

My first requirement is that the tank be easy to clean and access. If that is easy i'll more than likely keep up with maintennance. With this in mind my tank/stand combo must allow me to put my hand into the tank and the rim height must not be above my armpit. That way i dont have to get up on a ladder to clean or get something i dropped into the tank. You will eventually drop corals into the tank when placing them into the rock work and need to wipe the glass at the very bottom of the tank to keep algae off the glass. Keeping this in mind the total height of the tank/stand combo must not be highter then my armpit when i'm standing. I learned this the hard way with one of the most expensive tanks i had and hated it! I learned bigger is not necessarily better.

second is that because keeping corals require INTENSE lighting, height of the tank is IMPORTANT. The law is called inverse square law which states "if you double the distance light travels you need to square the intensity of the light to have no dropoff of light intensity". This is important for cost, and heat of the tank.

All this being said my tank is 48X24X20H. I can get into the tank because my light hangs above the tank and is an open top for evaporating cooling and ease of accesing the tank. No lids to open, no obstruction when putting my hand in. I can put my hand in and walk around the entire tank withou taking my hand out because something is in the way! It's pulled about 4 inches from the wall so i can clean the back glass with magnets easily.

My sump is a custom built sump. I will post a pic later when i get a chance. you'll see that a sump is really not high tech at all and laugh me out of the building!
---
Last edited by reefsahoy; 08-11-2010 at

06:11 AM

.
Thank you so much Reefsahoy. Another reason to go with s more shallow and long vs a taller and not as wide tank. I don't think that even with a ladder, I would have ever made it into the tank.
Posted via Mobile Device
here's a pic of my tank with the lights hanging. notice you can clean the tank by just walking up to the tank and simply sticking your arm in. The tank also naturally keeps cool due to evaporation so no chiller needed. this pic is when i frist introduced the corals to the tank so the light had to be up high so i wouldn't burn them to the new light. it's been lowered since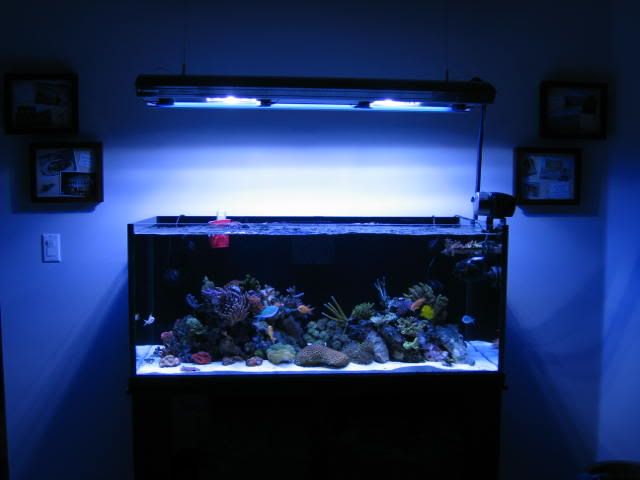 here is the back of the tank to the wall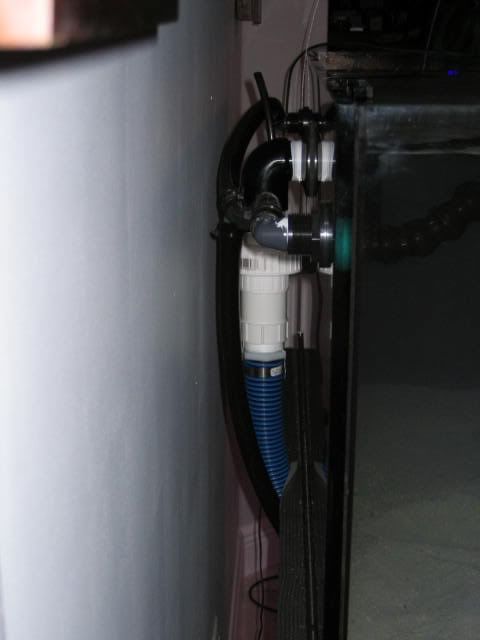 here is a photo showing that all sides and front of the stand can be open for easy access to anything inside the stand. This is the best stand i've ever owned. it so important to be able to get into the stand from all directions and no obstruction to equipment!
i will get to the sump when i get home and can take some pics. here's one more pic of the stand. i really like this stand. it's clean, easy to see inside, able to open on all sides.
---
Last edited by reefsahoy; 08-11-2010 at

01:02 PM

.
Posting Rules

You may not post new threads

You may not post replies

You may not post attachments

You may not edit your posts

---

HTML code is Off

---