Will these plants work??
---
I finally have alll my driftwood in place...pictures on update post coming soon....!!
I am frustrated with the selection of plants at my LFS....so I've been resorted to looking online.....
I was wondering if this plant list would work in my 55 gallon tank.....
2/3 amazon swords evenly placed across back (if im reading right, won't let fan out alot...if not please advise....)
1 Dwarf Rotala in each of the corners, next to the swords....(2 total)
2 or 3 fountain plants placed around the middle of the tank
do i have room for a smaller/shorter plant in the front corners?
would you add/take away anything else?
I am looking to have a very lush looking tank...very filled in to give off a beautiful planted look....with my driftwood...if it turns out half as well as I hope, it'll be sweet!
if this looks good, I'll probably place the order tonight...
thanks for your expert opinions!
Johnny
---
Last edited by JohnnyD44; 01-29-2010 at

07:55 PM

.
Like the selection; I'm just not sure about the way I understand your planting plan sounds very symmetrical to me, like in order like lil soldiers @ formation....
I'd def get 3 Swords for the back.
If by fountain plant you mean these here
http://animal-world.com/encyclo/fres...WFPS_C1094.jpg
bare in mind they won't grow very tall (maybe like 2" max) so maybe better up up front?
You will have quite some room left there....Just for comparison here's my 55g list from the newest set up and that incl a DW piece in this tank that's 1ft by 6" wide covering the ground (and taller then the tank itself)
2Vallisneria Asitica, 3Vallisneria Spiralis, 1Pennywort, 2Amazon Swords, 2Hygrophilia Angustifolia, 2Cryptocoryne Wendtii Red, 4Cryptocoryne Walkeri, 3Dwarf Sagittaria Subulata,2Hemianthus Micranthemom (Dwarf Baby Tears), 4Ludwiga Natans, 1Nesaea Red, 1Nymphea Lotus Red, 1Narrowleaf Chain Sword
---
~ Life Is Too Short, Break The Rules, Forgive Quickly, Kiss Slowly, Love Truly, Laugh Uncontrollably And Never Regret Anything that Made You Smile.
Life May Not Be The Party We Hoped For, But While We're Here, We Should Dance. ~
Thanks for the input, i'm new to all this so I appreciate the input...i'm currently working on a drawing to show where i'm going to put each plant hehe

I'm adding more plants!! no idea we could fit that many!

stay tuned....
OK, so here's the "floor plan" for my plants I'm putting in my tank....i took angels advice and added some more plants and upped the numbers of the other ones...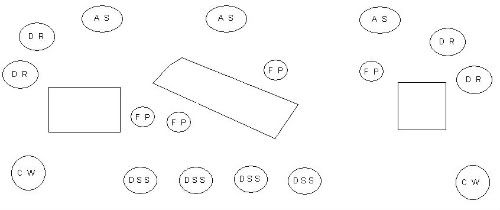 The 3 big blocks are my pieces of driftwood....
AS - Amazon Sword
DR - Dwarf Rotala
FP - Fountain Plant (they stay smaller)
CW - Cryptocoryne Walkeri
DSS - Dwarf Sagittaria Subulata
I'm hoping this will be enough to fill up some of the dead space i left from the initial plan...i tried to go tallest to shortest with some nice corner plants in the front as well as some tall corners in the back....
Let me know what y'all think!
And as always thank you so much!
Johnny
I like the layout It's going to look beautiful! STylistically, I like the dwarf sagittaria near driftwood or near the side, or even zig-zagged so as not to make it a centerpiece in the front row, but once you start putting them in, you will get a sense of what you want to keep and what you want to relocate. Last time I put in a piece of driftwood, I rearranged so much to get it in that "perfect" place.
---
Last edited by stephanieleah; 01-29-2010 at

10:53 PM

.
Just one quick comment before I head offline until tomorrow. Re-arrange the three swords at the back. If these are the same species, they will look contrived. Large swords should always be different distances from each other, not equidistant; they are very obvious plants. In my 115g I have three E. bleheri, two centre and right of centre, one far left [though this one is not to size yet, another story]. And another comment on swords, they will grow to the tank in size, so again they will be three near-identical plants (if same species) and ad hoc spacing is better. B.
---
Byron Hosking, BMus, MA
Vancouver, BC, Canada

The aquarist is one who must learn the ways of the biologist, the chemist, and the veterinarian. [unknown source]

Something we all need to remember: The fish you've acquired was quite happy not being owned by you, minding its own business. If you're going to take it under your wing then you're responsible for it. Every aspect of its life is under your control, from water quality and temperature to swimming space. [Nathan Hill in PFK]
Pull the 2 fountains in the front further apart so they have room to spread.
What are the squares? DW or rock or caves or something?
What helps me when I'm unsure of the set up while the tank cycles....I add the plants first as i *think* it'll look good with their pots (just set them on top the gravel) then I evaluate the look sometimes for 5 mins sometimes I debate with myself for a few days
then I take all the pots and foam off and plant them the way I like it.
---
~ Life Is Too Short, Break The Rules, Forgive Quickly, Kiss Slowly, Love Truly, Laugh Uncontrollably And Never Regret Anything that Made You Smile.
Life May Not Be The Party We Hoped For, But While We're Here, We Should Dance. ~
thanks for that tip angel....the tank is cycled....this is for the 55G I am writing the plant build about....I think i'll do that with the plants....thanks!

i'm still looking for a reputable online plant store....i may be taking a trip to PetCo later to see what they have.......
I pers only can recommend sweetaquatics any order I ever placed I was very satisfied with quality & price and never had no issue of any kind with them (I have no option to shop locally).
---
~ Life Is Too Short, Break The Rules, Forgive Quickly, Kiss Slowly, Love Truly, Laugh Uncontrollably And Never Regret Anything that Made You Smile.
Life May Not Be The Party We Hoped For, But While We're Here, We Should Dance. ~
Posting Rules

You may not post new threads

You may not post replies

You may not post attachments

You may not edit your posts

---

HTML code is Off

---