The flower does look like that, but like only one per stem or branch
I love Pennywort, it is generally easy to deal with and the fish love swimming under it as it floats on top. My dwarf Gourami has claimed his area of the tank under the Pennywort.
---
"The greatness of a nation and its moral progress can be judged by the way its animals are treated" Mahatma Gandhi
| | |
| --- | --- |
| The Following User Says Thank You to Inga For This Useful Post: | |
thats cool. I only have 2 of them growing floating, the others are growing planted
Could it be Cardamine?
It often gets confused with Brazilian Pennywort. It also has white flowers, but the flowers are different that Brazilian Pennywort.
This is a pic of it growing emersed.
Here's the link to some info:
Cardamine
---
"My dither fish need dither fish!"
And here it is submerged: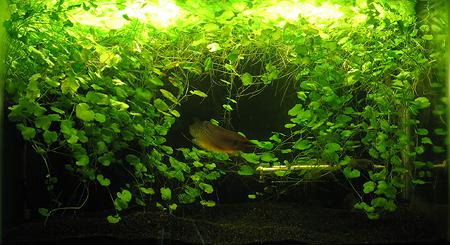 I saw it at the LFS today, I had forgotten about this plant. Maybe this will help!
---
"My dither fish need dither fish!"
| | |
| --- | --- |
| The Following User Says Thank You to MinaMinaMina For This Useful Post: | |
Posting Rules

You may not post new threads

You may not post replies

You may not post attachments

You may not edit your posts

---

HTML code is Off

---