What is this plant?
---
Yesterday, I bought 2 bamboo plants and one I don't know. Does anybody know what type of plant this is(pic below, plant on the left)? And does bamboo do well in tanks?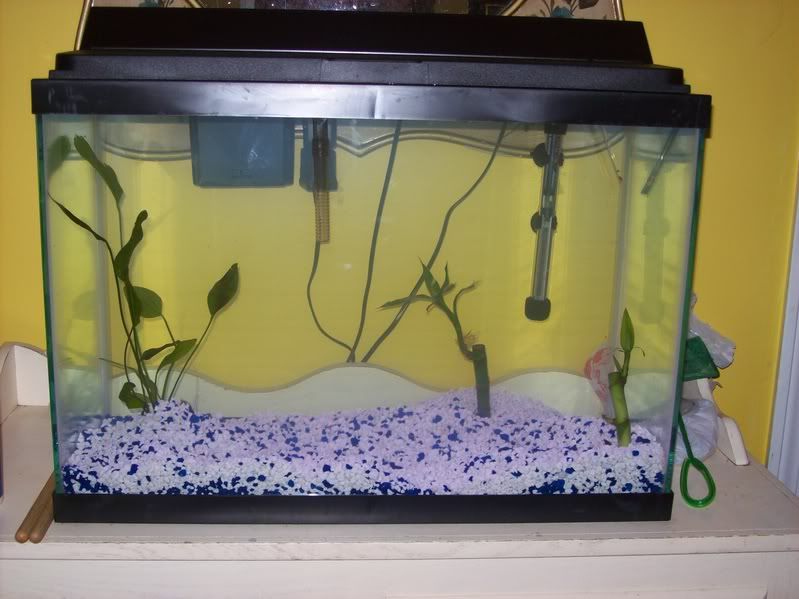 I agree, a sword or a crypt, although I'm leaning towards crypt. If the leaves all melt off in the tank, you'll know it's a crypt, and don't worry, because they'll grow back. It should do well in your tank, provided it has enough light and nutrients. I'd recommend a root tab to fertilize this plant.

As for bamboo, it's not actually a fully aquatic plant, but an amphibious one. It should do OK in your tank for a while, but it will probably eventually rot and die. While bamboo does better than most amphibious plants when submerged, it's not meant to grow like that. Personally, I'd take it back to your LFS and demand a refund.
Ughh... the emplyees at Petco told me the bamboo would thrive in my tank. (Note: NEVER SHOP AT PETCO)
The bamboo can survive and thrive but not fully submerged. The leaves will die and rot off. The base can be kept under water and if the conditions are good enough it may even thrive.
Meh...put it in a pot with some of your leftover gravel and water it about once a week (pot should end up being halfway full of water). I had one of those going for about 3 years and then I forgot about it.
---
This is the song that never ends...
the one on the center and right are what we call here as "fortune plant" they would melt submerged...
---
ardua non timeo!

certified planted tank addict
Posting Rules

You may not post new threads

You may not post replies

You may not post attachments

You may not edit your posts

---

HTML code is Off

---