Geo

You kind of have the same problem as me, you want to change things up, I bet your bored a bit now eh? This stage sucks.

I think the only thing really you can do is add more plants, but with all that surface coverage this is going to limit the effect. You like I, want the coverage for the fish, and like I, presume you want cover so as to limit that dreaded brush algae that covers anubias and java fern.

I know you won't do it, as it means exposing the fish but If it where up to me... I would look into maybe getting rid of the floating plants, and going Co2 injected and plush that bad boy up with some nice bushy fast growers, some different colour too reds and such. work on a true carpet, etc. Not a "true" planted tank but a hybrid. semi high tech. this requires light though, otherwise it won't work... so its a catch 22 situ. I would go this route, but my little 29g is too heavily stocked and adding the Co2 would scare the life out of me, I could imagine coming down in the morning to find the fish all dead...

or you could try finding a ton of sumatra drift wood, and building a big tangle of it over one side, and have a load of java fern interweaved throughout it.

heres a few pics I stole of google, some are better than others. what I am getting at is maybe down one end have some kind of high tangle of thin twisty sumatra wood, with all kinds of anubias, fern and moss attached. this would give some height and depth in the corner. then up the other end maybe just densely planted bushy fast growers, a ton of anacharis as mentioned, or even cabomba maybe, some nice red plants in the mix too. you could perhaps keep the spray bar positioned so as to keep the surface clear here for more light penetration. then have an area in the middle that thins out, and have your carpeting plants. maybe something different to pigmy chain. a few small bits of driftwood maybe. anyhoo, heres the pics...

P.s the last pic is like my dream... how amazing would that be??
---
Peace always..

If you worry you die, and if you don't worry you still die..... so why worry?
---
Last edited by rhymon78; 07-09-2012 at

05:18 PM

.
I won't go the injecting CO2 route. I have Angelfish, and they will not do well at all under bright lighting. A Red Tiger Lotus may work though, I have one in my 20 gallon with similar lighting and it is doing fantastic and stays red.
Here is a full shot ... I stitched it together for several images so there may be some funky edges in there ;) It also shows how the floating plants have changed position now that the spray bar points at the back wall.

I think I would add some sort of Crypt something like Cryptocoryne wendtii "Red" or maybe even Bronze? It should grow in your tank and it will add some color. Also would think it would look good in your tank.
---
That is very impressive, nice work. Crypts as someone mentioned, the red/brown leaf species esp to add som contrast. And perhaps a couple smallish bits of wood on the sand just to break it up a bit, with the crypts next to them.
---
Byron Hosking, BMus, MA
Vancouver, BC, Canada

The aquarist is one who must learn the ways of the biologist, the chemist, and the veterinarian. [unknown source]

Something we all need to remember: The fish you've acquired was quite happy not being owned by you, minding its own business. If you're going to take it under your wing then you're responsible for it. Every aspect of its life is under your control, from water quality and temperature to swimming space. [Nathan Hill in PFK]
Thanks everyone for the ideas!

Should I thin up the floating plants some? That Water Sprite really takes over fast :D I know the fish probably love the deep shade, but I'm wondering if I should thin it up some just to let a little more light down for the plants.
I was SO hoping you'd do that! It's GORGEOUS. . . I dunno, man. . . I really like it as it is. That said, if it were *MY* tank. . . hmmmmmmm. . .

I'd basically go with what you have on the left side of the tank, mirror it (ish) on the right. . .build it up at each side - plant your large crypts and swords with the goal that the edges of the tank are a bit jungle like and leafy. . . you kind of already have the start of this going on on the left side of the tank. I'd put the Cryptocoryne spiralis and anything else you have that's tall and slender and stemmy across the back in the center - to block the back-round a bit and let the eye flow across the middle. . .

On the left side, kind of to the center of the tank as is, you have a piece of driftwood that is kind of forming a 'V' on it's side (I know you have a piece all the way in the left, but I STILL can't quite make it out), I'd shove this piece just a *tad* further over to the left, and find another branch that reaches out in a similar way to the right - kind of making a sort of symmetry there with a lot of open swimming space in between the branches. Add a few more branchy pieces of driftwood to the sides in the 'jungle' area to break things up - like what Byron said, and possibly throw in a nice rock or two toward the center of the tank to give a nice solid grounding point. I'd leave the center more or less open and let the chain swords fill in. . .

I also agree with the previous suggestions of adding some reds or different greens here and there to break up the color a bit. . .

I'm sure that reading this makes no sense, so I'll try to find an image of what's in my mind. . . heh. That tends to be difficult, but I'll try!

All in all, I really think you have a great start on this tank. I like it, and it's growing in so fast! I say good job!

Edit: I LOVE the canopy, and as long as the plants are happy, I'd leave it! But if you think they need more light, thin 'em! I don't know WHY, but I can't seem to get the watersprite to stay in my tank. If you decide to get rid of some - don't get rid of it! Please. . . give it to MEEEEE! ;)
---
Last edited by Chesh; 07-09-2012 at

08:50 PM

.
Along these lines:
This image comes closest to what I was trying to explain - but I can't find a bigger image of the whole tank!
(this would be the left side, obviously ;))
Kind of like this... only with more open space in the center. . . more of a canopy, and more big leaves!
*shrug*
OR you could just leave it alone and LOVE it, cuz' I do!
---
Last edited by Chesh; 07-09-2012 at

09:05 PM

.
What an expanse of space to work with! Ever think of getting a dolphin or a small whale? :)

I think you were absolutely right from the start about the back of the tank - needs background plants, and I think with a tank so deep you need fast-growers, and a good number to start. Water Sprite (planted) grows like crazy and it will tolerate lower light. I've been having success with trimming the tops of Cabombas about 4" below the waterline (much lower than your waterline) and replanting the tops to extend the original planting. Do you have scuba gear? Wisteria grows somewhat slower so I would skip it.

You might want to have more light, although from memory your first shot looked pretty good. I look at the substrate to see if it's getting enough light. I might agree that removing some of the floaters might help get more light down to the substrate, even though they're so good for the tank.

For more of the background plants and more middle plants you could browse the Tropical Fish Profiles which has profiles of plants, too. When you get through with that, there's always the Web.

Steven

p.s. are a couple of good-sized pieces of slate for the middle back out of the questiton?
---
Last edited by equatics; 07-09-2012 at

10:25 PM

.
New plants I ordered came in. I decided to take a chance with a couple stem plants. It will be hit or miss with the shade (probably more miss than hit) but stem plants are pretty cheap so worth trying.
I got two of the Cryptocoryne wendtii "Red" variety and also a "Florida Sunset" variety to try out.
I then got another Red Tiger Lotus to put in, since the one in my 20 gallon has done so well, and stays a nice red color. It will be a couple months for it to build up though if it follows the same pattern as the last one.
Finally, I got some Flame Moss to tie onto the driftwood. Not red, but I always wanted some moss. Was going to do Java Moss but can't find it from a good source.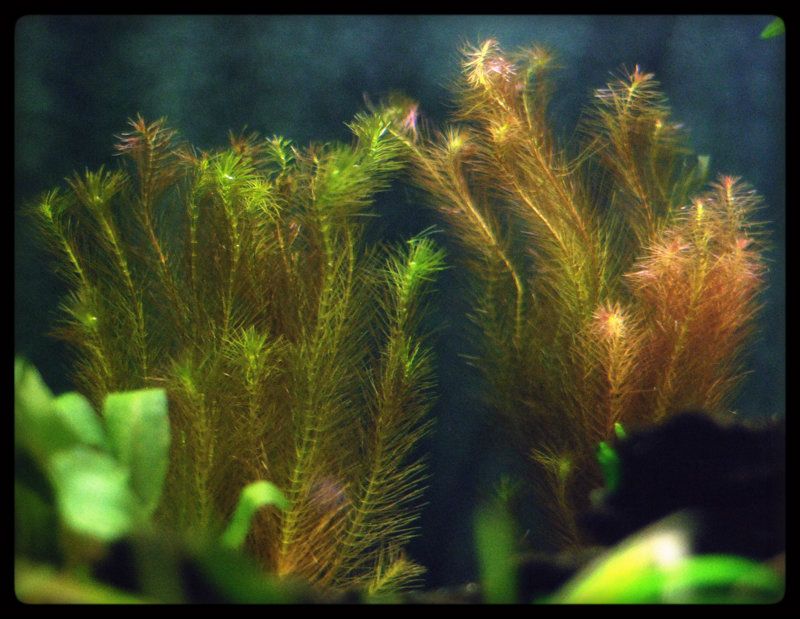 This is my favorite, really happy with how it looks. I hope it keeps its color, but even if it goes green I think it looks nice. This is Rotala Wallichii.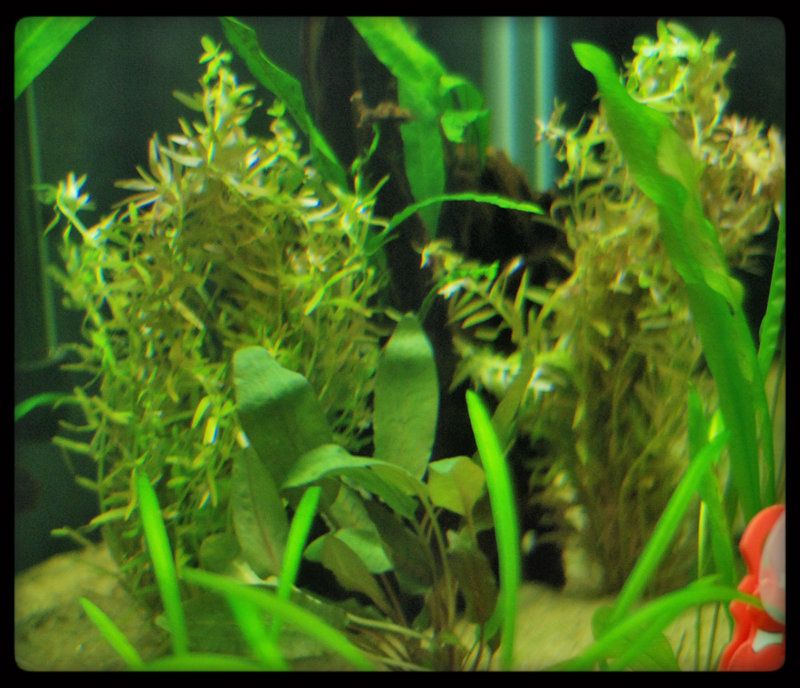 This picture is a bit blurry sadly. It shows one of the "Red" crypts ... that looks pretty green to me. Also some Rotala Rotundifolia behind it.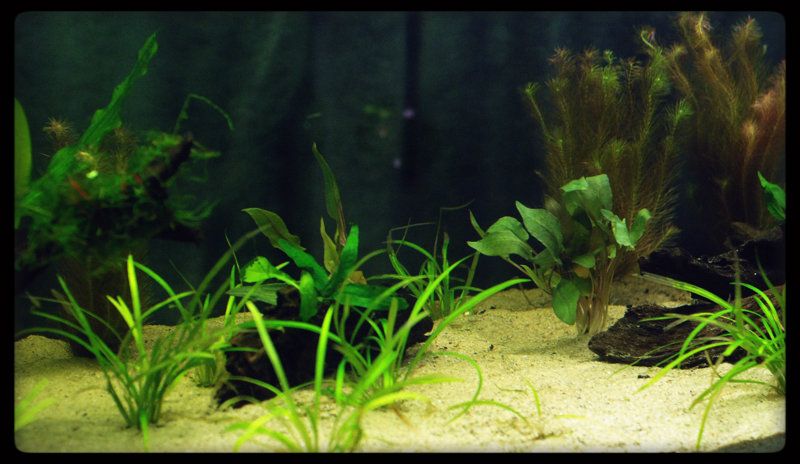 This is the center view of the tank, you can see two new crypts, one "Red" on the right, and one "Florida Sunset" in the center. Then the flame moss is on the driftwood, and behind the driftwood and to the right is the Rotala Wallichii.
They add some color now, I hope it stays, but if not it will at least help fill in those areas.
Looks NICE! I love the 'red' crypts . . . I have one, and it's one of my favorites. Not SO red, but it is a different kind of color, and looks good in your tank! I LOVE those stem plants - I hope they do manage to keep color. ALL of the new additions are gorgeous - THREE CHEERS FOR NEW PLANTS!!!
Posting Rules

You may not post new threads

You may not post replies

You may not post attachments

You may not edit your posts

---

HTML code is Off

---