Unidentified plant
---
I just bought a plant that I swore was dwarf baby tears, but when I looked it up I realized it was way too red, so I am wondering what it is. Right now it's floating trying to get some roots on it, but until I get an actual pic of it I will just describe it. The pic will come tomorrow probably, it's red and green with small round leaves. I'm pretty sure it's a stem plant that's supposed to be rooted, it is small and thin. This is the best description I can come up with right now, anything else will be provided if you ask, and I promise a pic tomorrow. Also there are some new plants in my tank so new pics of that will be up soon.

Thank you for any ideas
~Andee
---
40 gallon with 13 hermit crabs- 11 PPs, 1 E, 1 Straw
25 Gallon
~2 Dwarf Puffer- Sidney and Cairo, 4 Amano Shrimp, 4 Blue Pearl Shrimp, 4 Yellow Cherry Shrimp, 2 Mandarin Cherry Shrimp, Too many RCS, 4 Crystal Red Shrimp, 4- Otos
5 gallon
~White/Teal/Red Betta- Phantom, Snails
25 Gallon
~Leopard Gecko- Desert Rose
We will need a photo.
Plants with small round leaves that are reddish is too vague.
---
Byron Hosking, BMus, MA
Vancouver, BC, Canada

The aquarist is one who must learn the ways of the biologist, the chemist, and the veterinarian. [unknown source]

Something we all need to remember: The fish you've acquired was quite happy not being owned by you, minding its own business. If you're going to take it under your wing then you're responsible for it. Every aspect of its life is under your control, from water quality and temperature to swimming space. [Nathan Hill in PFK]
XD thought so lol, I finally found my camera and got a pic. So here are a few,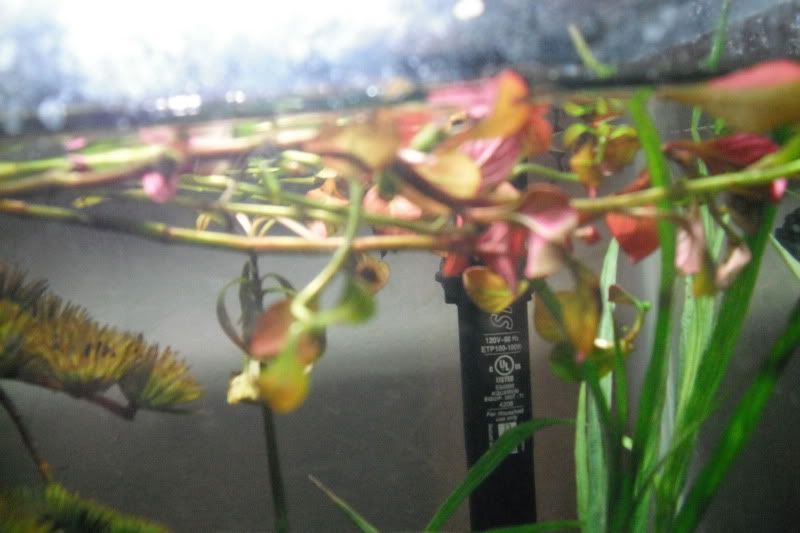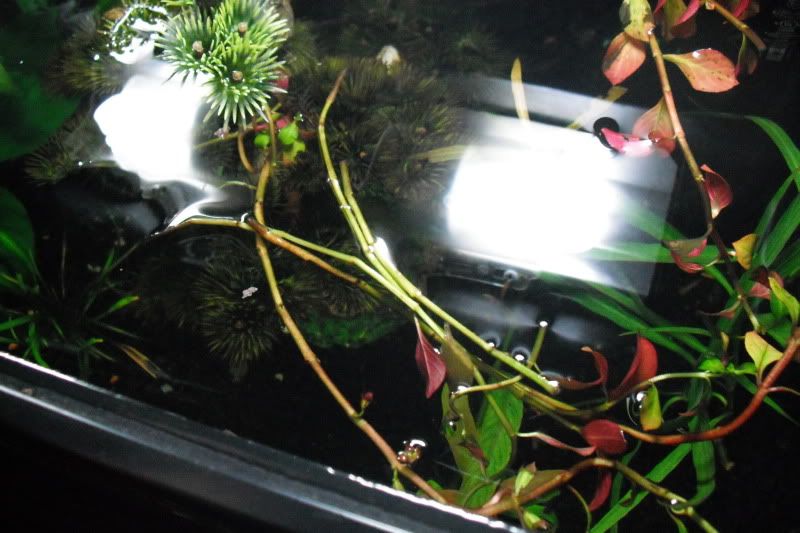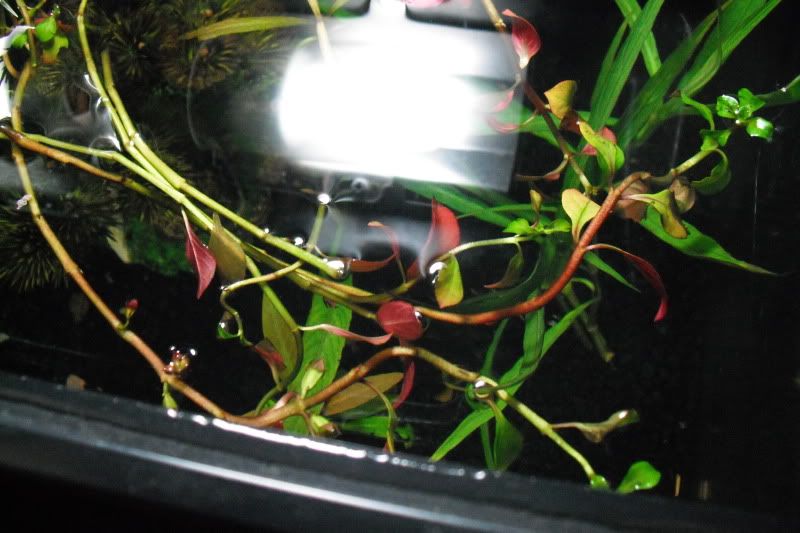 I find it really quite pretty, but sometimes I wonder if this isn't the natural color for it? IS that possible?
---
40 gallon with 13 hermit crabs- 11 PPs, 1 E, 1 Straw
25 Gallon
~2 Dwarf Puffer- Sidney and Cairo, 4 Amano Shrimp, 4 Blue Pearl Shrimp, 4 Yellow Cherry Shrimp, 2 Mandarin Cherry Shrimp, Too many RCS, 4 Crystal Red Shrimp, 4- Otos
5 gallon
~White/Teal/Red Betta- Phantom, Snails
25 Gallon
~Leopard Gecko- Desert Rose
That's definitely a Ludwigia. Most likely L. repens.
---
Everything happens for a reason, but the reason isn't always good.

I agree, it is Ludwigia. And probably Ludwigia repens, the most commonly-available species. You can read more about it in our profile, click on the shaded name to see it. It will explain the colouration and provide guidance for care. This stem plant would be better planted, with the cut ends of the stems in the substrate.

Byron.
---
Byron Hosking, BMus, MA
Vancouver, BC, Canada

The aquarist is one who must learn the ways of the biologist, the chemist, and the veterinarian. [unknown source]

Something we all need to remember: The fish you've acquired was quite happy not being owned by you, minding its own business. If you're going to take it under your wing then you're responsible for it. Every aspect of its life is under your control, from water quality and temperature to swimming space. [Nathan Hill in PFK]
Ahhhh, ok I will plant it today guys ^^ I am taking more pictures of my new plants so it should look much better with it planted.

Thank you all <3

Love Andee
---
40 gallon with 13 hermit crabs- 11 PPs, 1 E, 1 Straw
25 Gallon
~2 Dwarf Puffer- Sidney and Cairo, 4 Amano Shrimp, 4 Blue Pearl Shrimp, 4 Yellow Cherry Shrimp, 2 Mandarin Cherry Shrimp, Too many RCS, 4 Crystal Red Shrimp, 4- Otos
5 gallon
~White/Teal/Red Betta- Phantom, Snails
25 Gallon
~Leopard Gecko- Desert Rose
Posting Rules

You may not post new threads

You may not post replies

You may not post attachments

You may not edit your posts

---

HTML code is Off

---