Tank has brown sstuff in it.
---
Well something is wrong with my tank. I dont really know where to make this thread, because Im not sure if it is a plant. It is a brown algae like substance that is forming on the decorations. It doestn appear furry or fuzzy more of just a dirt or goo. The pictures make it look like everything is covered in brown but really its just the two big "column" structures and the center divider, there is also a bit coming off the lip of the filter. The water looks fine, its not floating around in there or anything. I tried to scrape off a majority of it last time it appeared about 2 weeks ago, but it came back. I am keeping up on water changes and everything so I dont know what to do. Would any kind of snails help kill it.
Pics: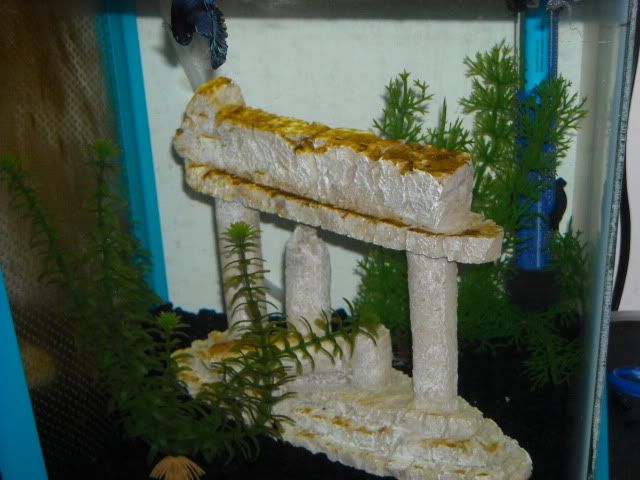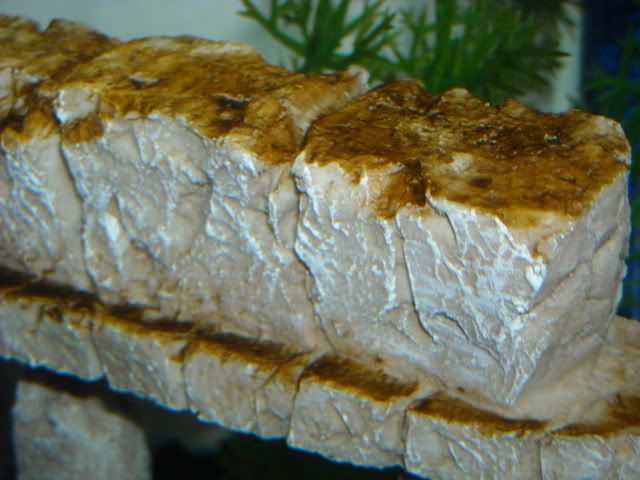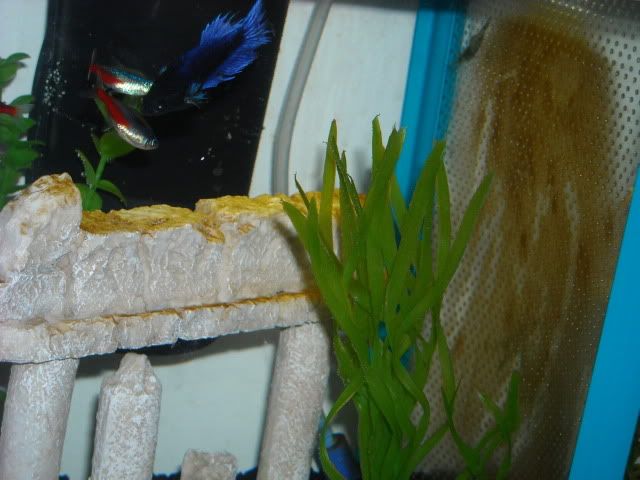 Without Flash: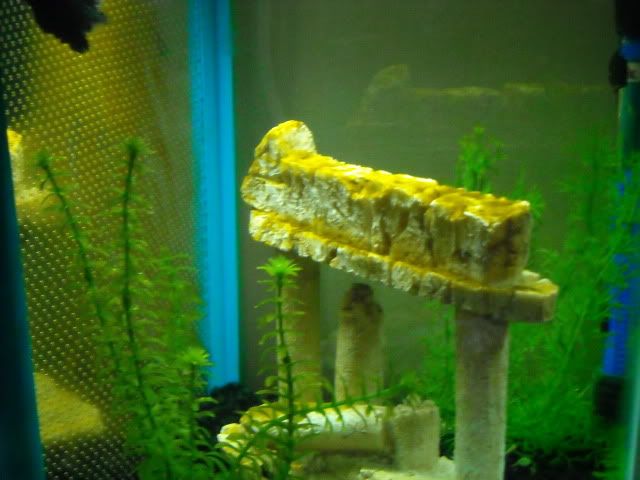 HELP?
---
Snowflake - Crowntail Male ~ Marina - Crowntail Female ~ Kingdra - Delta Male
3 Bettas
3 Neons
2 Cories
2 MTS
2 Cats
2 Parakeets
1 Ghost Shrimp
1 Chihuahua
1 Goldfish pond
brown diatoms. common after cycling if you forget the big water change. leave it and it will die when ur tank stabilizes or any algae eater will eat it
Ok thats what I thought, I never really cycled the tank so does that mean it just now is finishing cycling because its been up for a good month now. Of course I did a 100% change a few weeks ago because Im an idiot maybe it just finished re-cycling.
---
Snowflake - Crowntail Male ~ Marina - Crowntail Female ~ Kingdra - Delta Male
3 Bettas
3 Neons
2 Cories
2 MTS
2 Cats
2 Parakeets
1 Ghost Shrimp
1 Chihuahua
1 Goldfish pond
ouch a 100% water change will set you back on your cycle. However, if you did not rinse your filter under tap water or wash your gravel, it will be a faster cycle than before.
Yah I though it was necessary at the time but I was wrong, the tank had alredy been going for about 2 weeks before I did it, and now it has been running for about 3-4 since. And I didnt wash the gravel or filter so it should be good-ish.
---
Snowflake - Crowntail Male ~ Marina - Crowntail Female ~ Kingdra - Delta Male
3 Bettas
3 Neons
2 Cories
2 MTS
2 Cats
2 Parakeets
1 Ghost Shrimp
1 Chihuahua
1 Goldfish pond
I'm also fighting some brown algae in both of my tanks. I heard it can be caused from leaving the lights on too long? I only keep mine on for 8hrs a day. Too long? Too short?

The tanks have been cycled for a little bit, when will this stop happening? I bought snails and a rubber lip pleco to take care of it. It keeps coming back though.
8 hrs sounds about average for most tanks ive seen, some people kep their on for 10, others for 8. IF Byron jumps into this thread he can explain the whole lights and tank thing better. But from what ive read the algae issue is from inbalances in the tank. For example, the lights, nitrates, trace minerals, and CO2 must be balanced for plants to grow and when it isn't algae takes the extra stuff like lights, nitrates, etc and grows. Cycling balances ammonia and nitrates. When a tnak is in the proces of cycling, there is an excess of nitrates ans teh ammonia is being consumed by bacteria. This is why many new tanks see brown diatom breakouts, because nitrates are higher than they should be. Water changes keep this under control and so will introducing plants. Fish like plecos, this i read somewhere so i dont know for sure, create lots of waste and the poop and this poop dissolves and bacteria eat it up and generate mroe nitrates. Thats why plecos, goldfish, and other "messy" fish need stronger filters with more biological filtration to keep nitrates lower.
I have no live plants therefore no CO2. The tanks have been running for a while and have fish living in them.
well you have co2 if you have fish, you just dont have plants to use it. A bubble wand will reduce your co2 levels. Typical cycling, if done right should take around 2 weeks to a little over a month depending on method. If you tank has been running for, letsay, 3 months, then your tank should be cycled for sure. However, if you fell behind on water changes or fell behind on cleanign your filter, the extra garbage caught in there could be generating extra nitrates. If you have been keepign up onw ater changes, then try cutting your light back by an hour or so and see what happens.
Interesting that I just did a response in the "Freshwater Aquariums" section on this same issue (diatoms) from another member. SinCrisis has (in both former posts in this thread) covered things well. However, it is possible that the tank is still cycling, as this can take anywhere from 2-8 weeks. The nitrate is the third part of the nitrogen cycle, and as SC said nitrates can be very high at first. Regular (weekly) partial water changes of 30-50% normally take care of this, unless there is some reason for nitrates being abnormally high (bigger fish create more waste, water changes not occurring, etc). Live plants do provide the benefit of a ready user of nitrates, but in their absence only algae and certain bacteria will consume it.

Any chance you could test the nitrates? And the ammonia and nitrite as well, since I do suspect that this tank is not yet cycled.
---
Byron Hosking, BMus, MA
Vancouver, BC, Canada

The aquarist is one who must learn the ways of the biologist, the chemist, and the veterinarian. [unknown source]

Something we all need to remember: The fish you've acquired was quite happy not being owned by you, minding its own business. If you're going to take it under your wing then you're responsible for it. Every aspect of its life is under your control, from water quality and temperature to swimming space. [Nathan Hill in PFK]
Posting Rules

You may not post new threads

You may not post replies

You may not post attachments

You may not edit your posts

---

HTML code is Off

---