Stocking question for a 20g Long
---
got my aquascape all planned out the left and right corners will be densely planted with the center being a bit more open, though I may add a few short plants (maybe put one in front of the rock closed to the front of the tank)
For fish... I'm thinking either 3 Dwarf Gourami (1 mal 2 females) or some dwarf rainbows (I'd REALLY like the dwarf Rainbows more if you guys think it can work out)
For schooling fish I think I might go Red Minor Tetras.
and for the bottom I'll probably just do corys
So what do you guys think? Will I be able to add another schooling fish or will the dwarf rainbows and tetras be enough for schools?
Hah, I talked to Reefmissoula today and asked if they knew about a local FRESHWATER store cus I was interested in getting a
zebra pleco
and Dan (the owner) said he could order one from his supplier for me for pretty much $300. It's the cheapest I've seen them o-o. He said his supplier has the Venezuela Zebra Pleco, and he doesn't know the difference between the Ven. Pleco and the Brazilian pleco though, but he could order it for me.
I COULD have one instead of cories. Thoughts?
got my plants today!!
waiting for them to perk up a bit before trying to plant them this is the 'range' of plants I might have
Could include but not guaranteed -
Dwarf Sag
Green Hygro
Jungle Vals
java moss
Several Species of Ludwiga
bacopa
Floaters - greater duckweed, duckweed, dwarf water lettuce, frogbit, salvinia, azolla
anacharis
wisteria
Myrio
Limnophilia Sessefloria
Rotala
honwort
crypts - red or green
Brazillian Pennywort
from the buyer. I'm hoping I don't have duckweed, but I think I might have Frogbit because the floaters are HUGE. bigger than duckweed. It's not Salvinia cus its not 'bumpy'. but I'm sure I have wisteria.
They all arrived in a huge clump, so some are still mushed together. Some of these plants I'll have to research some because I have no idea what Myrio is... or Limnophilia, rotala...bacopa... there are a few others that sound familiar but their details escape me @_@
Quote:
Originally Posted by
mechanical8dragon
View Post
For fish... I'm thinking either 3 Dwarf Gourami (1 mal 2 females) or some dwarf rainbows (I'd REALLY like the dwarf Rainbows more if you guys think it can work out)

For schooling fish I think I might go Red Minor Tetras.

and for the bottom I'll probably just do corys

So what do you guys think? Will I be able to add another schooling fish or will the dwarf rainbows and tetras be enough for schools?
The dwarf gouramis are not a good choice for such a small tank. They are similar to bettas and it's likely that they will not get along. Honey gouramis would be a much better choice. A little smaller, unaffected by dwarf gourami disease, and they are much more peaceful.
Dwarf neon rainbows are active schooling fish and really need a larger tank. The small blue eye rainbow varieties would be your best bet, like celebs or furcatas.
In my experience, and that of many others, serpae tetras are nippy. I would choose a different species that is more peaceful.
A 20 long is fine for corys. I would get then and not the zebra pleco.
Once you add substrate and account for the air gap at the top, the 12 inch tall tank is more like 9 inches tall. That's just not a lot of water - not enough to layer fish. I would keep the corys on the bottom for sure, and then depending on the size of the species, either just one or maybe 2 other school. 2 if they are nano fish, like embers tetras and celebes rainbows.
But really, 2 nice size schools and the gouramis will make for a very nice tank. I would certainly go for the small rainbows - very interesting fish to watch. Tetras are generally pretty boring fish to watch.
---
125 - BGK, chanchito cichlid, pictus cats, silver dollars, palmas bichir

125 - cichlids (severums, bolivian rams, chocolate), rainbows ( turquoise, red), loaches (angelicus, zebra, kuhli and horseface), plecos (BN, RL and clown), denison barbs, tiretrack eel, pearl gouramis, betta
90 - Congo tetras, african knife, upside down cats, spotted ctenopoma, kribensis, delhezzi bichir
2.5 - betta

WOOT! NITRITES STARTED SHOWING UP TODAY (or yesterday... I didn't test nitrites yesterday) but WOO!!! I'm excited. I was about ready to just say screw it all and go get TSS, but my tank was like "Nope, we'll save you 10$. Here, have some bacteria!"
lol:D
THst's great! have fun, your tank looks great allready, wish I was better at aquascaping haha;)
---
"Everyone is a genius, but if you judge a fish by its ability to climb a tree, it will live its whole life
believing it is
stupid"
-Albert Einstein.
As of today the ammonia reads: 2-4ppm
Nitrites are around 2-5ppm
Nitrates are somewhere in the 5-20ppm (oranges are a bit difficult to tell apart but I'm leaning more towards 5ppm just cus it's still got a yellow-hue)

Is it just me or is this cycling really fast o-o I thought it took about a week for Nitrates to show up? Oh well... I'm not complaining. Go little tank, go!!! -cheers-
Well it finally happened. I tested this morning and Nitrites were still there, though for the past 2 days it has been slower to change to purple. What I mean is, when I hit the spike the first time, the tube changed purple IMMEDIATELY after adding the drops, before even inverting. The past two days it had been taking a few seconds to change, and really just stayed a dark blue until I inverted the tube.
Tested this morning, still had nitrites. Tested just now at.... 11pm... and I now have 0 Amm, 0 Nitrites, and a whooooole lot of Nitrates as it should be. My friend is taking me to the store Friday to get the fish since it's too cold now to bike home (I only live a few city blocks away from Petsmart) Montana just hit a bad cold spell so I figured I'd play it safe.
These were the readings. I took the Nitrite test twice cus the first time I was like "Wha-what? Did I miscount the drops?" so I took in a second time, counting carefully and turned out the same. Clearly there are no more Nitrites. :D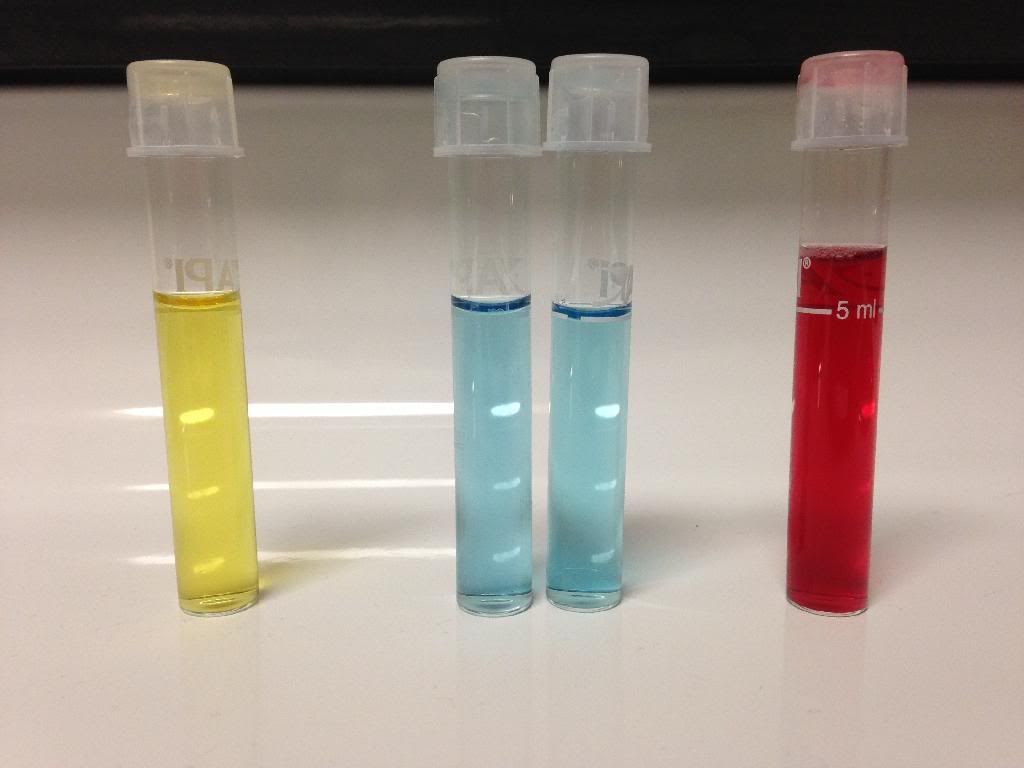 So Friday after I get home I'll do a 90% WC, clean my filter (its full of tannis and random pieces of plant fluff) and go get my fish <3
Ganna dose my take up with ammonia as a test tonight and then test tomorrow when I get home and hopefully it'll zero-out. Soooo took me... 4-5 weeks total to cycle? Yup.
:D i'll post one on monday. I'll get my other piece of wood then and I can get it in place. <3<3 im excited to share it will all the plants in place (still gotta get some more)
plants in. 2nd piece of driftwood is coming in monday and will go on the left. Acclimating fish now. <3
Posting Rules

You may not post new threads

You may not post replies

You may not post attachments

You may not edit your posts

---

HTML code is Off

---