short, low light plants
---
Well my plants finally seem to all be doing well in the tank, I am dousing with CO2 and ferts, and have 2.5 wpg light. Thanks to everyone who gave me advice! Now I am looking for some short (not taller than 4 inches) plants that would naturalize for the front of my tank, there is less light there and so the plants would need to be medium to low light.
Thank you :D
Javan moss, Riccia(place on rock with a mesh), Echinodorus tennellus, Dwarf Sagittaria and Heternanthera zosterifolia(they can be trimmed to different lengths). A few of them I can think.:)
---
Sent from my desktop or phone or whatever else I am holding on to

I'm ready for the pressure.
The drama and the pleasure!

If there is one thing I want to see here, it's HUMOR.

I believe I can fly!
I believe I can touch the sky!
I think about it every night and day!
I stand in awe of my body.

If you lay javamoss strand by strand on slate and then cover it with a hairnet (like the lunchladies wear), it will grow into a nice little lawn in a bit over a month under that lighting. You could also use cross-stich grid cut to shape with some just enough slate sewn onto it with polyester thread to keep it from floating away, and then stitch the java-moss onto that.
Here's a tank where I have done the java moss and slate thing: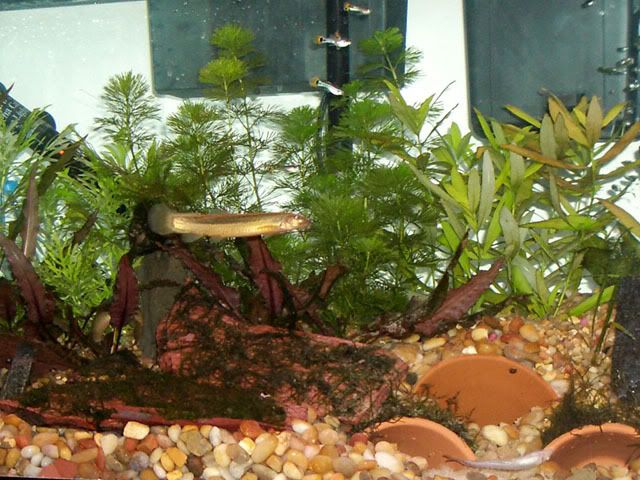 THis is shortly after it was set up, 11/28/06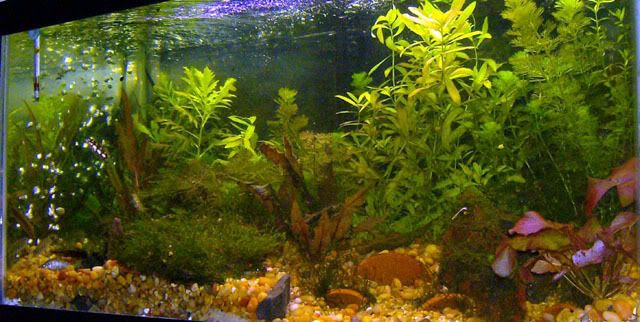 This is now, 2/19/07. I've had to trim it back twice.
That's with about 75 watts over a 50 gallon tank.
---
Logic is only the beginning of wisdom
Java moss should work well but If you can get it I would go with Christmas moss or Fissidens Fontanus as they are much fuller. The Fontanus is a newer species but from what I have seen it is very nice.
If you go with microsword, bear in mind that, per Tropica (who ought to know) you need high light to get a lawn effect, though it will grow in lower light. Also, it will do better in a finer substrate, and, when you plant it, really tease the plants out into 3-4 leaf groups to allow water flow around them and prevent debris clogging them.
---
Logic is only the beginning of wisdom
Thanks for the suggestions everyone. I am worried about the microsword, as I'm not sure I have enough light, and also have gravel and not a fine substrate. I really like the moss on slate idea though! :D
do you want the rock thing or the carpet thing??

2.5wpg is a good level, you could do dwarf hairgrass- much neater than tennelus which is a pain to trim. with a little more light you could do glossostigma, but it would be more like 1 inch max.
Posting Rules

You may not post new threads

You may not post replies

You may not post attachments

You may not edit your posts

---

HTML code is Off

---