Question about lighting and plant growth
---
I have a 125g aquarium (pics included) and I currently use 4 65w compact flo 50/50 bulbs (10k/460NM)
Would my plantsgrow better with 4 65w CF 10k bulbs or is what I am using now acceptabe? My aquarium pics are a little older and the fake plants have been removed. I just put in a large piece of driftwood that I got today into my tank so it will not be in the picture. In my tank I have Anubias, flame moss, amazon sword and some sword looking plant that hitchhiked on 1 of my purchased anubias's. Also if done in small amounts is acceptable to add new and different type of substrate to the tank. I have no idea what my substrate is but it is VERY light weight and moves easily and my plants dont really have a solid foundation to anchor themselves to. Current inhabitants are platies, BN plecos, botia angelicus loaches and a a few synodontis cats as this was once a cichlid tank. Any info anyone can give me would be great. I thank you for your time and I truly hope I can be a positive influance on this site. Oh I have also removed the huge piece of holey rock.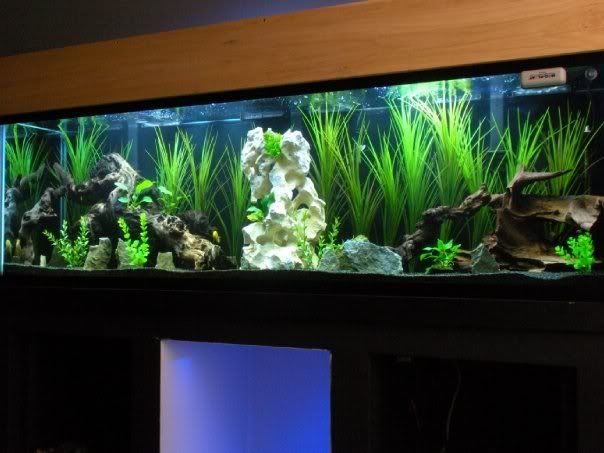 I would get different lights, 50/50's are more for saltwater I believe not fresh. IMO anything ranging from 5,000K to 10,000K is fine for planted tanks. My favorite bulbs that I use on my tank are 9325K bulbs. But what ever you get, it doesn't have to be specifically for aquariums. As long as the bulb has the correct base and wattage it will work.
Just to add to Mikaila31's good advice, you want to ensure the plants receive the light they need, which is mostly blue and second red in the spectrum. This combination can look ghostly or odd, so some yellow/green to balance will make the plant colours appear natural, even though plants reflect off this light. Full spectrum will achieve this in one bulb, but you can also experiement to get more blue but still keep the vibrant greens (and fish colours normal).
---
Byron Hosking, BMus, MA
Vancouver, BC, Canada

The aquarist is one who must learn the ways of the biologist, the chemist, and the veterinarian. [unknown source]

Something we all need to remember: The fish you've acquired was quite happy not being owned by you, minding its own business. If you're going to take it under your wing then you're responsible for it. Every aspect of its life is under your control, from water quality and temperature to swimming space. [Nathan Hill in PFK]
I would leave couple of 50/50 and add couple of full spectrum bulbs to balance out that bluish light.
I would keep half of the blue bulbs and replace the rest with 6700k bulbs.
---
Everything happens for a reason, but the reason isn't always good.

Posting Rules

You may not post new threads

You may not post replies

You may not post attachments

You may not edit your posts

---

HTML code is Off

---