I know they normally do it, but I have noticed my Gouramis surface-breathing a lot more than they used to since I turned off all the airstones. Are the rest of my fish going to be ok??
Ok here the plants are. None too impressive right now thats for sure, LOL!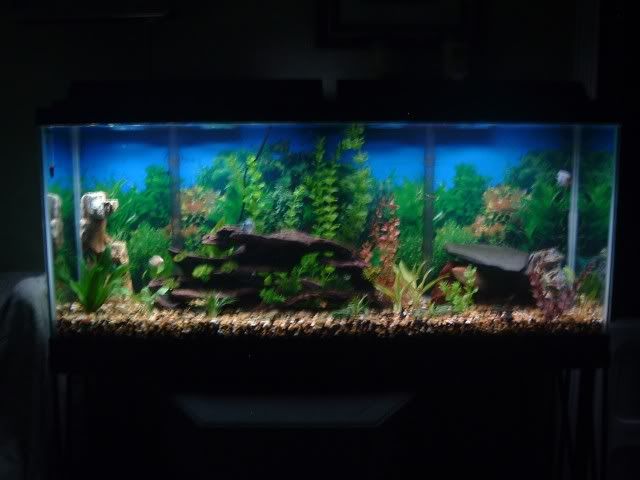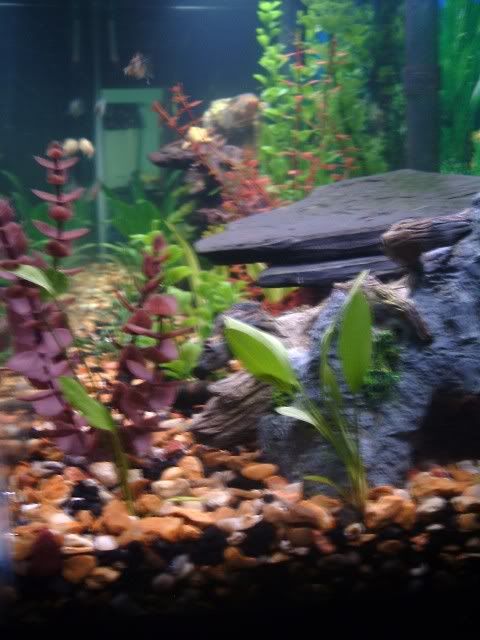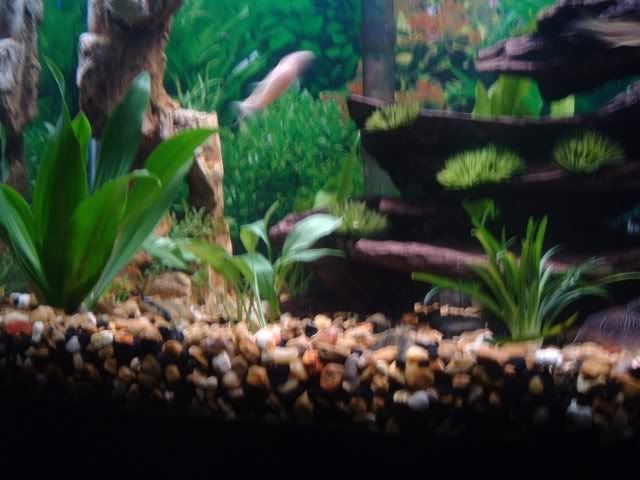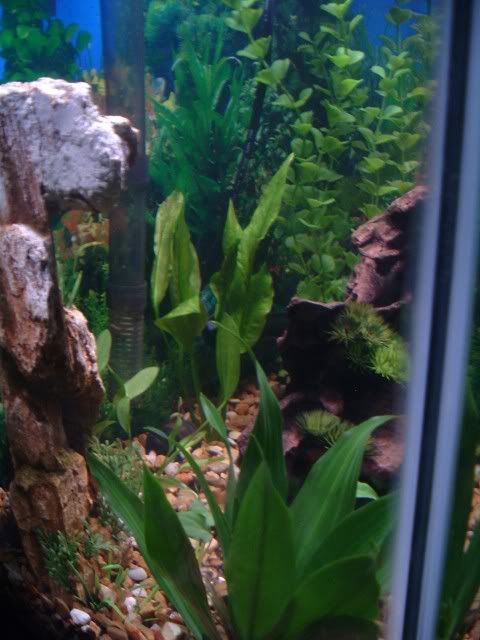 ---
JoAnn
custom 7ft 125g softie/leather Reef
44g marine predator fowlr
100g outdoor pond/waterfall

Honestly as long as that light is better for the plants than my old one, I don't mind the color of it at all. I guess I am used to the purple lights. It really looks no different in the tank at all. I put it in the light hood on the left, over the pineapple plant.

As far as the plants go, I am DEFINITELY ordering some on Tuesday. Like I said earlier I had total crap for a selection.

ETA: I forgot to add that my hubby started ragging about the fact that I turned off the airstones. "But I like the bubbles!!" he said. Well, I am the one that takes care of the tanks! And HE was the one that mentioned wanting real plants when we first got the 55G! LOL!!!!!
---
JoAnn
custom 7ft 125g softie/leather Reef
44g marine predator fowlr
100g outdoor pond/waterfall

---
Last edited by trukgirl; 01-31-2010 at

08:48 PM

.
That's a fine start JoAnn. Those plants will settled in and start to grow. And that Power-Glo looks better to me than I remembered mine from years back. If you like it, keep it.

Nice aquascape. Good work.

Byron.
---
Byron Hosking, BMus, MA
Vancouver, BC, Canada

The aquarist is one who must learn the ways of the biologist, the chemist, and the veterinarian. [unknown source]

Something we all need to remember: The fish you've acquired was quite happy not being owned by you, minding its own business. If you're going to take it under your wing then you're responsible for it. Every aspect of its life is under your control, from water quality and temperature to swimming space. [Nathan Hill in PFK]
If they are surface breathing more than usual you may try running some air at night. The plants use o2 at night, a reverse of daytime while under lighting. Try leaving it off while the lights are on and supplement the tank with air at night with lights off.
Your tank looks very nice. Good job.
---
"He who knows nothing is closer to the truth than he whose mind is filled with falsehoods and errors"
Thomas Jefferson quote
Posting Rules

You may not post new threads

You may not post replies

You may not post attachments

You may not edit your posts

---

HTML code is Off

---