Plant IDs plz
---
I added some plants to the tank today and of course forgot the name lol.. I forgot to take pics all separate before planting them lol. So just try your best to ID them.. If you can't I understand... Thanks...
ID = The one in the middle of the pic with small hairs on it...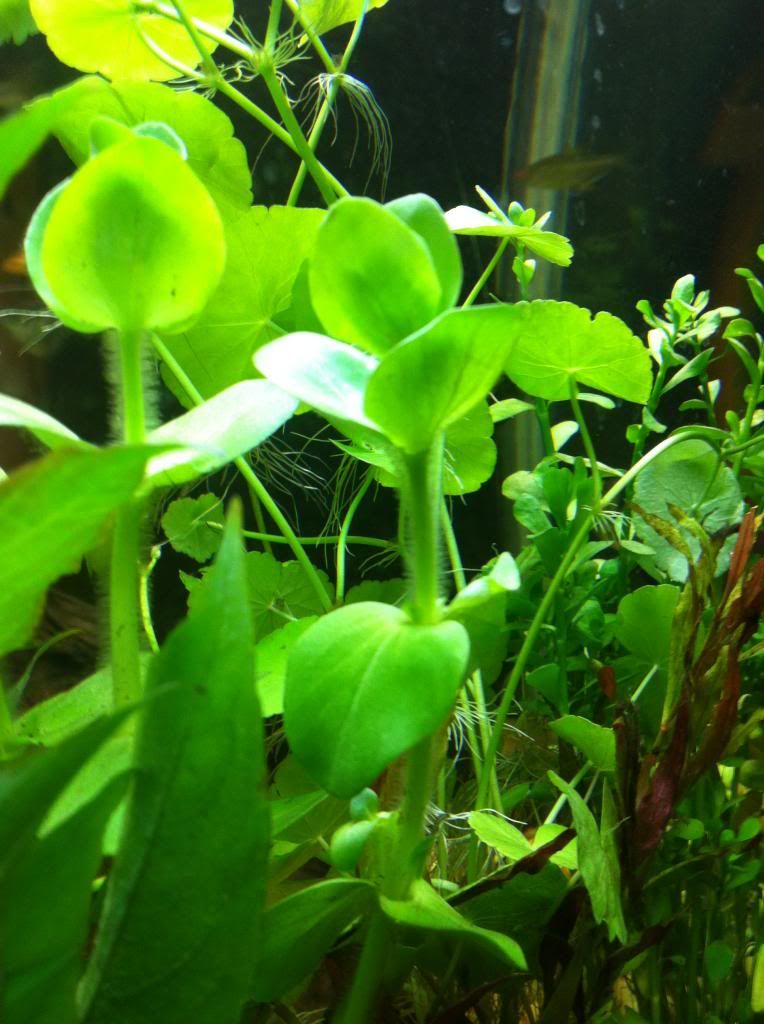 ID = The redish pinkish one..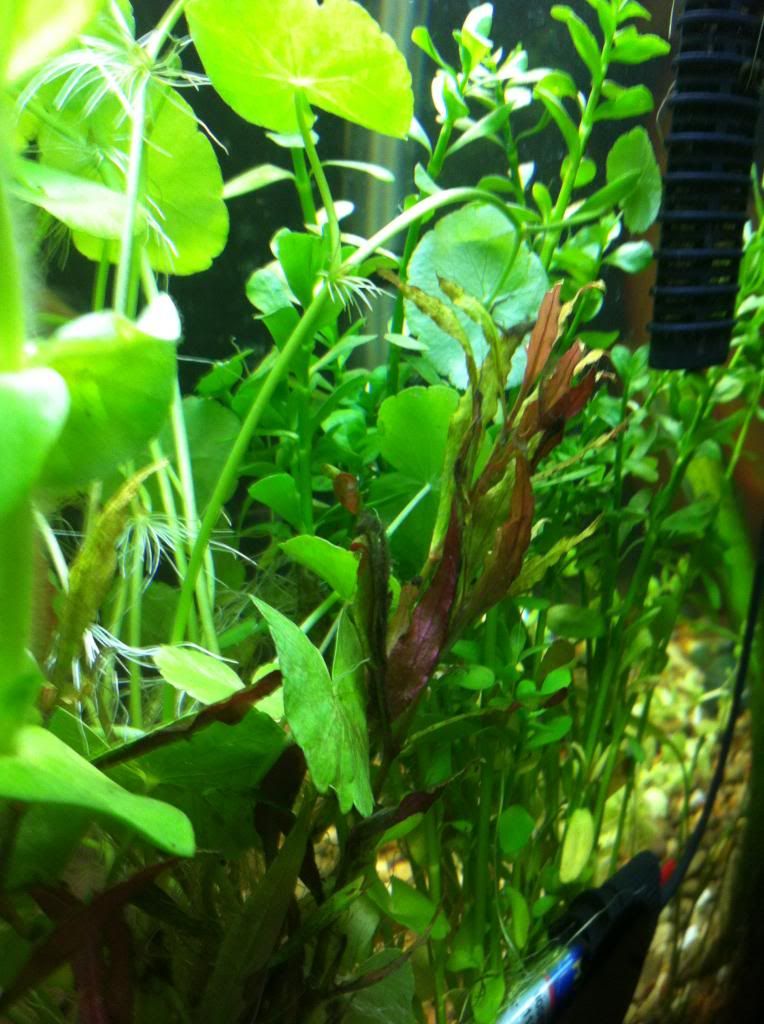 ID = With the big leaves on it..
ID = With the smaller leaves on it..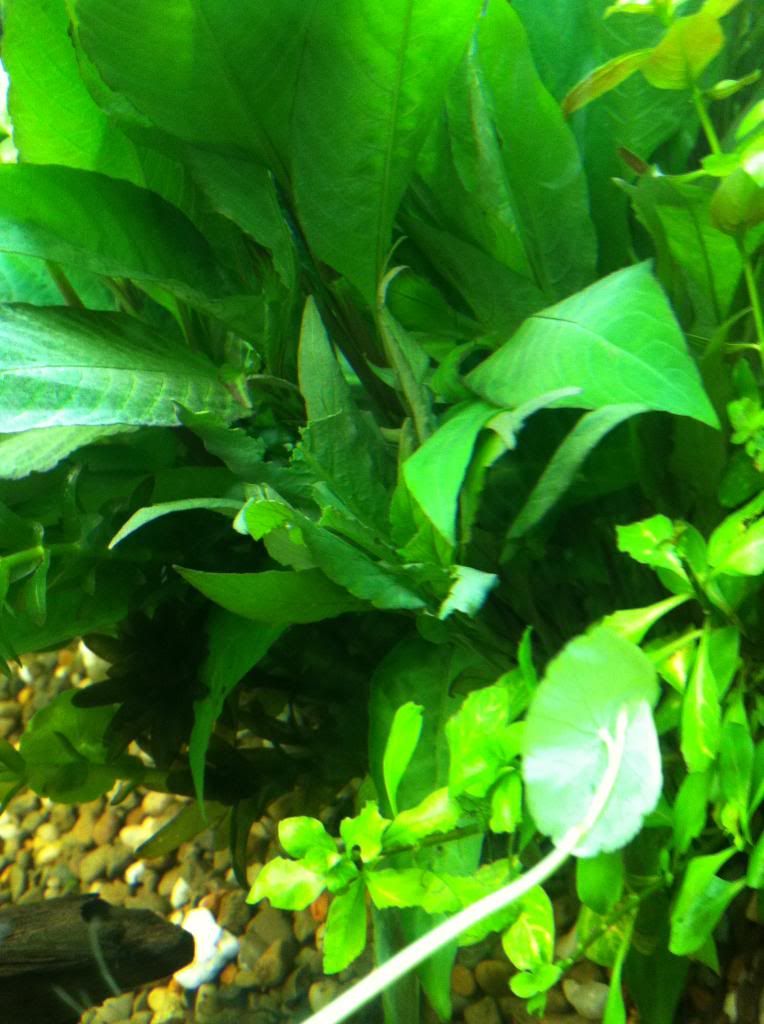 ---
10 Gallon Fry Tank / Nursery
20 Gallon with assorted tropical fish =)
30 Gallon Gourami Tank
55 Gallon African Cichlids / Aggressive
60 Gallon Cube with assorted tropical fish
Aquariums Videos. Tips, Advice, Giveaways & MORE
on my
YouTube
1st one looks like Brazilian Pennywort. 2nd one may be Alternatha? Hard to tell. No idea on the other two though, sorry! :(
sorry, i have no idea why I typed blyxa... I mean bacopa japan -_-
Posted via Mobile Device
1. Looks like Bacopa Carolina to me

2. Ludwigia repens I think, I cant see the leaves very well.

3. Ive no clue, it doesnt look aquatic to me though

4. Pretty sure its a crypt, though unsure on what type.
---
Current:
5g: Betta
20g Long: Endlers/Sorority/Cherry Shrimp
20g Long: Espei Tetras/Otos/Pgmy Cories/Assassin Snails
---------------------------
3 looks to be Hygrophilia corymbosa.
That fist plant looked, to me, to not be aquatic... Something about the "hairs" on the stem mainly. I decided to go looking tonight and see as I had a discussion about hairy land plants with my daughter and I casually mentioned that I didn't think there were water plants that had hairs like that. The plant we were looking at I couldn't identify but this first plant has the same sort of hair structure on the stem (trichomes).

I looked up what functions those hairs perform on plants and almost none are necessary in plants that grow under water. Almost every reference that involved looking for "hairy aquatic plants" involved results that included algae of various sorts, hair algae the most predominant.

Looking for images of aquatic plants that have hairs like that came up blank.

Perhaps I am off base with this but I do wonder if it is a true aquatic plant? Many times terrestrial plants are sold as aquatic and buyers are none the wiser even when they die of, perhaps sometimes as long as months later though. They, of course, believe it was their lacking skills that killed the plant.

Anyway, that wasn't much help but I got to ramble on a bit.

Jeff.
---
Total years fish keeping experience: 7 months, can't start counting in years for a while yet.
The shotgun approach to a planted tank with an LED fixture
Small scale nitrogen cycle with a jar, water and fish food; no substrate, filter etc
Posting Rules

You may not post new threads

You may not post replies

You may not post attachments

You may not edit your posts

---

HTML code is Off

---