Plant identification - water sprite and java fern?
---
So I've been wanting to add more plants to my tank... searched some local ads and found an ad saying that the seller would sell a 1 gallon ice cream pail full of various plants for $5. When I got there he had uprooted all of the plants and didn't really know what all was clumped in as he scooped it into my bucket (added bonus though... he gave me an extra bucket full without charging me!!)
I've sorted through and have found two, possibly three, different kinds of plants in there. Please help identify them/tell me if my guesses are correct!!
WATER SPRITE?
I've planted some in the gravel, and left some floating up top, since I have a few mollies and I think one is a day or two away from dropping fry... ignore the thick stems in the picture with the rasboras... that's some moneywort in the foreground (that the fish were kind enough to strip of their leaves...)
JAVA FERN?
This is very small... I can't really tell what it is. I've pinned it in place between two rocks hoping it will attach... if it is, in fact, java fern.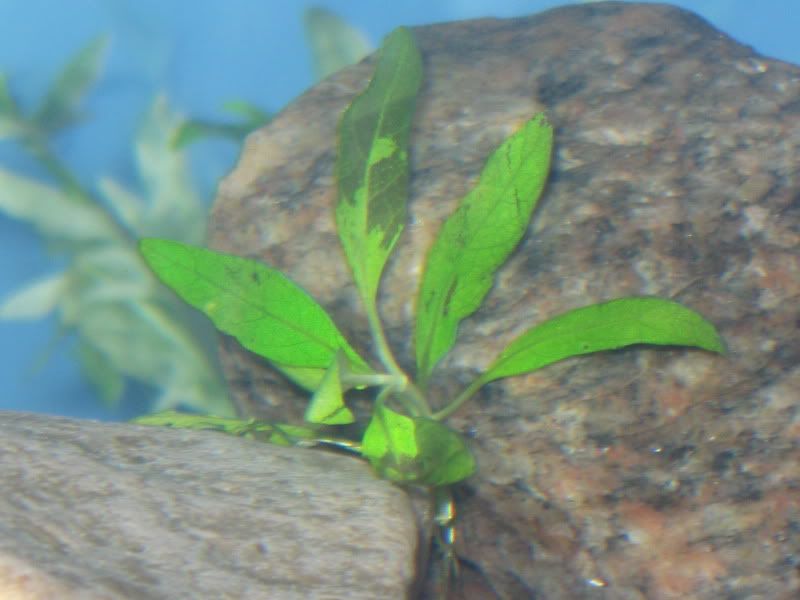 This last picture is something I haven't even guessed at... it's also very small... I would say that if you drew a circle around the leaves, both the "java fern" and this last plant are no bigger than a quarter. I wonder if it's more java fern, or if it's amazon sword or something... the edges of the leaves look a little less frilly than the other one though. I'm assuming they'd be easier to identify if they were more mature, but I'm hoping someone can help because I don't really know how/where to plant them if I don't know what they are.
A second part to this question... I was about to make it a separate thread, but thought there would maybe end up being too much repetition between the two threads.
I have planted maybe 1/4 of what he gave me... gave probably another 1/4 to a friend of mine... my other question is, how quickly will these plants take over my tank? I've still got a fair bit sitting in the bucket, but I didn't want to go too overboard planting too much all at once only to find myself needing to thin it out in the near future. Should I leave it at what's in there now and let it fill in on its own, or should I go hog-wild and plant it all? This is what it currently looks like:
Also... don't even get me started on the number of snails haha. Good thing I have a friend who just got pufferfish... so she got a special delivery today!!
My java ferns don't have a central stem like it appears that your second photo has. They are young so they might not have established their eventual growth pattern but it looks to me like they grow out from the centre, not on a stem like that, so my guess is that that's not a java fern.

Seeing as you already have the plants and aren't having to pay to plant more, I'd plant lots and pull them up if/when it gets too crowded.

Your first photo does look like my water sprite, ceratopteris cornuta, but I don't know enough to tell you for sure.
Thanks for the replies! I'll just wait until the tiny mystery plants get bigger and then try to figure it out then... as for the other stuff, I think I'll email the guy both plant names (water sprite and water wisteria) and see if it rings a bell for him. When I originally asked him what type of plants they were, he said he couldn't remember. I've planted all I could (i've pretty much run out of spots to put them along the back!) and still have sooo much left over... they definitely won't go to waste though, I intend to pay it forward... So far for my $5 I've planted my whole tank, given free snails to feed my friend's pufferfish, given plants for her to give to her mom... have a couple other friends who might take some... and if there's still some left, I'll give it away for free using the same site I used to find it. All in all, for $5, I'd say I've gotten at least 10x my money's worth!

If anyone is interested... I posted an updated photo of the tank with all the plants under the aquariums profile tab (Minbar)!
---
Last edited by iamgray; 11-14-2010 at

11:39 AM

.
Your tank is looking quite nice. The plants will settle and fill in. The first plant pictured is indeed Wisteria, you can read about it in our profiles (click on the shaded name), note how to keep it trimmed or it will overtake the tank quite literally. The other is not Java Fern, it looks to be a stem plant but I'd have to see all of it to be sure. Perhaps a Hygrophila if it is a stem plant.

Byron.
---
Byron Hosking, BMus, MA
Vancouver, BC, Canada

The aquarist is one who must learn the ways of the biologist, the chemist, and the veterinarian. [unknown source]

Something we all need to remember: The fish you've acquired was quite happy not being owned by you, minding its own business. If you're going to take it under your wing then you're responsible for it. Every aspect of its life is under your control, from water quality and temperature to swimming space. [Nathan Hill in PFK]
Posting Rules

You may not post new threads

You may not post replies

You may not post attachments

You may not edit your posts

---

HTML code is Off

---