Plant ID Please?
---
Any idea what this plant might be? I have searched and am stumped.
It started out as a single stem (planted behind a piece of driftwood) and in five months it has grown to the surface and produced 7 or 8 additional stems. The second picture is a new stem that came creeping out from under the driftwood and is now growing in front.
It grows fast and I don't know if you can tell by the pictures taken on my cell phone, but there are roots coming from the longer stems where the leaves are at.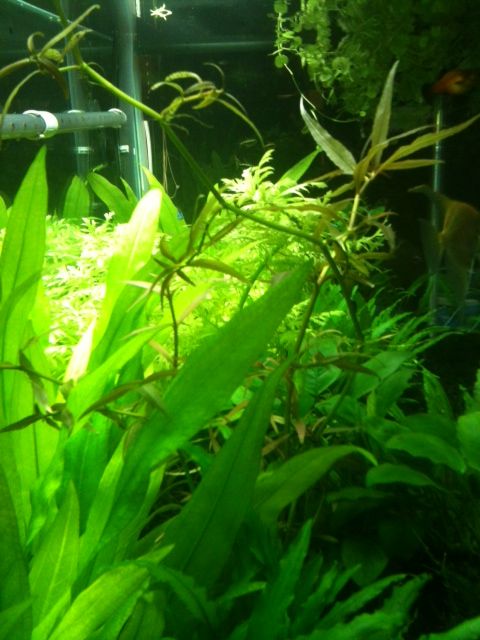 Any and all info is appreciated.
These are just suggestions. At first I thought it might be Heterantherfa zosterifolia, but due to the leaf margins I think Nesaea crassocaulis might be closer. The latter can be a very red-leaf plant, but only in very bright light. There are photos online showing the leaves more yellow-green as in your photos.

Byron.
---
Byron Hosking, BMus, MA
Vancouver, BC, Canada

The aquarist is one who must learn the ways of the biologist, the chemist, and the veterinarian. [unknown source]

Something we all need to remember: The fish you've acquired was quite happy not being owned by you, minding its own business. If you're going to take it under your wing then you're responsible for it. Every aspect of its life is under your control, from water quality and temperature to swimming space. [Nathan Hill in PFK]
Thanks, Byron.

I'm going to read up on the two plants you mentioned and try to figure out how and where I can cut a piece off to replant in another tank. Thanks again!
Posting Rules

You may not post new threads

You may not post replies

You may not post attachments

You may not edit your posts

---

HTML code is Off

---