Plant ID for me? And a question :)
---
Just picked up two new plants from work today, but they were in the "Assorted Potted Plants" section.
The first one has a really strong stem, stood straight up when I took it out of the water.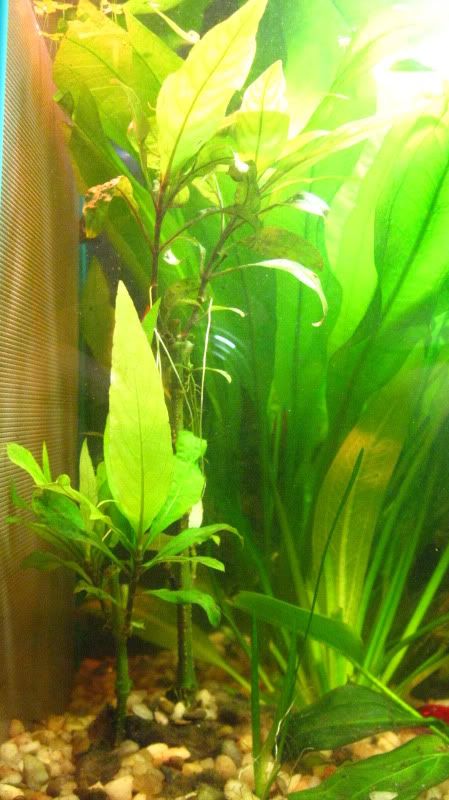 Here's a top view of the leaves:
Also found this:
What sort of care do they need? Root ferts or will liquid be fine? (Seachem Fluorish)
And now my other question:
My Moneywort has started to grow out the top of my tank. Should I clip it or will it be fine letting it grow?
Thanks!
Third picture down looks like dwarf anubias to me.

EDIT: If it is, you may want to keep the rhizome above the substrate.
---
Last edited by volkspider; 06-21-2010 at

03:30 PM

.
3rd one looks similar to my red melon sword but tinier.
---
"He situates himself in relation to time. He takes his place in it. He admits that he stands at a certain point on a curve that he acknowledges having to travel to its end. He belongs to time, and by the horror that seizes him, he recognizes his worst enemy. Tomorrow, he was longing for tomorrow, whereas everything in him ought to reject it."
Photos 1 and 2 seem to be a Hygrophila, possibly H. corymbosa; the leaf shape and veining looks the same as best as I can tell. This plant seems to have been trimmed from a long, thick stem, and has sprouted side shoots.

Photo 3 I also think is an Echinodorus; won't guess as to species as I cannot see the leaves well enough.

If your Moneywort is left growing along or above the surface, the lower leaves will likely die off. In that case, you can pull it up, cut off the lower part, and replant the top part.

Byron.
---
Byron Hosking, BMus, MA
Vancouver, BC, Canada

The aquarist is one who must learn the ways of the biologist, the chemist, and the veterinarian. [unknown source]

Something we all need to remember: The fish you've acquired was quite happy not being owned by you, minding its own business. If you're going to take it under your wing then you're responsible for it. Every aspect of its life is under your control, from water quality and temperature to swimming space. [Nathan Hill in PFK]
Similar Threads
Thread
Thread Starter
Forum
Replies
Last Post
Plant Question

flight50

Beginner Freshwater Aquarium

1

02-06-2009

12:02 AM

Vallisneria plant question.

paytheplayer

Beginner Planted Aquarium

5

01-07-2009

10:32 PM
Posting Rules

You may not post new threads

You may not post replies

You may not post attachments

You may not edit your posts

---

HTML code is Off

---