Pics of my mini 5 gal and 18 gal planted
---
So I thought I would share a few photos of 2 of my aquariums. The first one is a planted 5 gal which has some sort of moss and some hornwort and a peice of driftwood. It houses 2 bumblebee gobies and a dwarf puffer. My second tank is an 18gal tank. Ive got a nice variety of plants in this one. It has some anubias on driftwood, javamoss on a floating piece of wood, 2 banana plants (started as one but split), java fern, duckweed, mariamo mossball, val, moneywort, hornwort, and dwarf hairgrass.a bit of everything :D. It houses mainly a figure 8 puffer, 3 tigerbarbs, 2 corydoras and a redtail shark. Im in the process of relocating the 3 barbs though. Any comments are welcomed. I'll add more pics later, my cam died.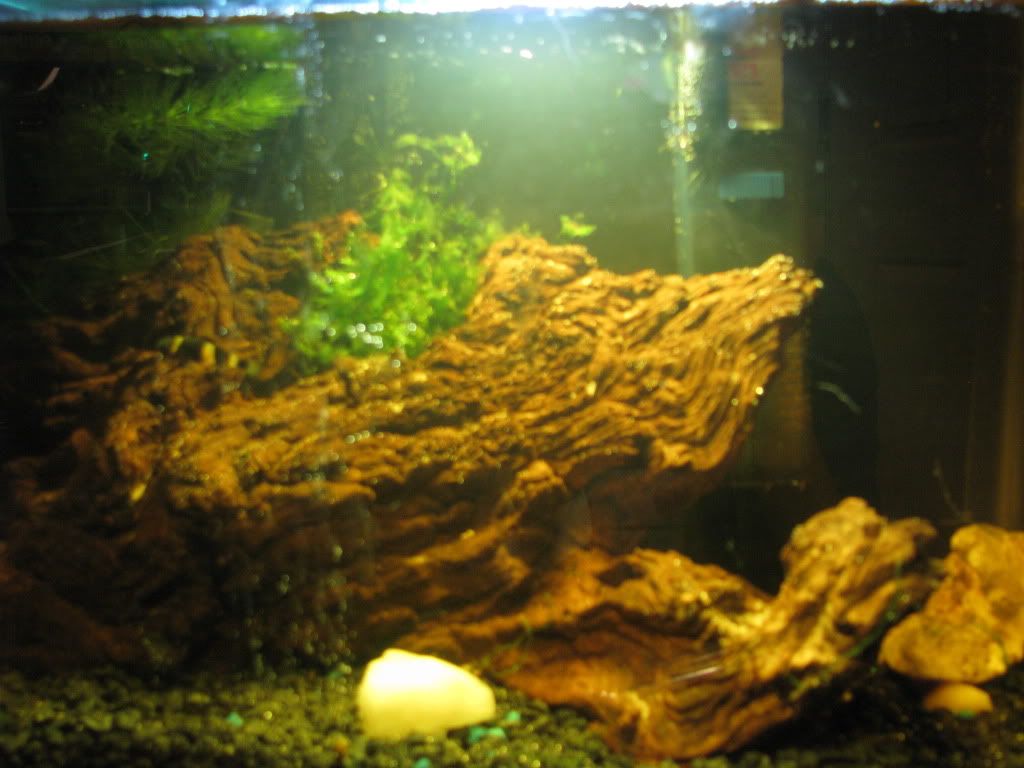 Nice looking tanks. The pics. did come out a little dark tho :(
---
Animal testing is a terrible idea; they get all nervous and give the wrong answers.
It probably my camera setting, I didnt want to use the flash and I used nighttime setting so the pics are clearer. Ill try to get better photos later or tomorrow.
Those are indeed lovely. Don't use flash for tank photos, just fiddle with the light settings. But I must say, if the tanks are somewhat dim as they appear in the photos, you're bang on; the fish will be right at home.
---
Byron Hosking, BMus, MA
Vancouver, BC, Canada

The aquarist is one who must learn the ways of the biologist, the chemist, and the veterinarian. [unknown source]

Something we all need to remember: The fish you've acquired was quite happy not being owned by you, minding its own business. If you're going to take it under your wing then you're responsible for it. Every aspect of its life is under your control, from water quality and temperature to swimming space. [Nathan Hill in PFK]
On my computer screen the pic is a tiny bit darker than the actual tank brightness. I think it kinda depends on what screen you are using. The fish in the tank however are perfectly happy, and my puffer is doing excellent. Ive had him for 2 years now. The plants that have been in there for awhile have been doing great besides the moneywort (I think its still in shock from moving from the other tank I have) and no algae problems so far. Ive gotten the puffer to eat just about anything and he also lets me hand feed him some things like shrimp.
Quote:
Um, Aren't gobies and dwarf puffers brackish? What's your salinity at?
Dwarf puffers are definitely not brackish fish. They are completely freshwater. I have no salinity in the tank. The gobies I have are a freshwater breed and do not require salt. Infact they spawned in the tank once already.
Lovely tanks, like the dark water llok. ANd the puffer is so cutte!!
---
26 Gallon Community:
5 Platies
4 Mollies
3 Guppys
1 Swordtail
11 Neon Tetras
1 Red Tailed Shark
Opaline Gourami
BN Pleco
Snakes-
Coral: Rat X Corn
CoCo: Rat

R.I.P Saphire You'll always be in my heart







Thanks, Ive actually moved the barbs and tetras now, so the puffer has the whole tank to himself besides a redtail shark which they get along just fine.
Posting Rules

You may not post new threads

You may not post replies

You may not post attachments

You may not edit your posts

---

HTML code is Off

---