New sorority tank and some help with java moss
---
Hello there!
This is my new tank that I set up a few weeks ago,
I ordered some plants from planted aquariums central and Was VERY happy with my results.
I orded 2 anubias nana, and 2 other anubias, 2 marimo balls and one order of java moss.
All of the plants where wrapped in newspaper and in plastic bags.
There where lots of leaves on the anubias and the moss balls where so cute!
I really do reccomend them if you're planning on getting plants online. Their shipping wasn't bad at all either! I was afraid that, since they where being shipped for 3 days that the plants would die, but that wasnt the case at all.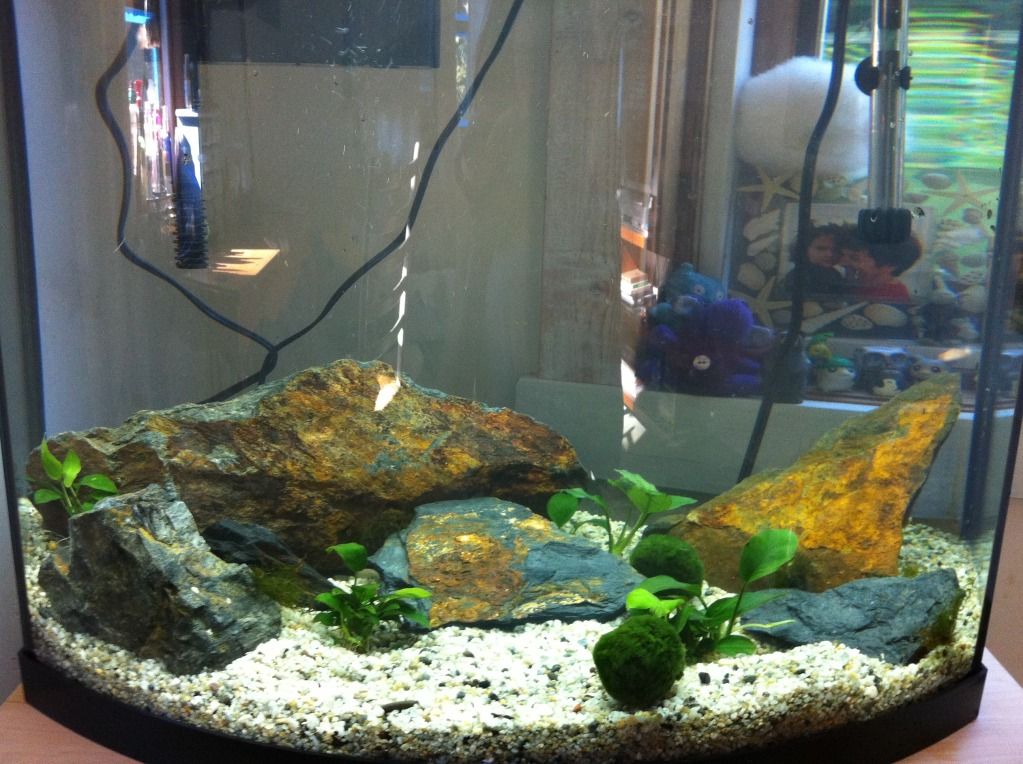 I do have a few questions!
I am not very good at taking care of plants...
And I am not really sure what to do with the java moss.
I broke it up and stuck clumps in between rocks.
Is that ok? or are there better ways to keep java moss?
I've never kept it before, so im not really sure.
any tips on making it grow well etc.?
I have grown tons of the Jave Moss over the decades. It is Very easy to keep and propagates all on its own. It only needs minimal light but will reproduce better with a bit more. It will attach itself to your rock work if given enough time, or to driftwood too.
When I want to propagate it faster I take a handful out and chop it into tiny pieces with scissors. Evey little piece will start growing. I can easily start getting in the way on you. But it's best use is for young fish fry to feed and hide in.
---
"I once thought I was brave; now I can't stop crying." By kendal Payne.
---
Last edited by Tankfull Tropicals; 09-07-2012 at

09:11 PM

.
| | |
| --- | --- |
| The Following User Says Thank You to Tankfull Tropicals For This Useful Post: | |
WOW, love the rocks! the balls look cool and the java moss is java moss. absolutely love the java moss, it is the only plant that doesn't get eaten by the snails.... LOL
---
540L/140G - 'Tidal Jungle' (Crabs) | 254L/67g - 'Backwater Pool' (Fish/Snails) | 96L/25G - ''Twisted Minds" (Fish/Snails)

I've never had any problems with 'Impulse Buying'. They're just animals that I forgot I had planned to get.
Be careful not to bury the rhizomes on the anubias. They are often grown attached to drift wood or rocks with thread until they attach themselves. It's OK to plant roots in the substrate, just leave the rhizome uncovered. Nice tank.
---
Fishmonger
Thank you! I made sure they weren't buried thank you :). Also does anyone have a good idea for surface plants for the females to hide in? I don't have much lighting and the plants can't grow too tall because of the cover but duck weed?
Duckweed is not very useful as fry or fish cover since it is so thin. Water Sprite is about the best [the name shaded, so you can click it for the profile info with photos]. Brazilian Pennywort also does well floating.

Byron.
---
Byron Hosking, BMus, MA
Vancouver, BC, Canada

The aquarist is one who must learn the ways of the biologist, the chemist, and the veterinarian. [unknown source]

Something we all need to remember: The fish you've acquired was quite happy not being owned by you, minding its own business. If you're going to take it under your wing then you're responsible for it. Every aspect of its life is under your control, from water quality and temperature to swimming space. [Nathan Hill in PFK]
Posting Rules

You may not post new threads

You may not post replies

You may not post attachments

You may not edit your posts

---

HTML code is Off

---