Need help with setting up a planted Aquarium (Long read).
---
I've tried to grow plants before, but never had much success in doing so.

Towards the end of the month I was hoping to get the necessary equipment in order to successfully grow plants.
Here is what I will be getting:

(If anyone can recommend me something better than what I have stated, then that will be very much appreciated).
1x Hagen Life Glo T8.
1x Hagen Aqua Glo T8
1x Hagen Power Glo T8.
(I only have 2 sockets for my bulbs, so it would be a combination of 2 stated from above).

Several packets of "API Root Tabs"
Unfortunately I cant uproot my current sand substrate in order to place plant substrate down as the plant substrate would most likely make my tank cloudy and murky (Unless someone can recommend me a solid plant substrate - I heard Fluval Stratum doesnt leech, but wasnt sure how true this was), hence why I will be using Root Tabs. - I was also unsure as to how beneficial Plant substrate is in comparison to having sand + Root Tabs.
1x 500ml Easylife Profito
1x 500ml Easylife Carbon (I've heard this can melt certain types of plants however, so I'll have a think about that before I buy any).

I also need to add that I really don't have the time or money to spend on the various Co2 Systems that are on the market.

I was mainly hoping for some good Starter 'substrate plants', and moss.
(Anything that can be buried into the substrate, so no Java Fern type plants please).

If anyone could give me a few tips and tricks to get me started too, that would be great, as the plants I did not have much success with previously has left me feeling rather daunted and reluctant to have another shot at, which is leaving me frustrated and rather upset as I would love to get some plants in my tank for myself and my fish.
---
Last edited by Dawes; 03-21-2013 at

07:41 PM

.
hard to offer much insight on lighting amount since we dont know tank size /dimmensions. but i can give some info on it still but cant say you have too much/too little till above is answered.

with lighting look at the kelven rating, anywhere between 5k-8k usually does the trick and is the best spectrum for the plants to use for photo.

as far as equipment goes, will your fixture have a reflector on it?
what type of filter are you going to use, also what media? GPH of filter?

as far as the fertilizer goes you want a good comprehensive fert, a little of everrything in balance as balance is key in planted tanks. most on here will reccomed seachems flourish comprehensive along with root tabs in combo. a carbon supplemt isnt nessicarly needed as usually t8s wont produce enough light to where the plants will need a co2 supplemented from a outside source. and most carbon supps contain a chem used for embalming, hospital sterilazation and many other extreme tasks.

as far as your substrate goes ive used sand and gravel, never used a capped type setup or a plant enriched substrate before. the sand from my experience worked way better, easyier to plant in, less crud falls to bottom of the tank just easyier to maintain IMO.

for your plants, you had mentioned some substrate plants. most substrate plants require high lighting (which i dont think you x3 t8's can produce) to do well. you could probobly get away with them but dont expect amazing results. the java fern type plants you are refering to are "rhizome plants" anubuas also fall inot the same catagory. also a key facrtor to keep in mind when you are first stocking the tank with your plants all of them are going to go through a adjustment phase where you will see some melting browning and leavs possibly falling off. this is normal as its part of the acclimation process, as long as you see new growth the plant will pull throw and is just adapting liek nature does. to get you started with some plants i would reccomed some of the run of the mill amazon swords and some stem plants, stay away from anything with a red pigment in them as these tend to require a very bright light. i reccomend moneywart or maybe try one of the noxious species of ambulia as these are fast growers they will also use alot of nutrient which will keep algae at bay.

plants are like cars the light is like the gas pedal the ferts are liek the fuel and the air is the co2

the more you push the pedal the more fuel to air ratio you need, if there is a imbalance of anything you will see algae, slow plant growth or even plant die off, but in the end the system will balance itself out weather you like it or not. common law is light is the easyiest way to find balance in ur tank. hope this is a good start for ya
As for above.

My Bulbs are 42 Inches, and my Tank is 4 foot long.
My light unit has a white, plastic reflector.
Filter is 306 with 306 Media.
Agree with MoneyMitch. Personally, I think sand is a great plant substrate. Your light is brighter than mine, so you might be able to handle a wider variety of plants. The plants MM mentioned are good choices. I've had good luck with vals and sags since changing over to sand also. No matter how much research you do, it usually comes down to what works for you.
---
Fishmonger
Well if it all looks ok, then I'll be sure to go ahead and buy some easy to grow plants.


Would it be possible for anyone to recommend me a list of plants that might be suitable for Aquarium?
anubias
Java fern
Java moss
Water wisteria
Elodea
Guppy grass
saggitaria
water sprite
crypts
Vals
cabomba
ambulia
m. mattogrossensse
brazilian pennywort
susswassertang.
Made this a while ago: hope it will be of help, some starter plants are missing butmost of them are gete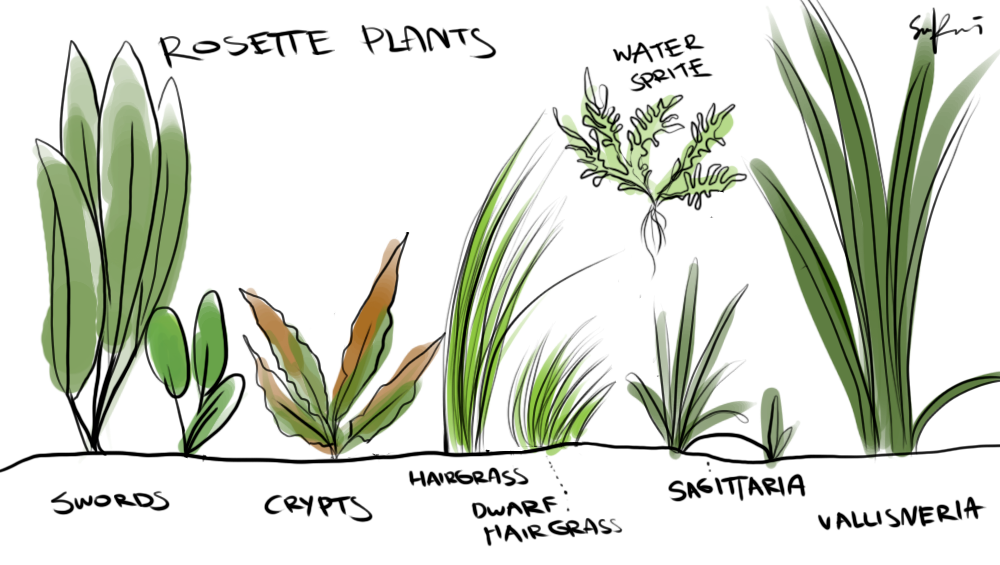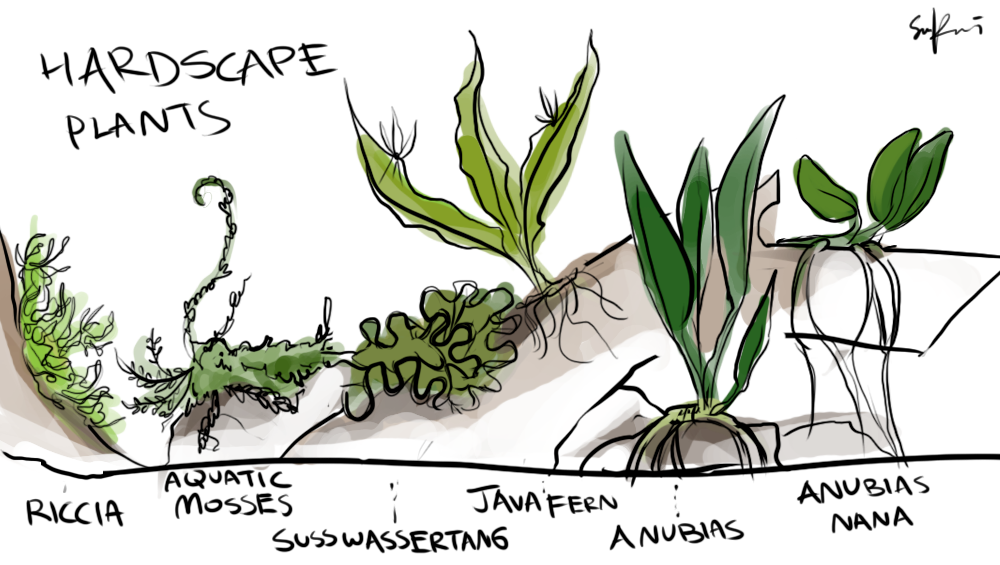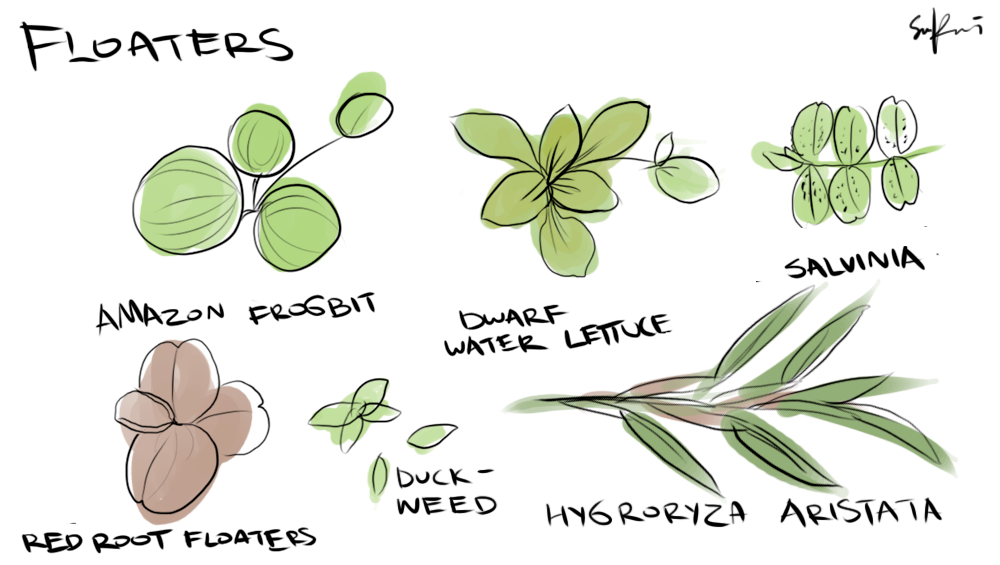 With the three bulbs you should be able to he away with moderate light plants but willies then likely have a hard time with the red pigment plants to get a better par and lux fr your lights I would recommend some Mylar behind the lights a it will act like a mirror the white will go some reflection but not even a quarter of what the Mylar will I use this is the indoor grow room along the walls
Posted via Mobile Device
I'm pretty sure he can only use two bulbs. if no one has already said so, I'd recommend the powerglo and the life glow
Quote:
anubias
Java fern
Java moss
Water wisteria
Elodea
Guppy grass
saggitaria
water sprite
crypts
Vals
cabomba
ambulia
m. mattogrossensse
brazilian pennywort
susswassertang.

Made this a while ago: hope it will be of help, some starter plants are missing butmost of them are gete
Would you consider all the plants named, and also the ones in the picture as 'starter/beginner' plants?
And aye, I only have 2 lights.
I'll most likely use a Power Glo & a Life Glo.
Or two Life Glo's if I can afford it.
Posting Rules

You may not post new threads

You may not post replies

You may not post attachments

You may not edit your posts

---

HTML code is Off

---