Need a foreground plant.
---
So, my tank has progressed with leaps and bounds since I started.
I just bought some seachem flourish tabs today. Right now the tank is stocked with apongeton crispus (it's not as frilly as it should be, I think?) apongeton natans, some type of bacopa, hornwort, java moss, wendtii crypts and some moss balls.
However, I always seem to gravitate to tall plants and can't seem to find some nice foreground plants to put in front of the driftwood? I need some ideas. I need low light low maintenance (wouldn't mind trimming though).
Here's a visual, it's a 15 gallon tank, but it's divided and this is the 10 gallon portion which I'm working on: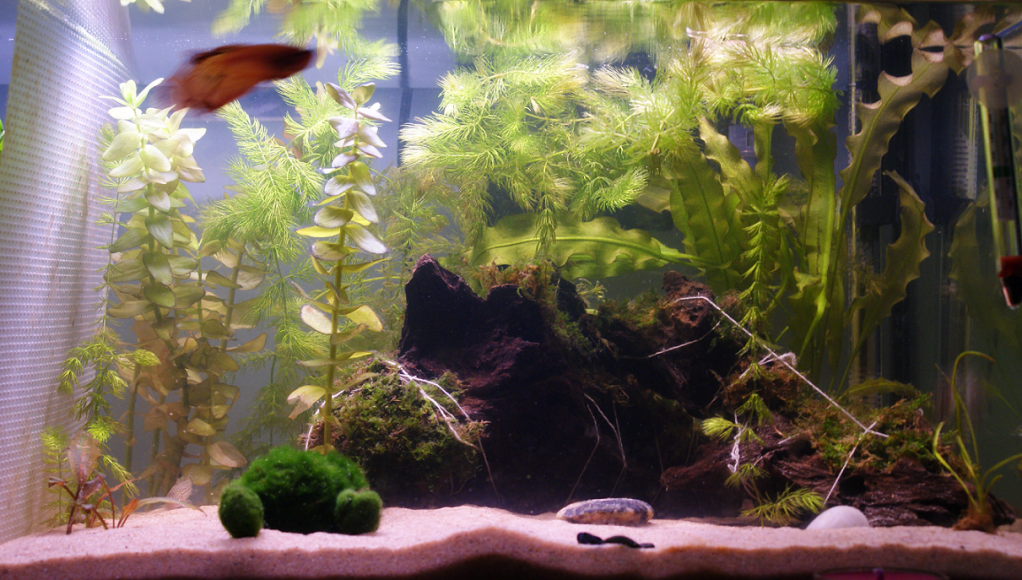 ---
taking a break from fish-keeping.
3 lovely male betta still keep me company.

Crypto parva, crypto undulata, dwarf sag, and pygmy chain sword are all good foreground plants. Can also try dwarf hairgrass but sometimes it needs a really nutrient rich substrate to take off.
Those would be my suggestions too. The so-called "carpet" plants like hairgrass sometimes manage in less light, often not, so I would go with the other plants if you don't want to risk money on hairgrass. I use the pygmy chain sword in most of my tanks, crypts in one.
---
Byron Hosking, BMus, MA
Vancouver, BC, Canada

The aquarist is one who must learn the ways of the biologist, the chemist, and the veterinarian. [unknown source]

Something we all need to remember: The fish you've acquired was quite happy not being owned by you, minding its own business. If you're going to take it under your wing then you're responsible for it. Every aspect of its life is under your control, from water quality and temperature to swimming space. [Nathan Hill in PFK]
there are many foreground plants however not many carpet plants suited for your tank. The only lowlihgt id suggest is microsword. However it grows SUPER slow! EVen in my high tech tanks.
I've seen dwarf sag and pretty sure pygmy chain sword at the store. I'll have to pick one of the two up.
I already have my crypts, they are growing at a pretty good speed (however I just planted stems, so I guess it makes sense that they sprouted leaves quickly?).
I'm not really looking for a carpet, just some short things for the front. I'm hoping the moss will eventually carpet the driftwood and that's all I need. :D
---
taking a break from fish-keeping.
3 lovely male betta still keep me company.

well theres a trick i did with marimo ball (that green ball in your tank.) Wehn the ball got big enough or if i had much of it, i cut it up and super glued it to some drift wood. It looks amazing!
I've heard of people doing that. But I could never chop up my beloved marimo ball. :D
---
taking a break from fish-keeping.
3 lovely male betta still keep me company.

You can tease off a chunk and tie it to driftwood and eventually, it'll cover it. But I think it takes like years and years because moss balls grow so slowly.
I second the chain sword. Alternatively, a couple of small java ferns could be lovely. :)
---
Life.
I'm going to the fish store tomorrow, we'll see what I can find!
Posted via Mobile Device
Posting Rules

You may not post new threads

You may not post replies

You may not post attachments

You may not edit your posts

---

HTML code is Off

---