My Planted 55g Angelfish tank
---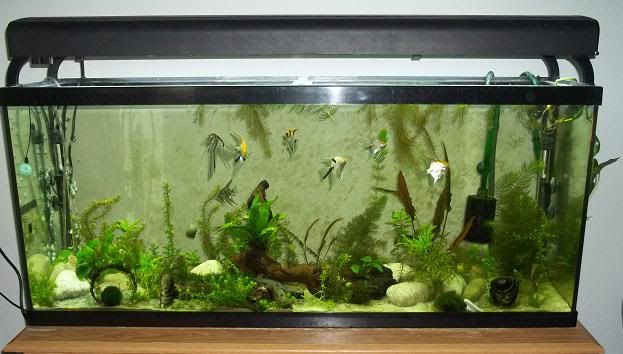 Very nice! Those angels will be even more impressive as they grow larger. Clip some black or dark blue fabric onto the tank back and watch the plants and angelfish really stand out (seems to make my angels act less timid having a background). I particularly like your use of both rocks and driftwood.
@BarbH

My floating plants are water letuce (you can see the roots), duckweed, and some hornwort.

@DKRST - thanks I will try to get some background on there soon. I don't like the white sand, so I might change it out or layer some black gravel on top... I know my substrate isn't thick enough for plants anyway.
Black construction paper that you can buy by the sheet at hobby-art-craft type stores works fine; inexpensive and it will really make a difference. I would get black, it dissappears; blue will be noticeable as the back wall.

I would not mix substrates, it will look artificial. The sand is probably very authentic, and when the plants grow, and with some more wood branches (the more the better for angels, they live among twisted branches and roots) it will be fine.

As the plants grow and with the above, this will be spectacular. Nice work.

Byron.
---
Byron Hosking, BMus, MA
Vancouver, BC, Canada

The aquarist is one who must learn the ways of the biologist, the chemist, and the veterinarian. [unknown source]

Something we all need to remember: The fish you've acquired was quite happy not being owned by you, minding its own business. If you're going to take it under your wing then you're responsible for it. Every aspect of its life is under your control, from water quality and temperature to swimming space. [Nathan Hill in PFK]
Posting Rules

You may not post new threads

You may not post replies

You may not post attachments

You may not edit your posts

---

HTML code is Off

---