Thank you Bryon.
Yesterday before the 25% water change I had 9DGH, 5DKH and a PH of 7.8. Todays water test and it was about the same time of day 7DGH, 4DKH and a PH of less than 7.4 but greater than 7.2. Unfortuneately the water tests during the weekday will be about 3 hours later. But I will keep the time consistant from here on out.
Some life observed other than the plants, a hitch hiker near and on the top of Green Cabomba. There are 2 of these that I have seen so far. The other as in the back on a leaf of the Java Fern.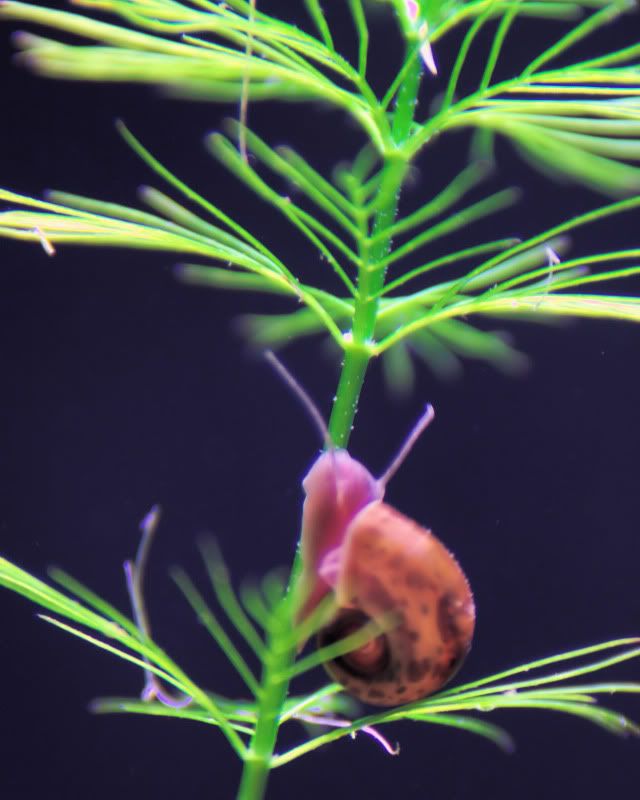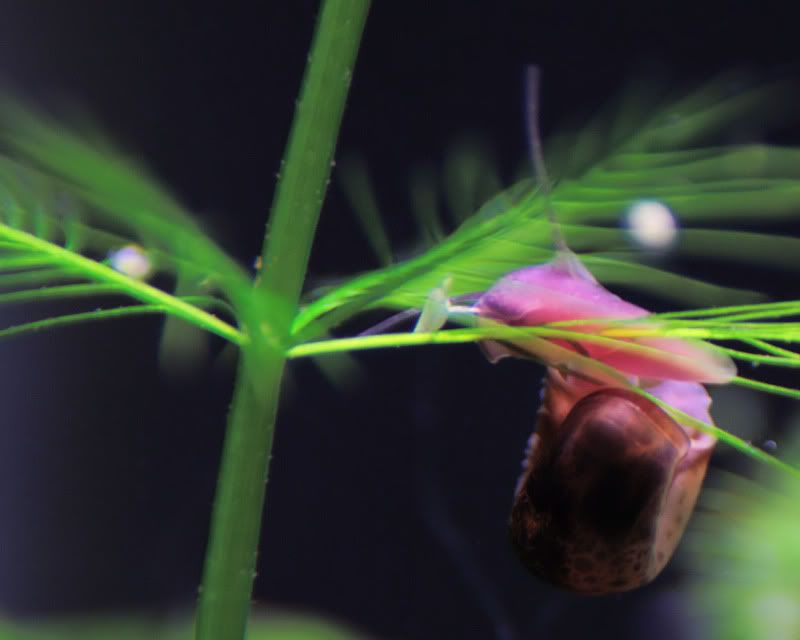 On another note. The Green Cabomba I planted two weeks a ago is doing well. some of it has reached the top of the tank and is starting its was across the surface.
This morning I was up before the tank lights came on. When they came on the tops of the Green Cabomba looked like a closed flower. As they received light they opened up. It was pretty neat to watch.
Were there flowers on the cabomba, or just leaf buds? I have seen flower buds on cabomba in the store (new from the nursery).
The snail is a ramshorn. Not my favourite, for no particular reason. They lay eggs, so you will probably find egg masses (look like little blobs of gelatin stuck on the underside of leaves, sometimes even the tank walls).
[Just re-read my last post to refresh my memory on this thread, and noticed I mis-typed that I prefer resting during the daylight, rather than testing.
Course, the former is true too...]
---
Byron Hosking, BMus, MA
Vancouver, BC, Canada

The aquarist is one who must learn the ways of the biologist, the chemist, and the veterinarian. [unknown source]

Something we all need to remember: The fish you've acquired was quite happy not being owned by you, minding its own business. If you're going to take it under your wing then you're responsible for it. Every aspect of its life is under your control, from water quality and temperature to swimming space. [Nathan Hill in PFK]
---
Last edited by Byron; 12-18-2011 at

07:35 PM

.
Bryon you may have wrote that post wrong but I read what you meant.
Parameters stayed the same between yesterday and today except for the GH which came up 1.
Also when doing water test I checked for a flower on the Cabomba. No flower yet.
Posting Rules

You may not post new threads

You may not post replies

You may not post attachments

You may not edit your posts

---

HTML code is Off

---