Quote:
Great looking tank! I thought I'd bump this recent shot onto the current page.
You keep changing it... quite drastically by the looks of it.... is that what I have to look forward to....constant changes in aquascaping? I know I can't keep my hands out of my tank, moving this, changing that, but I thought it was only because it's all brand new.
Oh, my name is Jeff and I am an aquaholic....
Jeff.
thanks.
it is the beauty of aquascaping you can always change the final pose.:D its some sort of a never ending, always changing art.
by the way, i really didn't do much changes on the tank, the hardscape remained the same but i kept on changing the position of the plants.:DD
HPK!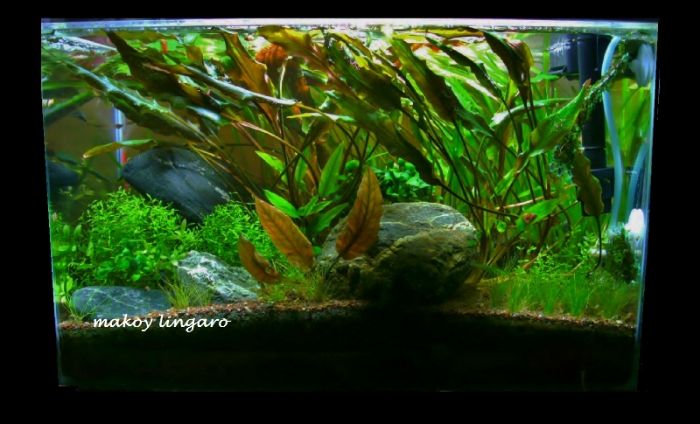 i seem to forgot how to post my pics here, it took me several tweaks to upload this thing right.
changes:
i took pearlweed and replaced it with hairgrass (
E. acicularis
.
more crypts sprouting, one in the very front.:D.
i just realized that when the plants grow larger my filtration became less efficient
HPK.
---
Last edited by makoy1995; 02-17-2013 at

04:03 AM

.
Quote:
last photo :D
> why is it that my crypt bloomed underwater???
Because they bloomed before you planted it and you put the bloom underwater?
(happened to me with anacharis once.)
my .02
---
maintain Fw and marine system with a strong emphasis on balanced, stabilized system that as much as possible are self substaning.
have maintained FW systems for up to 9 years with descendants from original fish and marine aquariums for up to 8 years.
With no water changes, untreated tap water, inexpensive lighting by first starting the tank with live plants (FW) or macro algae( marine)
see:
http://www.tropicalfishkeeping.com/a...-build-295530/
Posting Rules

You may not post new threads

You may not post replies

You may not post attachments

You may not edit your posts

---

HTML code is Off

---