Moving and redoing my 20 soil meets hi-tech
---
I working up the mental effort to begin the moving of my larger tanks from my parents house to my apartment. I've been neglecting them for around 3 weeks and the largest one will probably be a while longer. Anyway since my 20 gallon has been having issues lately with the plants I am redoing the substrate.
My goal with this tank is to have a soil substrate and it be able to run filterless like my other one. It will be continuing to get pressurized CO2, but not right away since I am doing a juggling of systems. This tank will likely get some EI fertilizers. What exactly is not known yet, though I am expecting nitrates to be needed eventually on all my tanks. There are a lot of unknowns with this tank, such as how many fish are currently in it lol. I do know it has mostly endlers, lima, and ameca. So a true livebearers tank.
I could use suggestions on my capping substrate over top the soil. Currently the tank has flourite as the substrate, which is what I could use. Or I could use sand similar to the last tank I did. Issue with sand is its more work to do lol.
Here is a picture of it before I pruned and did a waterchange the other day. I forgot to take a picture after I was done
.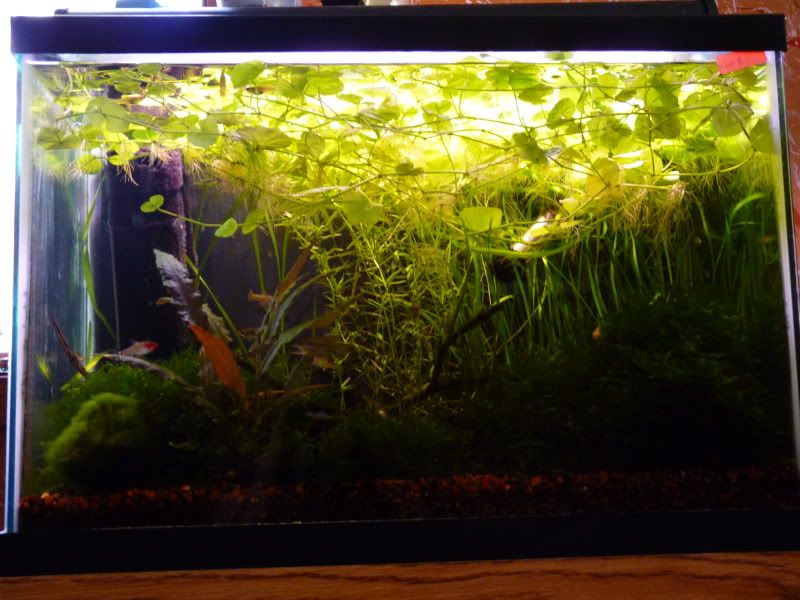 Were it me, I would leave some wet mulm in the bottom of the tank and add soil, and then cap it with the flourite.
The wet mulm and bacteria therein, as well as the flourite if kept wet, would help considerably by feeding on organics that may be (prolly) present in the soil = less chance of algae in the beginning and bacterial activity would give plant's some CO2 until such time as Pressurized CO2 was re-introduced.
Most who run pressurized CO2 suggest some flow is needed to see that CO2 is spread evenly throughout the tank. Could be as simple as powerhead with sponge.
Much is made of proper circulatiuon with CO2 injection on planted tank forums ,but I have no real expierience with CO2 enhanced tanks , only what I have read while contemplating going with the gas myself.
---
The most important medication in your fish medicine cabinet is.. Clean water.
Thats a good idea with the mulm, though TBH I'm not worried too much about the high organics in the soil. Algae may happen, though I hope to avoid it. This tank currently has a decent growth of black brush algae, meaning the algae will likely have the upper hand in the beginning. There will be a powerhead of some kind to move the water around. No prefilter though. I have a few pumps on hand and will have to see what works best. The lack of CO2 shouldn't be too big an issue, its been off for probably a month now. Well it ran out is more like it. I have two pressurized systems running on two different tanks. The little paintball system on this tank is being retired for a while after 4 years of service. My canister system has the means to supply more then one tank with CO2. I've just never had two tanks close enough together to use it before.
mkay, done with tear down and have moved everything to my apartment and am working on setup.
Here is a pic of right before tear down.
messy messy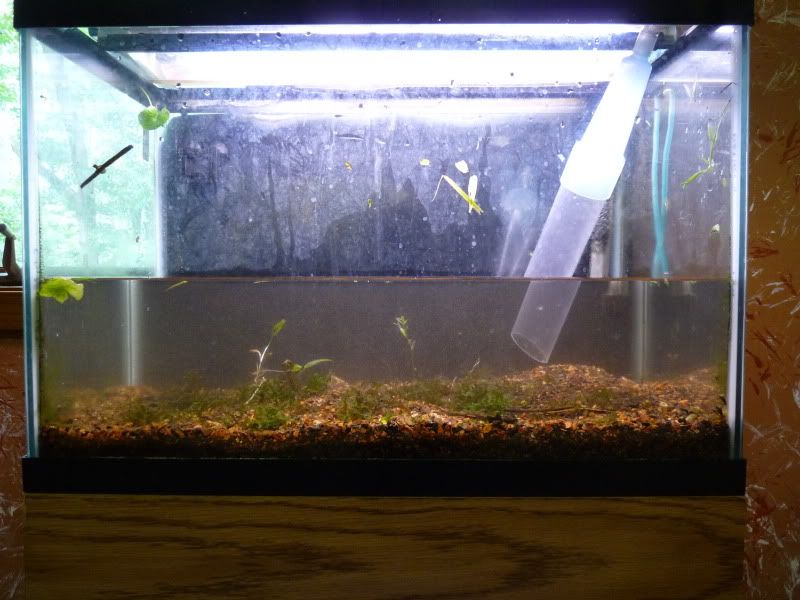 A little of the mulm I kept from a little gravel cleaning.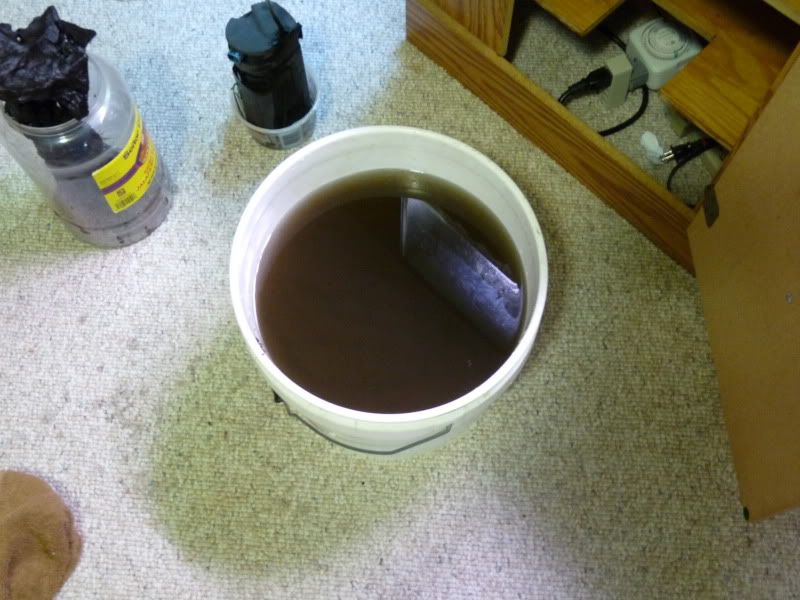 I will be reusing the fluorite for a capping substrate, so it got a good rinse with the garden hose. The tank was also rinsed out completely and cleaned with CLR followed by more rinsing.
For soil I use stuff from the woods. It is rinsed since sticks and things float. All the roots are pulled out too. Not really a necessary step but soil shrinks a lot when it gets wet and this leaves you with a much more uniform material.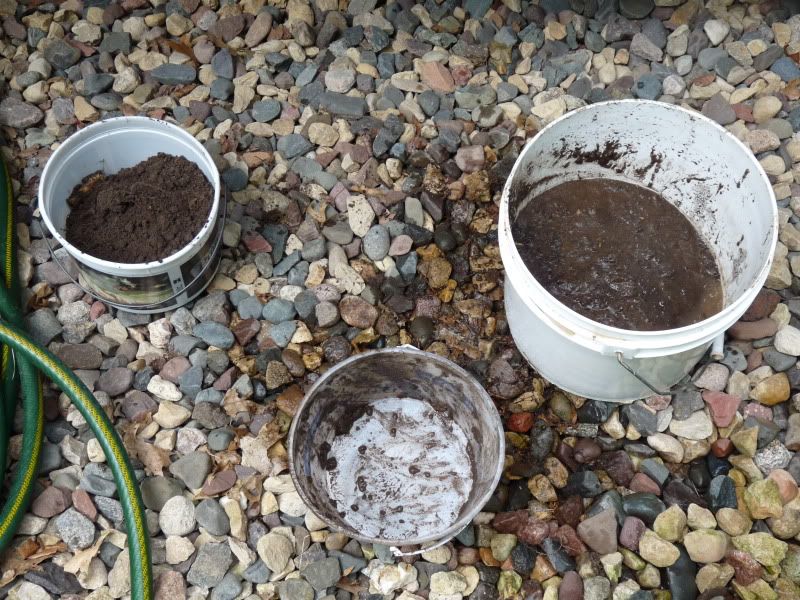 This is soil with a high clay content. I decided to not rinse it this time around as it really clumped up last time.
laying the substrate. Went pretty quick this time around. Used the clay on the bottom and tossed the mulm on that, then a layer of the top soil. A layer of dead oak leaves was laid over the top soil to help maintain the layering until the soil becomes compacted. Fluorite was then put over the leaves. Filled it and planted. All the sticks I have in there are oak or black cherry, it will be a week or so till they sink on their own unfortunately. Fish are set free. Currently it still has a filter.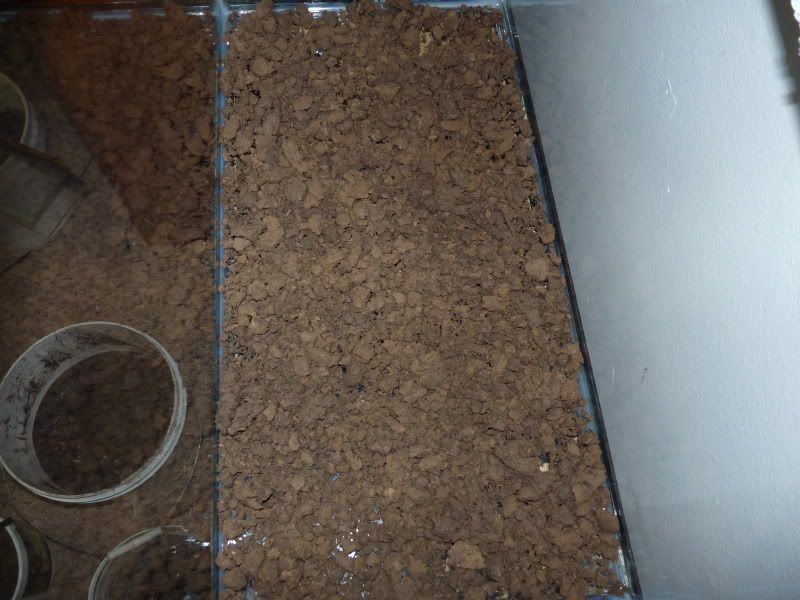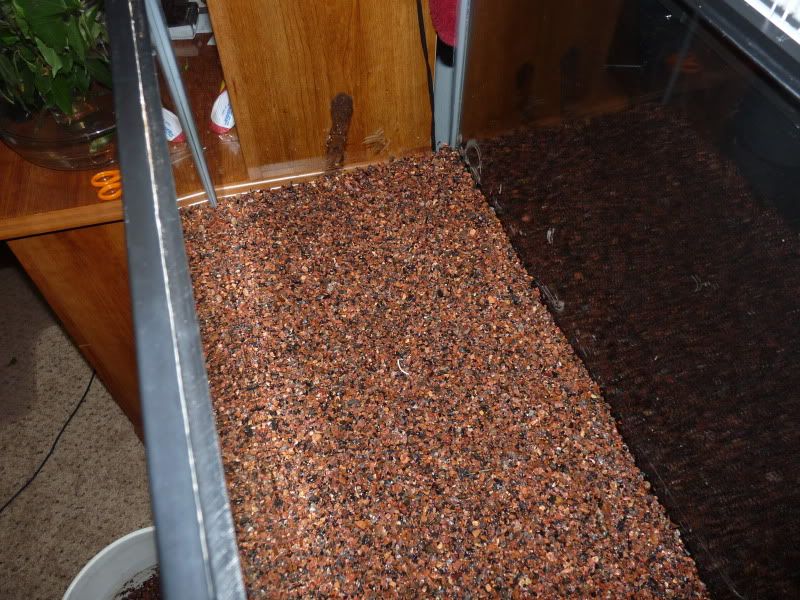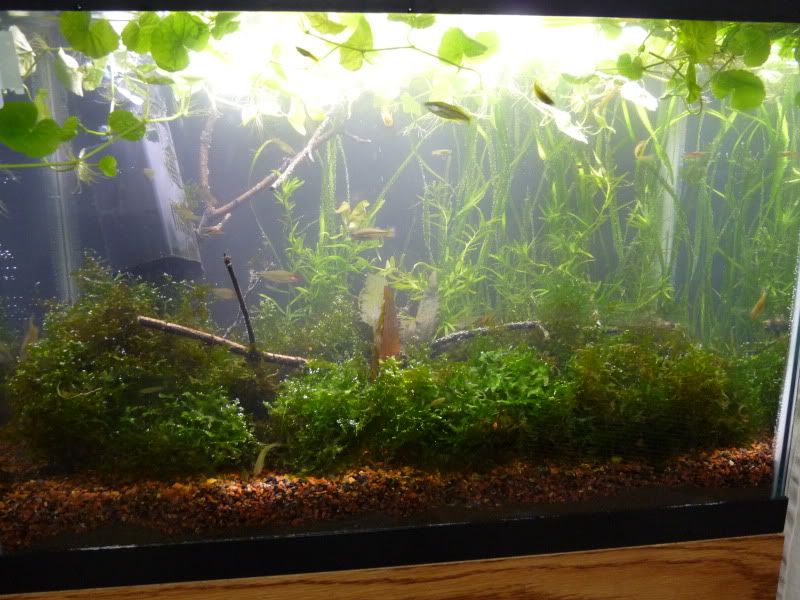 You made some serious progress. Thanks for the awesome pictures....Ive never seen this DIY substrate. Hope it works out for you. Thanks for the plate idea on filling in the water!
I always wanted to do this, But it is on the more spendy side: buy laterite for the bottom,do a layer of power sand,flourite,, and then another layer of power sand. Great job.I would try dwarf swords in there as a middle plant.
---
38 gallon :
Pelvicachromis Taeniatus Nigerian Red not yet breeding pair
4 Pangio Kuhli
12 Hemmigrammus Bleheri
2 Botia Lohachata
1 Botia Straita
1 Ancistrus Sp.
6 Poecilia Reticulata




The Wet Spot Portland Oregon!!!!!!
ADA: Do!aqua Iwagumi 10 gallon size!
7 Clown Killies
7 Ghost shrimp
Quote:
I always wanted to do this, But it is on the more spendy side: buy laterite for the bottom,do a layer of power sand,flourite,, and then another layer of power sand. Great job.I would try dwarf swords in there as a middle plant.
Its only spendy if you want to make it that way. The flourite and laterite are not needed. My last tank I swapped out the fluorite layer in exchange for sand. the clay can make up for the laterite.
Here is the tank after letting it clear and some of the fish. There are around 2 dozen fish in this tank.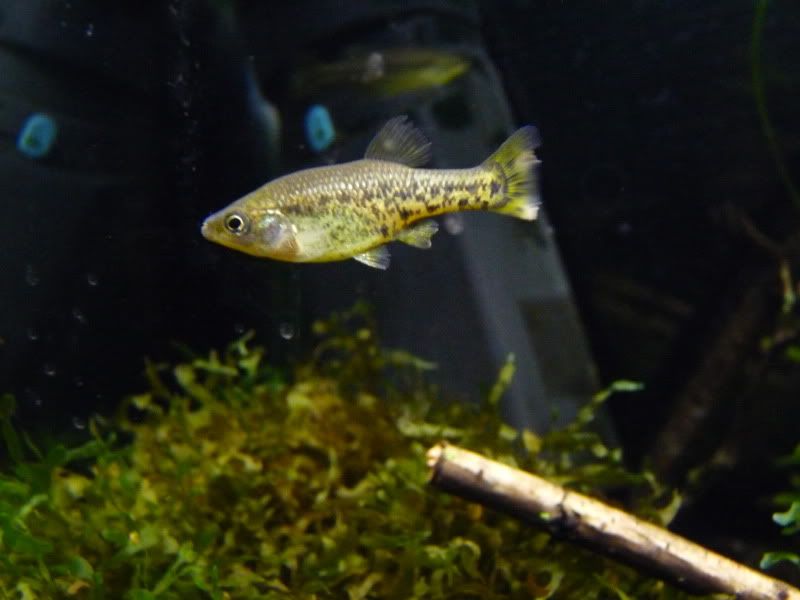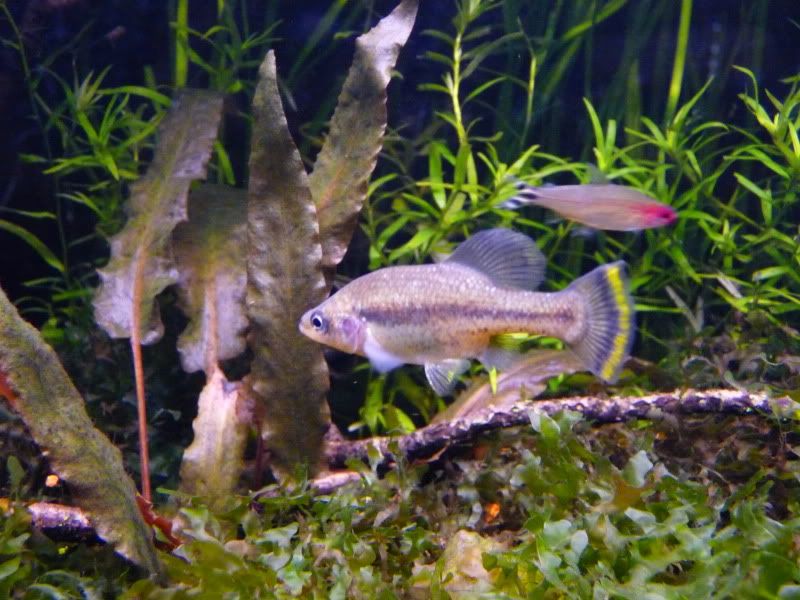 nice.
---
38 gallon :
Pelvicachromis Taeniatus Nigerian Red not yet breeding pair
4 Pangio Kuhli
12 Hemmigrammus Bleheri
2 Botia Lohachata
1 Botia Straita
1 Ancistrus Sp.
6 Poecilia Reticulata




The Wet Spot Portland Oregon!!!!!!
ADA: Do!aqua Iwagumi 10 gallon size!
7 Clown Killies
7 Ghost shrimp
Posting Rules

You may not post new threads

You may not post replies

You may not post attachments

You may not edit your posts

---

HTML code is Off

---