I think its looking pretty fly :)

What was the overall cost of the final build? Id be interested to see regular updates of your plants progress so we can do a cost/benefit analysis.

what voltage are you feeding with that transformer plugged into the back?
---
Dedicated, converted, lowes / home depot bulb buyer!
There is no transformer, if you are meaning the two big black things on the back of the PCB those are power MOSFETs with heatsinks. The power coming in is from a laptop power supply set at 19.5V.

Here is the rough BOM:

2x Heatsink - $4.62
2x LED - $10.52
2x NPN Transistor - $0.06
2x N MOSFET - $2.58
2x 2 ohm 1W resistor - $0.17
2x 100k ohm 1/4W resistor - $0.04
2x Zener Diode - $0.08
2x TO-220 Heatsink - $0.78
1x Power Connector - $1.77
1x Toggle Switch - $2.50
1x PCB - $3.99
1x Universal Power Supply - $10.69
1x 12x24 HDPE Plastic - $12.45
Various Hardware - $5 (screws, spacers, etc)

Total: $55.25

Tools/materials needed:
Wire (22-24 AWG)
Solder
Solder Iron
Solder Flux
#4 tap
Screwdriver
Socket Set/Wrench Set (Adjustable wrench, really any kind of small wrench for the nuts)
Saw (Cut plastic to size & cut circular hole - A 2" hole drill works)
Drill

If you don't have any of that, you'll have to add the cost or find someone to borrow from. As you can see, the plastic and power supply are two of the biggest costs. If you already have something you could substitute (metal, wood, plastic, whatever) that saves you $12 right there. If you already have a spare laptop power supply, that could be $10 off assuming the voltage is workable. For these particular LEDs it had to be at least 19V.
It's been a couple days over a week, but here are the differences.
Day 1: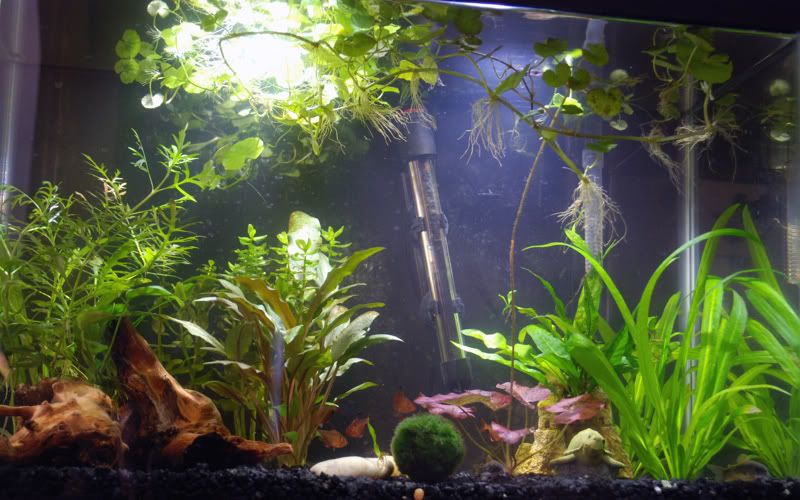 Today: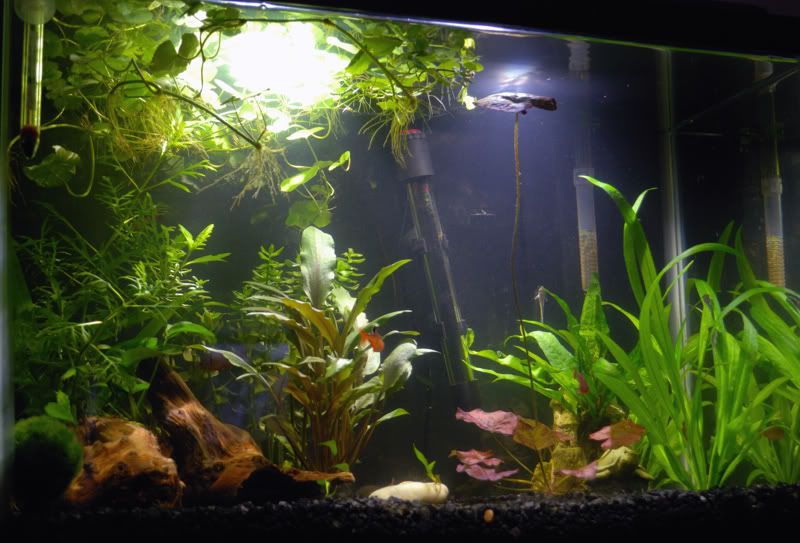 The plants are for sure growing quite well, I've noticed quite a bit more growth so I'm confident the LEDs are working as intended. So I guess that means the experiment was a success which is great!
Another sure way of knowing that the plants are reacting is the Wisteria. This plant really changes its leaves according to light and in this picture you can see new leaves that are significantly broader than the existing leaves.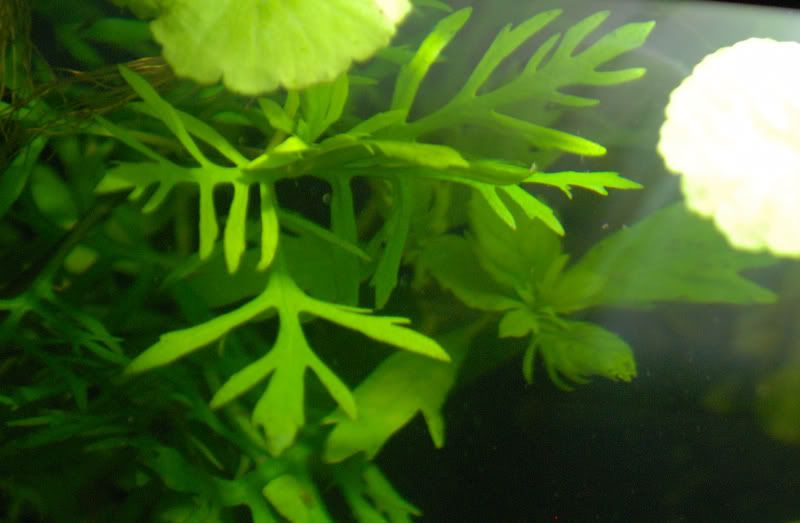 | | |
| --- | --- |
| The Following User Says Thank You to Geomancer For This Useful Post: | |
A schematic would be nice.
I guess you are using a zener to lock the voltage on a power transistor, but I don't know what you are doing with a MOSFET and why LEDs use that much current.

Wayne Morrow
The zener is just a precaution as the absolute maximum Gate to Source voltage (Vgs) is 20V, and my power supply is set at 19.5V +/- 5%. So the zener just cuts that down.

The typical forward voltage of each LED is 18.1V, and the target current is 350 mA for a total power of 6.3W per LED.

The MOSFET acts as a variable resistor to ensure that, regardless of the input voltage or the current setting resistors value (tolerances) the LED will see a constant current. A heatsink is probably not necessary, with it the transistor gets warm to the touch, but not hot enough to burn.
The Red Tiger Lotus is thrilled with the light. It is sending out a new leaf every 2 to 3 days and shows no signs of stopping. All of the leaves are staying close to the substrate, none have made any attempt at reaching the surface.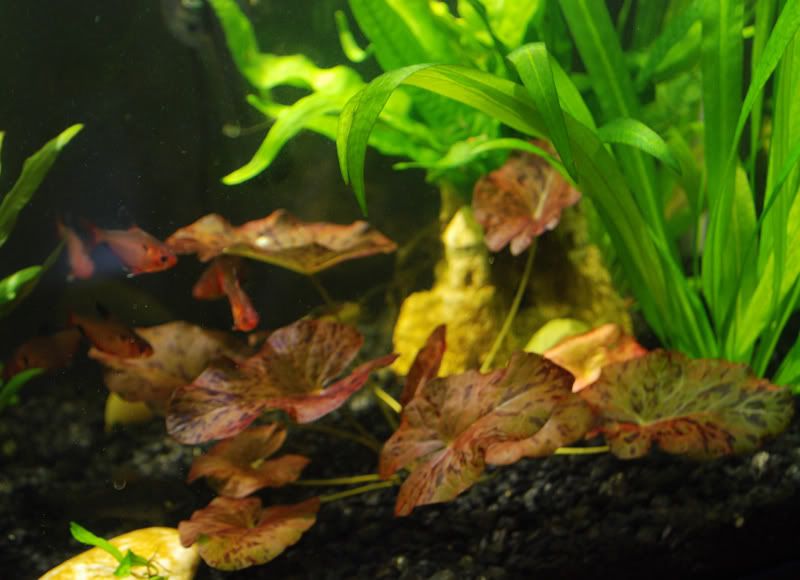 Actually, everything is doing well. The crypt melting quite a bit, not I'm glad to see it's stopped and left a few leaves. It should spring back in no time.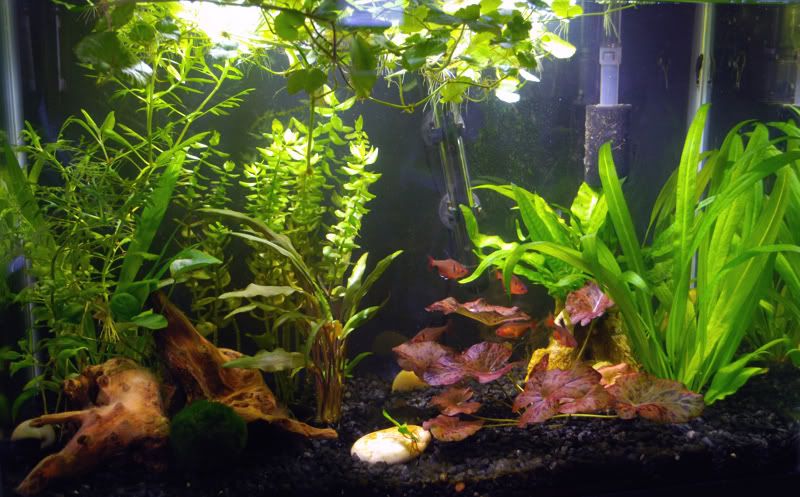 At this point I'm reasonably pleased with the outcome, and as a proof of concept so far it has been a success. it is possible to do a DIY LED fixture, and at a price lower than comercial options. Not much lower, but I feel satisfied.
just fantastic. Im actually shocked that the plants responded so well. When are you going to start taking orders?
---
Dedicated, converted, lowes / home depot bulb buyer!
Haha, I would, but I fail hard in the 'aesthetics' department. I can make LED lights work, but I can't make the fixture pretty to look at ;)
I have to wonder if the assembly could be modified to hide in a rain gutter.. hmm.
One of these days ill get part numbers from you and build my own just for kicks, but im DONE with wiring for a year. I do alot of maintenance for the FD, and in the last week I have had 1 blinker circuit fail, 1 electric siren driver fail, and one light bar fail 3 times now (for a yet to be determined cause). No to mention I have 3 personal vehicle installs lined up. If I see a wire anytime soon im going to have a break down.
---
Dedicated, converted, lowes / home depot bulb buyer!
Similar Threads
Thread
Thread Starter
Forum
Replies
Last Post
Our new style

Mike

Off Topic Discussions

26

12-23-2008

02:19 PM

all in one style tank

solareclipsed

Beginner Saltwater Aquariums

4

03-31-2007

06:24 AM

Ram tank style

Follow It Home

Cichlids

3

03-06-2007

09:14 PM
Posting Rules

You may not post new threads

You may not post replies

You may not post attachments

You may not edit your posts

---

HTML code is Off

---