From my limited experience, it seemed that the 1-5W LEDs were the most efficient compromise between intensity (lumens/watt) and price. Prehaps the ones from CREE?
When I was thinking about doing it before, I was going to use a CPPU power supply as a constant current source... Not sure if it would work, but they're cheap at the thrift store.
As for the spectrums, I was considering an array... Pretty similiar to one of these-
Those fixtures have only 3 spectrums, run about 90 watts, and put out light comparable to a 600 watt metal halide. Of course, purple fish would look weird, so I was going to add some cool white to balance. (Those UFOs appear quite dim, since our eyes aren't sensitive to photosynthetic light)
---
__________________
Soil Substrates Guide:

Part 1
---------
Part 2
_____________________
---
Last edited by redchigh; 02-03-2012 at

01:47 PM

.
The ones I got are a spectrum (posted the graph previously) so it should be similar to regular bulbs. The 'single' LED is really an array packaged into a single bit of silicone. They are only $5 each.

I'm not sure how a computer power supply could be used as a constant current source by itself, do you have any information on that? I could see it easily being used as a DC power supply though, I'm personally using a laptop power supply. It's universal so has a switch on it to select between several different output voltages. Was $10, so not bad, I wanted the flexibility. In the future I could go with a fixed voltage one that would be a couple dollars less (or free if you have something lying around).
Well, I have a prototype set up on a breadboard. Holy crap are these suckers BRIGHT... even being under driven they are bright. Just a second of looking at it is enough to see spots for ~10 minutes after. Makes me somewhat concerned about the fish going blind actually. The lumens are about the same as an 18" T8 bulb, but all that light is coming from an area the size of a dime instead of an 18" long tube so it looks brighter when looking directly at it.
PICTURES! Ive been dying to see this setup from the first post in this thread! My wheels have been turning....
---
Dedicated, converted, lowes / home depot bulb buyer!
Well, okay, if you insist ;)
Here is a before shot:
And after:
The original is an 18" T8 8000K fluorescent tube. The new and improved is a single 5665K LED. You can clearly see the change in color spectrum between the two. Brightness wise, they look fairly similar although there are more shadows with the LED since it is a single point source. My plan was originally to put three of these up, but maybe only 2 will be sufficient to get my 'moderate' light goal. I don't want to deal with CO2 so I can't go too bright.
Here is a picture of the LED itself, the yellow center is about the size of a dime, that is what contains the LED array.
As you can see, I've had a bit of trouble with screw heads snapping off ;) I haven't been able to locate any #4 self threading screws, so I attempted to use regular #4 sheet metal screws with ... less than ideal results. Oh well, it's a prototype and you are only suppose to use two screws anyways ;)
This is a picture of the LED driver. As you can see there isn't much to it, just a couple transistors (with one having a heatsink), a couple resistors, and a zener diode.
The final product will be mounted to a piece of 1/4" thick plastic and the circuit will be soldered to a prototype PCB. I'm not going to special order a custom PCB as that has a minimum cost over $100 which just isn't worth it for such a simple circuit.
thats fantastic, though its all greek to me :( I guess I need to do my research! that will give me something to do for the next few days :)
on the other hand, I can wait till im rich and famous and have you kidnapped by my henchmen and forced into LED building labor. eeeeexcellent. nah, ill learn for myself
---
Dedicated, converted, lowes / home depot bulb buyer!
Well, I've finally put the time in to assemble everything together.
I'm really glad I didn't go with three of these suckers, and that would be insanely bright. Even as is I'm scared it will be too bright and I'll have an algae factory in my near future. It's an experiment, so that's okay.
I'm happy with how it turned out, but the Serpae Tetra most certainly look better under the 8000K light (more red in color) while under the 5665K they are more pale looking. Which is kind of odd because 8000K has more blue in it, not red...
I'm curious how the plants will respond.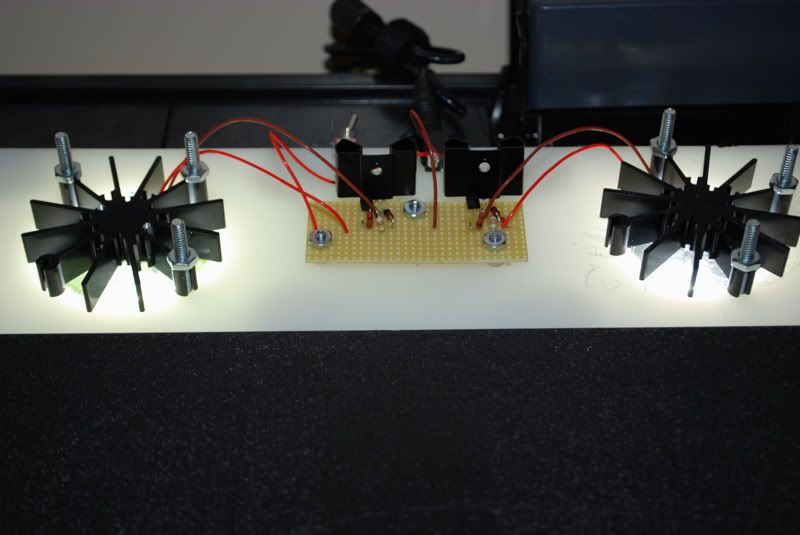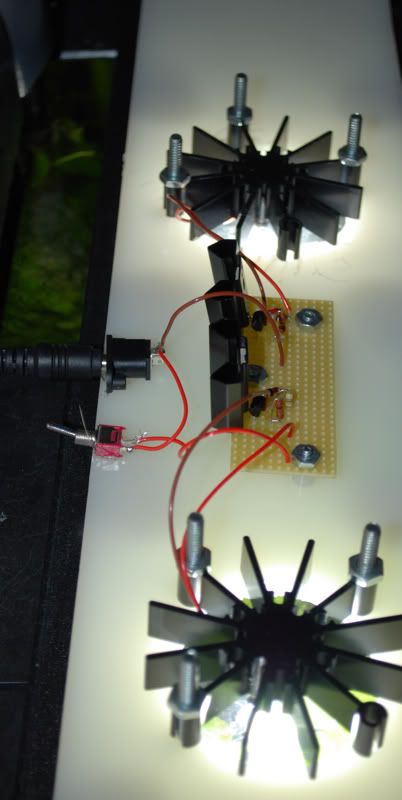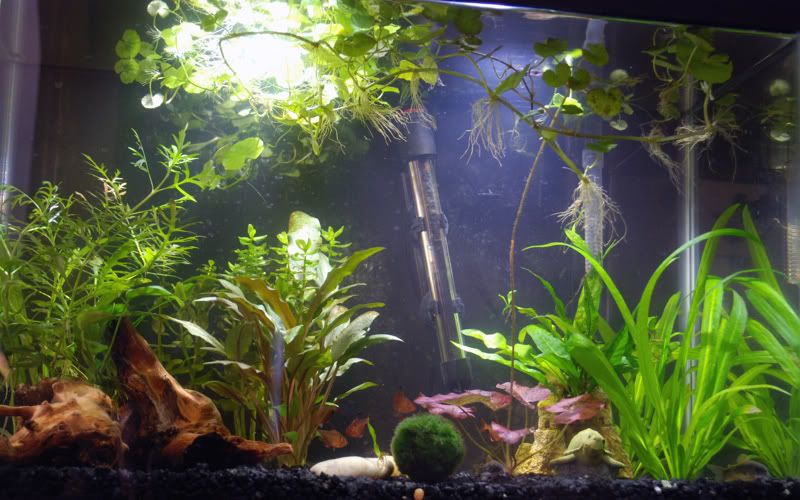 Thanks, it's pretty basic. I could of painted it for a better look, or put it in a box instead of just a sheet, but it's just an experiment. I don't even know if it will work yet (for growing plants that is).

I'm not mechanically inclined (in the least) nor very creative in visual appeal, I'm more of a practical person =)
Similar Threads
Thread
Thread Starter
Forum
Replies
Last Post
Our new style

Mike

Off Topic Discussions

26

12-23-2008

02:19 PM

all in one style tank

solareclipsed

Beginner Saltwater Aquariums

4

03-31-2007

06:24 AM

Ram tank style

Follow It Home

Cichlids

3

03-06-2007

09:14 PM
Posting Rules

You may not post new threads

You may not post replies

You may not post attachments

You may not edit your posts

---

HTML code is Off

---