Call the post office when they open. If you give them your tracking number they'll be able to tell you where they are. If at the post office, you can just swing by and pick those bad boys up!
PLANTS ARE HERE!!!!!!!!!!!!!!!!!!!!!!!!
They're sitting in bucket of water till I get back from the store.
I'm going to drain the water half way and then plant...does that sounds smart??
Pics to come!
Awesome!! Draining off some water always worked for me, made it easier to get the plants where I wanted them. JohnnyD, having some fun today!!

Looking forward to the pics. Please take a few right before you start your aquascaping. The before and afters are always soooo fun to look at.
---
If you don't stand up for something you'll fall for anything...
PICTURES PLEASE
---
~ Life Is Too Short, Break The Rules, Forgive Quickly, Kiss Slowly, Love Truly, Laugh Uncontrollably And Never Regret Anything that Made You Smile.
Life May Not Be The Party We Hoped For, But While We're Here, We Should Dance. ~
alright I'm home from the market....got beer in hand
I took some pics of the plants laying on my table, and I'll be sure to snap a few before I drain the tank down....I'm so exited...
I'm a little nervous planting some of these are they seem so this at the base....the leopard vals and the rotala's.....
I am super impressed withe everything...espically my swords....they are beautiful!
how should I go about putting the root tabs in for the swords? do you put the root tablet down, then put the plant on top of that??
Don't worry about root tabs just yet. Get them in first. There will be nutrients in the water for them already
---
"He who knows nothing is closer to the truth than he whose mind is filled with falsehoods and errors"
Thomas Jefferson quote
| | |
| --- | --- |
| The Following User Says Thank You to Mean Harri For This Useful Post: | |
Alright, here's the beginning stages of my plant filled evening....
Here's the first shot, out of the news papers....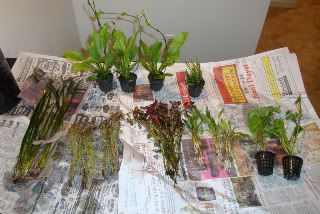 Amazon Swords....
Leopard Vals
Rotala Indicas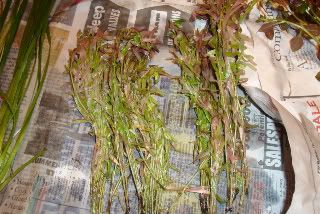 Ludwiga Natans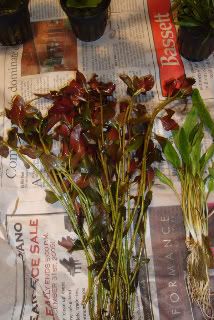 Walkeris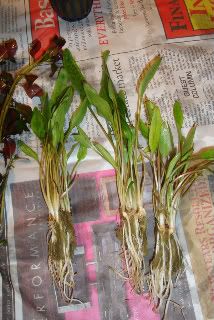 Pennyworts
Narrow Leaf Chain Sword
I'm excited!
Alright, I'm off to start draining this tank a little and getting these buggers in there!!!
Wow. Those are some amazingly healthy looking plants! Can't wait to see them in your tank.
Those Amazon swords are spectacular!
---
If you don't stand up for something you'll fall for anything...
Thanks!!!

quick question....with the new canister only running for about 4 days now....do you think it's safe to pull the HOB's off? I don't want to have the surface disruption and lose oxygen, but i don't wanna lose that good bacteria on them...I could always just float the biowheels I guess huh?
No harm in floating the biowheels, IMO.
No stop bugging me, I'm trying to focus on filling up my shopping cart at SA. (lol)

PS. I think that since you are putting all those plants in the tank at once you don't really need to worry about your biofilter. The plants are going to hasten up the process. I'm so envious of your plants....
---
If you don't stand up for something you'll fall for anything...
Posting Rules

You may not post new threads

You may not post replies

You may not post attachments

You may not edit your posts

---

HTML code is Off

---