January 13, 2010
---
So today I spent enough time getting this whole thing set-up....I usually test my water every Monday and Thursday...I did today, and to be honest, I was shocked at my results, I thought for sure that there would be something out of whack. With a 100% water change, all new gravel.....
Nitrite - 0
Ph - 7.4
Ammonia - 0
Nitrate - 10ppm
I am really happy that my tank is going better than I had hoped for....
I've been to my LFS and Walmart...no luck on the lights so far, I plan on buying the lights this weekend and picking up some plants also!! gotta see what the LFS has.....
I also ordered some great driftwood from Amazon.com of all places. haha I ordered 3 'medium' pieces which range from 12-17" I'll post some pictures when they come.
Thanks for reading my update!
this weekend Mr. Denim! haha

Last weekend was the first step in getting rid of my stark white tank and making sure everybody survived the move and my water stayed in check!
***update***
---
So....for those of you who missed my renovation pic on the other thread...I have completly revamped my aquarium and added my new driftwood and re aqua-scaped.....i just finished ordering my plants from sweetaquatics.com....I was stalled a little bit in the process(my grandma passed
). But i'm back on track and cannot wait to get my plants in!!
This is what the original tank looked like.....it was great at first....but I got sick of the brightness and I learned my fish didn't appreciate it also....here's the 'before':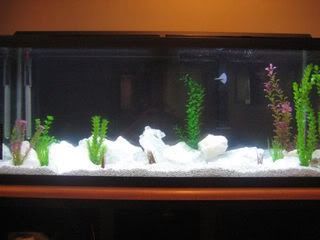 Over the past few weeks, i've slowly swapped out the gravel, to avoid a mini cycle....here's a pic before there was any extras added....the huge rock was something I picked up over christmas...
I decided i didn't like to look of the darker blue background and switched it back to black...I also ordered some driftwood....I fell in love with three pieces I got....2 tall ones and 1 'humped' shaped piece for the middle..here's the first one that was added...I also added my new dual lighting unit i got in a few days ago....
Next came the middle piece....
Then the other 'tower piece'...
So the whole new tank looks like this....
And here's a picture of my new favorite fish...my kribensis!! I've never had a fish photograph better than this guy.....
All and all, i've never been more exicted about a tank....here's the total before and after shot....
BEFORE: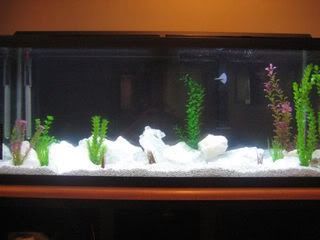 AFTER:
Thanks everyone for checking out my update, I'll be sure to put up some pics once my plants arrive!
Johnny
Looks awesome Johnny. The after is definitely better. And the Kribensis is nice. I'll have to check in to those myself.
---
"He who knows nothing is closer to the truth than he whose mind is filled with falsehoods and errors"
Thomas Jefferson quote
It looks great. I really like your driftwood pieces.
Looking forward to seeing your plant pics. You're having fun with this project, aren't you? :)
I'm sorry to hear about your grandma.
---
If you don't stand up for something you'll fall for anything...
I love the after set up...the before would be too bright for me watching it w/out wearing shades
---
~ Life Is Too Short, Break The Rules, Forgive Quickly, Kiss Slowly, Love Truly, Laugh Uncontrollably And Never Regret Anything that Made You Smile.
Life May Not Be The Party We Hoped For, But While We're Here, We Should Dance. ~
That is certianly very nice, well done indeed Johnny. What a difference, and for the fish too.

Byron.
---
Byron Hosking, BMus, MA
Vancouver, BC, Canada

The aquarist is one who must learn the ways of the biologist, the chemist, and the veterinarian. [unknown source]

Something we all need to remember: The fish you've acquired was quite happy not being owned by you, minding its own business. If you're going to take it under your wing then you're responsible for it. Every aspect of its life is under your control, from water quality and temperature to swimming space. [Nathan Hill in PFK]
thanks everyone!!! plants are ordered and should be here on friday!!!!! i can't wait....
YAYYYY thumbs up on the plants
Can't wait to see update pictures
---
~ Life Is Too Short, Break The Rules, Forgive Quickly, Kiss Slowly, Love Truly, Laugh Uncontrollably And Never Regret Anything that Made You Smile.
Life May Not Be The Party We Hoped For, But While We're Here, We Should Dance. ~
Posting Rules

You may not post new threads

You may not post replies

You may not post attachments

You may not edit your posts

---

HTML code is Off

---