Im new and confused
---
I just recently got into this whole fish and live aquatic plant world. I am loving it cause I am learning so much. I was hoping for some help. I have a Betta fish named Independent Variable and two small snails in a 5 gallon with lutea and ludwigia repens. Can I add one more plant and be okay or would this be over crowding I.V.?
Here is what it looks like so far....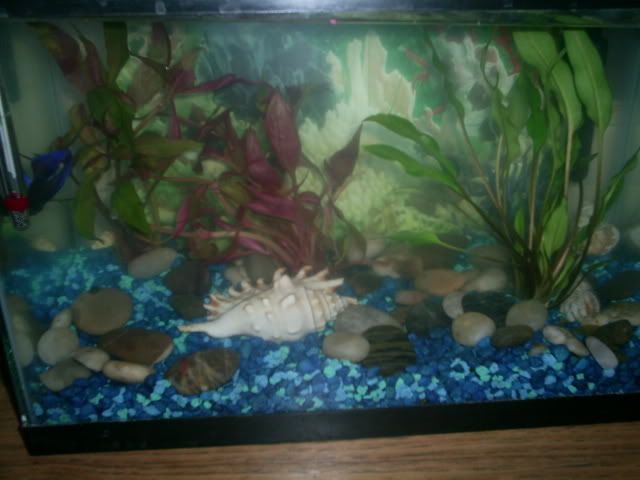 If I add one more plant what kind would you suggest?
Any other info you care to give will be greatly appreciated.
Another plant would be a really great addition. They kinda act as extra filters and will cut down your bioload so unless you fish can't move around your good. The Betta will appreciate the extra hiding spots too.

What kind of snails do you have? They may end up exploding all over your tank and eating your plants depending on what kind of snail they are.
I have no clue what kind of snail. They aren't big...maybe not even as big as my pinky nail. Just a couple of common pond snails I guess.
You might want to try to take a picture of the snails and post it for an ID. If they are common pond snails, two could quickly turn into thousands, and your plants could quickly turn into tatters. There are plenty of other types of snail that won't reproduce as easily and are more plant-friendly.
---
4 8 15 16 23 42
yeah there was two pond snails in there, but now I only see one. I might have to rehome him.
Similar Threads
Thread
Thread Starter
Forum
Replies
Last Post
confused?????

southamericancichlidguy23

Catfish

1

12-28-2009

01:33 AM

confused

sinadyan

Beginner Planted Aquarium

11

06-24-2008

07:35 PM

really confused help

fsmando

Beginner Freshwater Aquarium

4

03-04-2008

04:39 PM
Posting Rules

You may not post new threads

You may not post replies

You may not post attachments

You may not edit your posts

---

HTML code is Off

---