How should I go about putting plants in my tank?
---
I'm wanting to put live plants in my tank, but I wanna do it right and try not to waste too much money on plants just to have them die because I forgot something.
I am a complete newbie when it comes to this. I just want something simple and nice looking to help green up my tank. Any information will be greatly appreciated. :)
So, here is what I have right now.
-6.6 gallon tank
-gravel for substrate(I know this needs to be changed, but I don't know what to. Sand, maybe?)
-Aqua Ace Bioplant FL15BW 15w light(is this enough or do I need to upgrade? If so, what to?)
-I also have 5 ghost shrimp and 2 snails. I don't think the shrimp will eat the plants, but I think the snails will. Any specific plants the snails will leave alone or should I find another tank to keep the snails in?
-How much money am I looking at spending here? I don't want to cut corners, but then again I don't want to spend a fortune on such a small tank. It would be a diff story if I had like a 20+ gallon tank.
And here is a picture of my tank right now.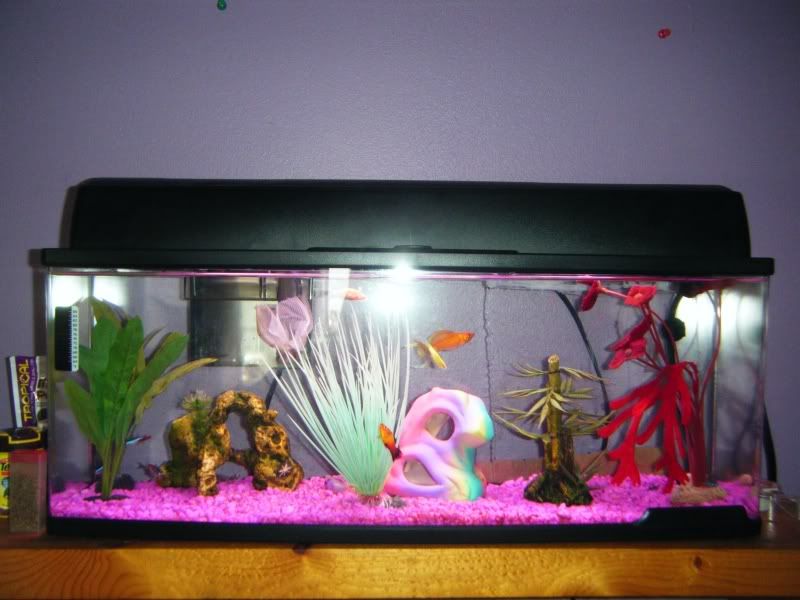 it is a very pretty tank!! you could get some java moss...it is fairly easy to maintain and cheap on the wallet....however it does grow like a weed and can take over your tank if not trimmed....whatkind of snails do you have...i have an apple snail and he leaves my plants alone
---
"Fish are friends not food"
So my lighting is okay? That's what I'm mainly worried about. :P

And I have two "mystery snails" which I have heard are just apple snails.
im not one to ask about lighting but in a previous thread i posted someone said my lighting is good i have double 15w/120volt incadacent(sp???) aquarium plant lights in a 20 gallon....if mystery snails are the same as apples then they usually dont eat plants/fish unless they are dying
---
"Fish are friends not food"
Posting Rules

You may not post new threads

You may not post replies

You may not post attachments

You may not edit your posts

---

HTML code is Off

---