Heavily planted tanks with sand.
---
I've been thinking about converting my 35g planted tank to sand. Mainly because I like the look of the sand, but also because I think the cories would love it. It probably won't be for a while as I just don't have the time at the moment, but for when I do, I'm worried about the plants.

I know that plants can do fine in sand, but I've also heard a lot of folk saying that they don't always do quite so well. A heavily planted tank isn't something I'm willing to give up for the sand, so I need some assurance that it will work alright.

If anyone has heavily planted tanks with sand, if you could give me a little information on how it works for you it'd be really appreciated. Things like how long you have had them in the sand, and how they have faired compared to the gravel, or anything extra you need to do to keep them healthy in the sand. I'm no plant expert by any stretch of the imagination, but for a good while, 7-8 months or so I have had a tank full of healthy, growing plants with very little effort form me. Since this seems to be more from luck than anything else, I'm reluctant to make any changes without some sort of guarantee that it'll work.

Thanks. :)
plants do very well in sand, as you can see from the following pic of my 42G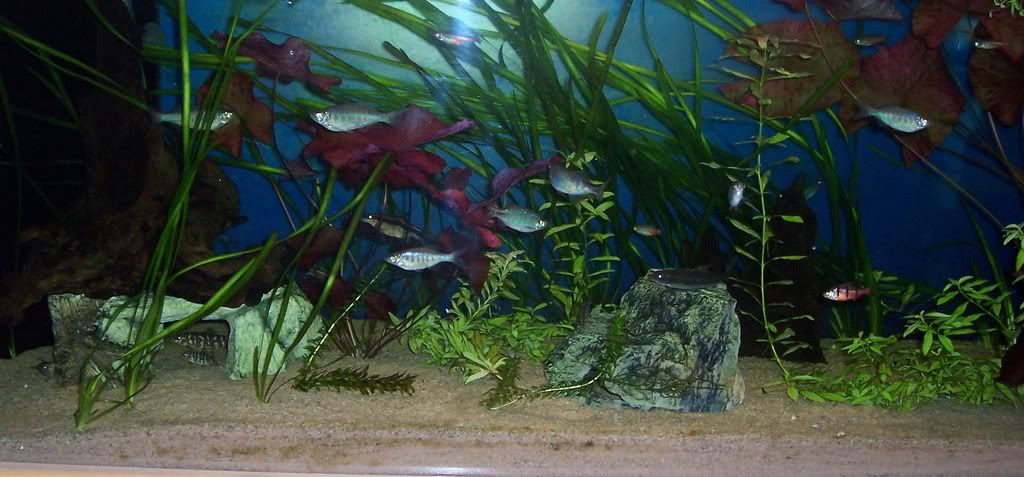 I use pool filter sand as it has a more even grain size and dosn't compact down.
That's a beautiful tank Wolf. They definitely do look to be doing very well. :)

Have you had a planted tank with gravel before as well? Or in another tank maybe? I'm just wondering if there are any things I need to look out for if I change over.

But aye, that's reassuring. I'm strongly leaning towards changing over now. Thanks!
my 62G is planted and has 5mm pea gravel as a substrate.
the vallis hardly grows in that tank and I can't even get the tiger lotus to stay alive for more than a week.
in the 42G the vallis grows so well that I'm forever having to thin them out and feed them to my 'plant eaters'

I don't use CO" or plant ferts and lighting in both tanks is less than 1 watt per gallon, I believe the plant geeks call this low tech.
LOL! Yep, I reckon that's what they'd call it.

I'm the same really. No CO2, no ferts and I also have low lighting. I just didn't want to break my chain of good luck that I've had. But having heard, and seen, your experience I think I'll def change over when I find the time.

Thanks a lot! :)
Posting Rules

You may not post new threads

You may not post replies

You may not post attachments

You may not edit your posts

---

HTML code is Off

---