Crypt Melt Causes
---
So what are some causes for a crypt to melt, aside from the usual of moving one?

I've had it for ~ 7 weeks and it has shown some pretty good growth in that time, it didn't melt after planting it.

But now, a few leaves have melted and it looks like several more are on the way. Three weeks ago I changed the light to something brighter (my custom LEDs. Two @ 5665K).

What are some likely causes do you think? Would it take it 3 weeks to respond to a different light?
That would be my guess. I have had people tell me that it melts for no reason, but in my experience its always after a change, even if they didnt realize it. It could be something as 'chaos theory' as the increase in lights caused another stem plant to increase its nutrient uptake causing a fluctuation in the water column of a yet unidentified hormone... Id believe it if I read it online
---
Dedicated, converted, lowes / home depot bulb buyer!
Yes, crypts will not melt for no reason at all. But they will melt--though not always, and some species are worse than others--if anything changes. Light (tubes diminishing can melt them, replacing tubes can melt them, increasing or decreasing light can melt them), pH, GH, temperature, disturbing the roots, changing fertilizers. Allelopathy (chemicals released by plants) may factor in to, this is an area that is not yet well documented.
---
Byron Hosking, BMus, MA
Vancouver, BC, Canada

The aquarist is one who must learn the ways of the biologist, the chemist, and the veterinarian. [unknown source]

Something we all need to remember: The fish you've acquired was quite happy not being owned by you, minding its own business. If you're going to take it under your wing then you're responsible for it. Every aspect of its life is under your control, from water quality and temperature to swimming space. [Nathan Hill in PFK]
Geez, three weeks is a bit of a delayed reaction haha.

My snails should be eating well I guess.
I have 50+ crypt. Wenditti and I honest have no idea what causes crypt melt. Mine rarely melt TBH. Last time I moved the tank and uprooted them all my stargrass took the move worse then the crypts did. I normally cause a temp drop when I change the water and that doesn't bother them either. All my other inconsistencies with light, fertilizers and CO2 don't make them melt either. One thing I do is prune any leaves if they start decaying. There are always some damaged or decaying leaves amongst my crypts but they are a very random(new, old, high current, low current).
Crypts are weird like that. I've had a rollercoaster with mine.

First: Potted Lutea from petco, took right off after planted and was doing well for apx 2month, never melted until recently when I changed from an 8000k to a 6700k bulb
Second: Potted Lutea from petco (planted a week after the first one, I was so happy with it not melting I bought another one). Well this one melted right away and still to this day is only about a 1/2" tall with a few small leaves
Third: Wendtii (green) split between the 29g and the 10g. Turned the 10g into a forest, doing OK in the 29g, getting taller but not fuller, no negative effect from the light change at all.
---
"Going low-tech planted is liberating, a feeling similar to running through the sprinklers naked with a bottle of jack daniels."
- Kangy
http://www.kancof.com
It's almost completely melted now :( Hopefully it springs back.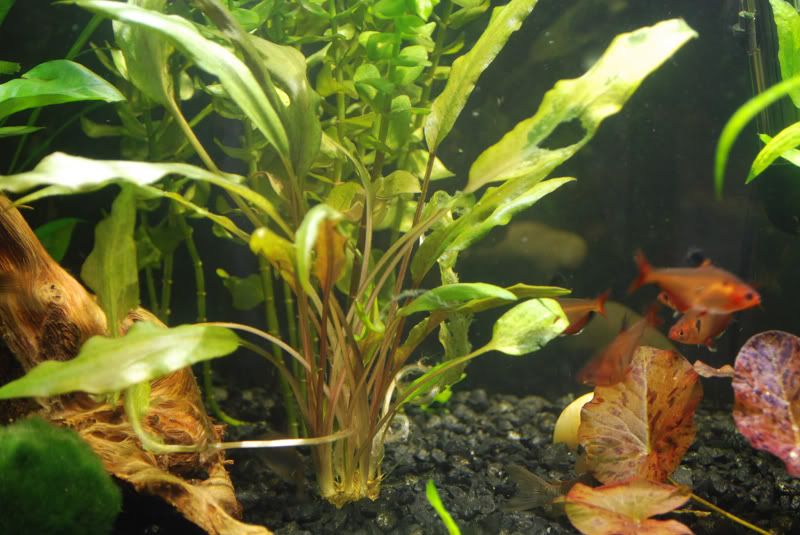 Quote:
It's almost completely melted now :( Hopefully it springs back.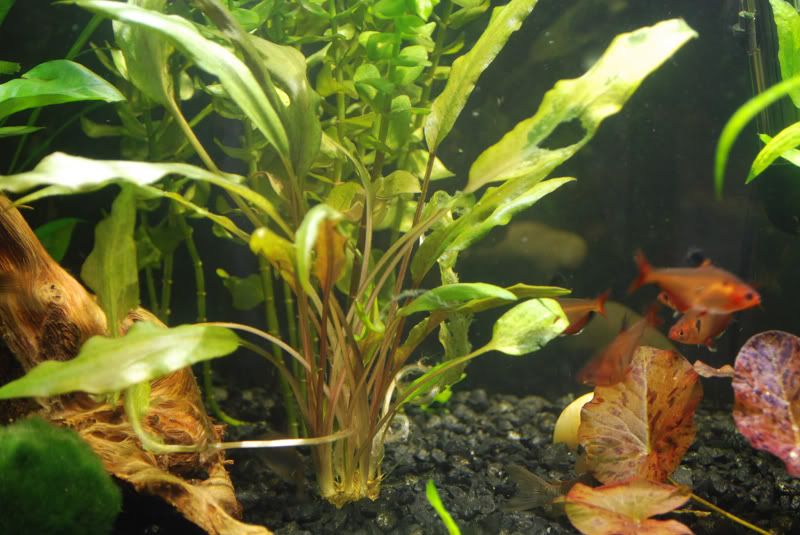 Well that's not too bad I had one melt more then that and it came back. On the flip side I also had one that completely melted and it didn't come back.
---
That's actually not that bad, my one Lutea melted worse than that, seems to of stopped melting for now at least and is showing a few new leaves coming from the base. lol at the snails comment. My snail population has always been pretty steady at "just enough" but has recently nearly tripled in a short time. Wasn't sure if it was from the 10 ghost shrimp breeding like rabbits giving them more food but now putting two and two together it makes sense they are there for the melting crypt(s)...
---
"Going low-tech planted is liberating, a feeling similar to running through the sprinklers naked with a bottle of jack daniels."
- Kangy
http://www.kancof.com
Posting Rules

You may not post new threads

You may not post replies

You may not post attachments

You may not edit your posts

---

HTML code is Off

---