Coconut Fiber for Emersed?
---
I have a lot of Eco-Earth, which is just compressed coconut fiber for reptiles, and I was wondering if I could use it in my riparium setup for my Fire Belly Newts. I have a mesh slope that I would take the gravel out of the top of it and put in substrate that would be underwater but still contained by the mesh.
The space is very small but I'd like to put down moss and a couple of very small plants or at least plants that will stay low.
This is the tank I have currently. This is a 20 High gallon tank. There's about six inches from the land portion that I want to put in coconut fiber and grow emersed plants. I also want something that will cover the mesh. -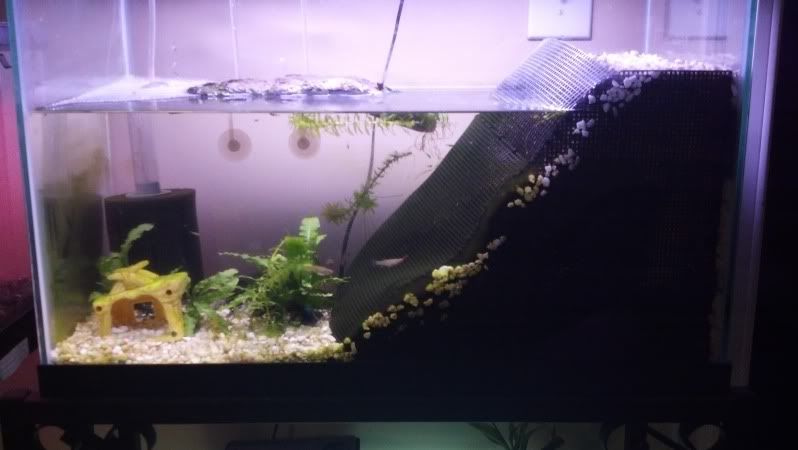 My concern would be the breakdown of the material into the water, both physical (when wet it might being to disintegrate?) and more importantly leeching something. Not as critical perhaps with newts as with fish, but still a concern.

One suggestion for the land/water meeting. A chunk of wood near the surface along the line of separation would be natural. You could use flatish rock perhaps to cover the slope below water, with a long "log" of wood at the top. The newts would easily clamber out.

Byron.
---
Byron Hosking, BMus, MA
Vancouver, BC, Canada

The aquarist is one who must learn the ways of the biologist, the chemist, and the veterinarian. [unknown source]

Something we all need to remember: The fish you've acquired was quite happy not being owned by you, minding its own business. If you're going to take it under your wing then you're responsible for it. Every aspect of its life is under your control, from water quality and temperature to swimming space. [Nathan Hill in PFK]
I've been doing a bit of research and it seems that coconut fiber breaks down much more slowly than something such as peat moss. It takes about 2-3 years for fiber to break down. Some coconut fiber have salt in them, but the more dangerous ones are from gardening types. Reptile fiber companies have guaranteed that their products have very minimal salt content. Otherwise, from what I can see, the fiber is pretty much inert. It doesn't have much nutrients. So I was thinking about root tabs or something along those lines.

The newts don't have any problems climbing into the land area but only one is up there most of the time. The other three prefer to be underwater. My goal is to cover the entire tank, both the aquatic area, the slope, and the land area, in plants. I'm going to be changing the aquatic substrate as well as the land area substrate so the plants will grow more evenly than they can in gravel.
you should do a gravel side(water side) and eco-earth for land side.. as about half of the eco-earth will float, and reallyl dirties up your water, looks nasty..i dont think it would cause any "harm" but be a constant battle to clean..
Posting Rules

You may not post new threads

You may not post replies

You may not post attachments

You may not edit your posts

---

HTML code is Off

---