Another substrate question?
---
I need to buy new substrate because sand is sturing up and getting on my plants. I herd flora max sucks and eco-complete is light and with current will cloud up the water. What should I do? Just put gravel over my sand with root tabs?
Plants will grow fine without enriched substrates like eco complete, so save money and get a small grain gravel and maybe use root tabs for heavy root feeders if you feel they need it. I personally don't like the look of 2 substrates mixed together but thats just my taste - if it was me I'd completely replace the sand with gravel
Well my only option is petsmart and they don't have small gravel. Should I just go with eco-complete? I was worried the current of the filter would move it around to much.
Where did you read that flora max sucks?


I will be starting a 10g planted tank soon and that is what I was going to use.
Hmmm... I guess it was cloudy at first. I have it in a 15 gallon.


I have a massive overkill powerhead in there right now that has taken all of the substrate off 1/3 of the tank and the water is crystal clear.
I just took some pics: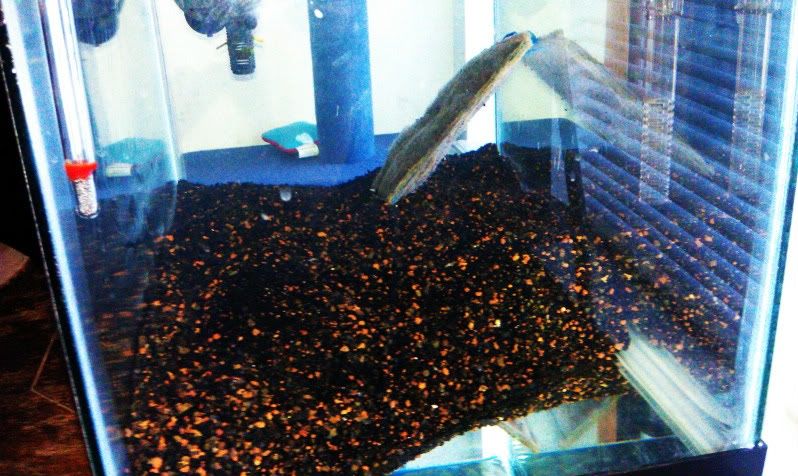 Currently cycling. When I first put the powerhead in there it got cloudy for a little while but everything is pretty settled now and the water is clear. Crappy pics and the glass is dirty... but you get the idea.
Quote:
so should I get flora max
I'll let Byron chime in. He rarely uses enriched substrate. (To my knowledge)
I was going to post a thread and have him design my 10g for me. Substrate, plants, everything. It's just going to be a ramshorn breeder tank, but it might as well look cool too.
Posting Rules

You may not post new threads

You may not post replies

You may not post attachments

You may not edit your posts

---

HTML code is Off

---