I haven't had much luck with my plantlets so far. Their leaves pretty much lose their green and become transparent over time. I just read today that when you take them off the runner, you should cut the root down to 2 inches before you planting them so you don't have to roll up the roots which cause root rot. So I removed the dead or dying plantlets and planted some new ones that have been growing on runners. I also cut off the runners because they are now bare and don't see any more signs of babies growing. Hopefully this time I'll have better results. Here are some pics of my new plantlets that I just put in the gravel.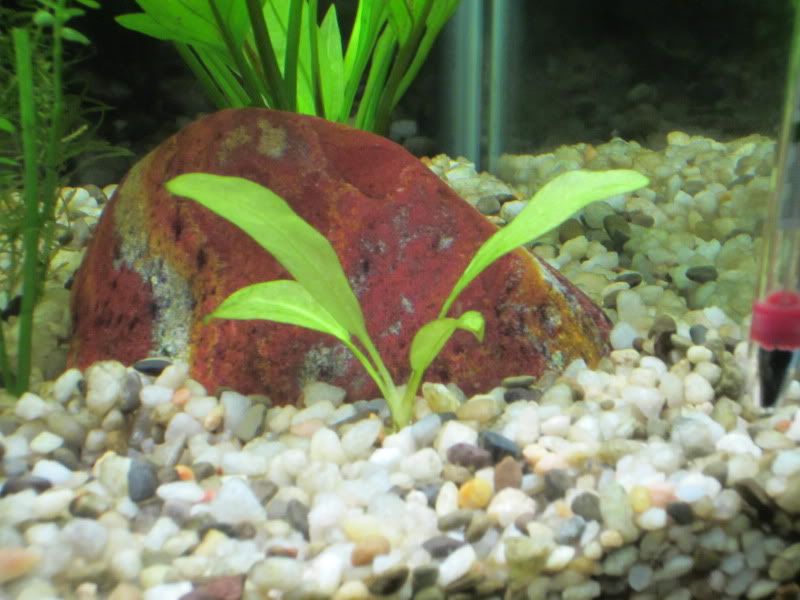 I would stick a root tab between the two in the first photo, or about 2 inches from the base of individual plantlets. This will ensure nutrients are available to them.

I've never myself trimmed the roots before planting, but this is another method and should not be a problem. Many sources recommend trimming roots of swords before planting.
---
Byron Hosking, BMus, MA
Vancouver, BC, Canada

The aquarist is one who must learn the ways of the biologist, the chemist, and the veterinarian. [unknown source]

Something we all need to remember: The fish you've acquired was quite happy not being owned by you, minding its own business. If you're going to take it under your wing then you're responsible for it. Every aspect of its life is under your control, from water quality and temperature to swimming space. [Nathan Hill in PFK]
Similar Threads
Thread
Thread Starter
Forum
Replies
Last Post
Amazon Sword

doppsterjr

Beginner Planted Aquarium

2

01-28-2011

12:19 PM

My Amazon Sword...

Kelso

Beginner Planted Aquarium

11

01-12-2010

04:18 PM

New Amazon Sword

Blaxicanlatino

Beginner Planted Aquarium

30

06-15-2008

06:08 PM
Posting Rules

You may not post new threads

You may not post replies

You may not post attachments

You may not edit your posts

---

HTML code is Off

---