It's not dead, it is covered in this brown algae.
Update
---
So it's been roughly 1 month. I'm just going to post some photos on how the tank is coming along. The brown algae problem I was having has completely vanished now. Also there was a green algae bloom following the brown algae, and that has also vanished. There doesn't seem to be enough light in my tank. There is 8 x 54 watts, however the tank is longer then 48 inches and thats the size of the ballast. The light is more focused into the center and is not as bright on both ends of the tank. The plants aren't growing very fast. I haven't added any ferts yet, because I was trying to clear up the algae problem. Now that it's over i'm going to start fertilizing and crank the c02 up a bit.
Equipment added -
I've added a eheim 2217
I've added a fluval Fx5
I have a 38watt UV Tube i'll be adding to help kill unwanted pests and floating things.
Plants added-
Added a few swords to help eat nutrients
Fish added -
I've added 3 Flag fish
I've added 3 Large discus, and transferred 4 juvenile discus from another tank into this one, i have another discus that i'm currently medicating before I put into the tank. He's being dewormed right and he's almost finished his cycle.
I've added 10 Otto Cats
I've added 30+ Grass shrimp to help aid in left over food.
I cleaned the gravel alot to remove nutrients that were helping with the algae problem I was having and I had to remove some of the foreground grass that was there.
The water Quality is almost clear and there is hardly any debris floating in the tank.
I've been maintaining regular water changes, 30% water changes once a week, refilling the sump 10 5 gallons twice a week. Here are some photos, of some of the same spots that I posted before.
I want to start the planting foreground and take control of the lighting and the co2. Then I will be transferring cardinal tetras from the holding tank to this tank once I install this uv sterilizer.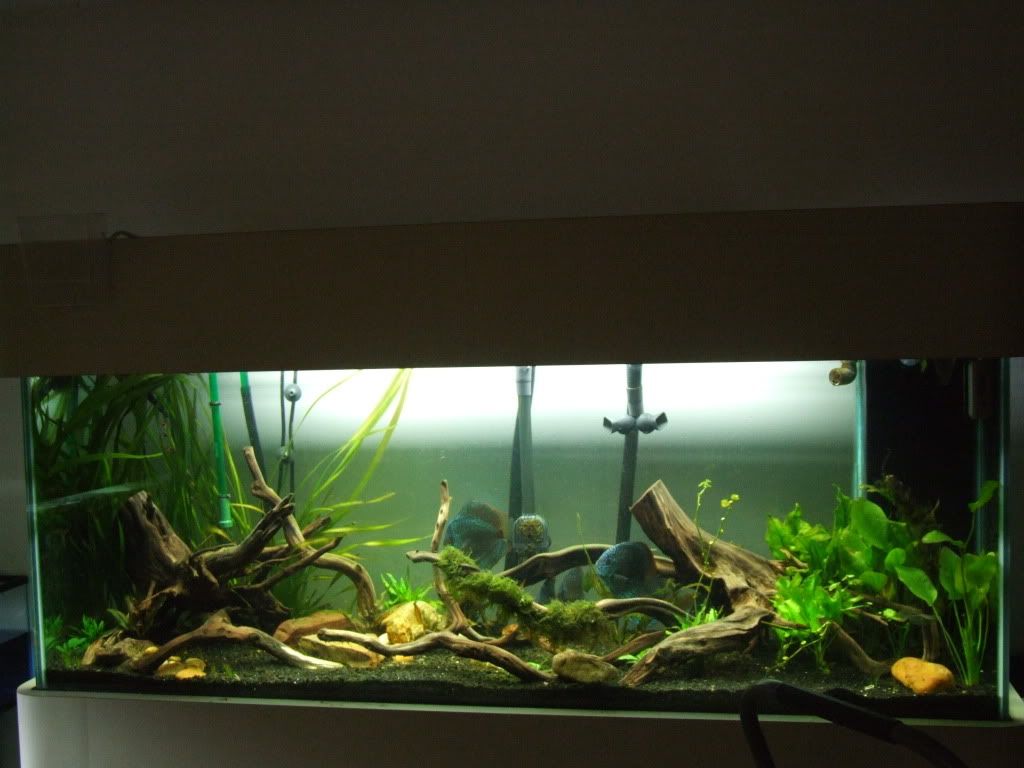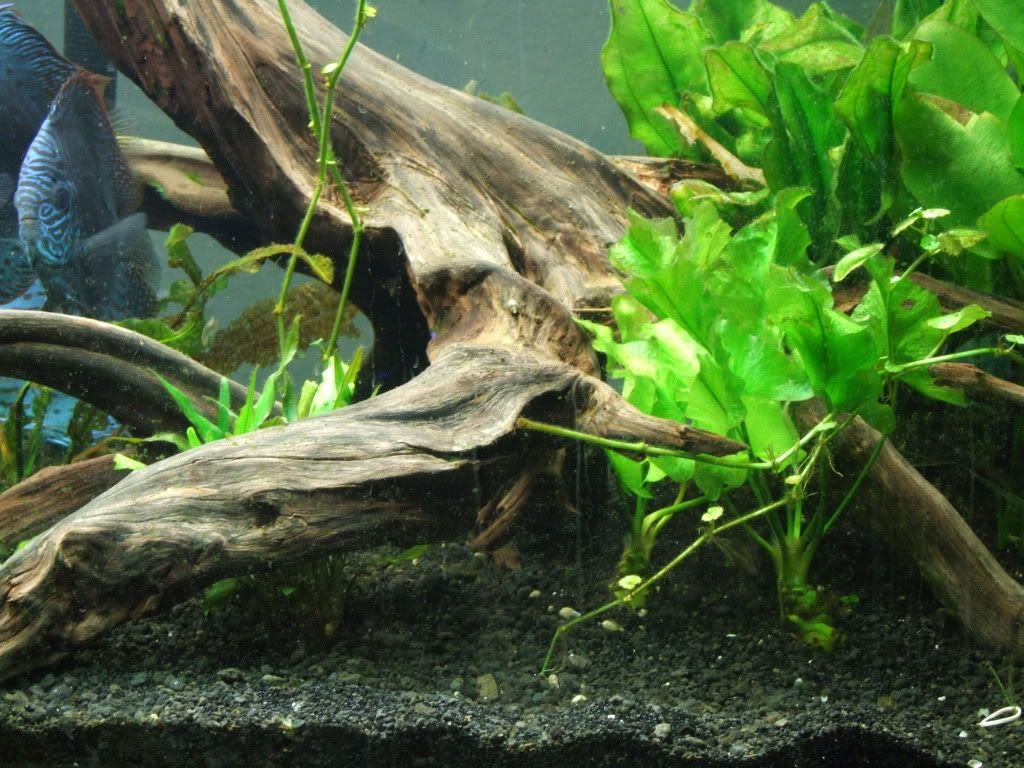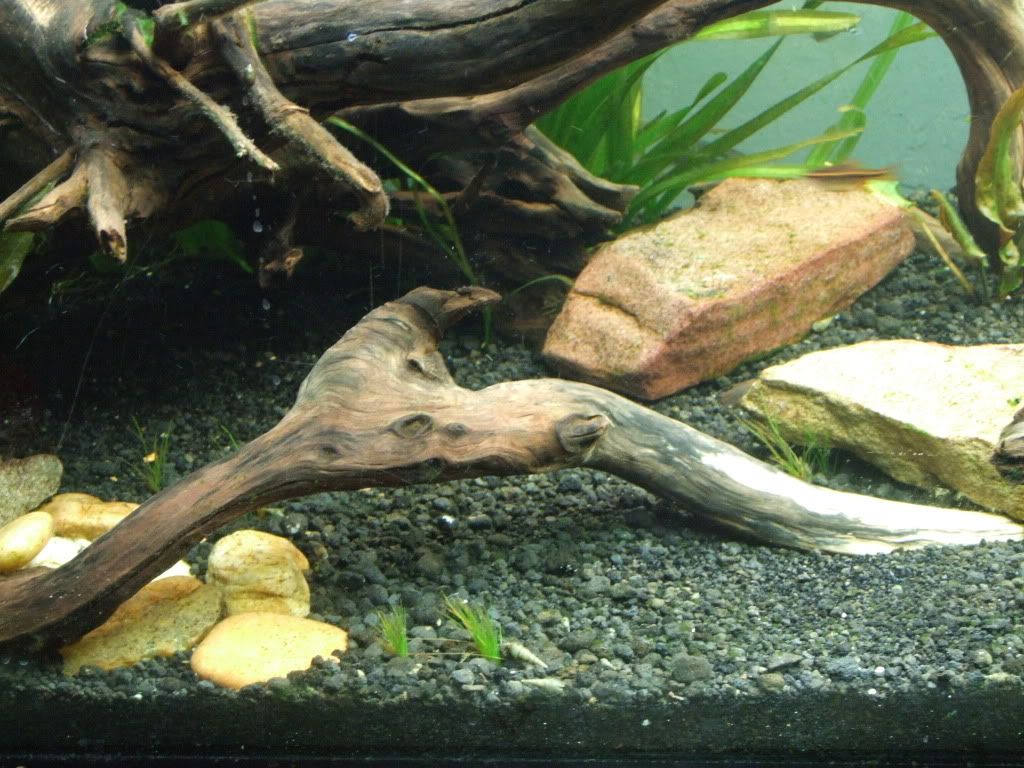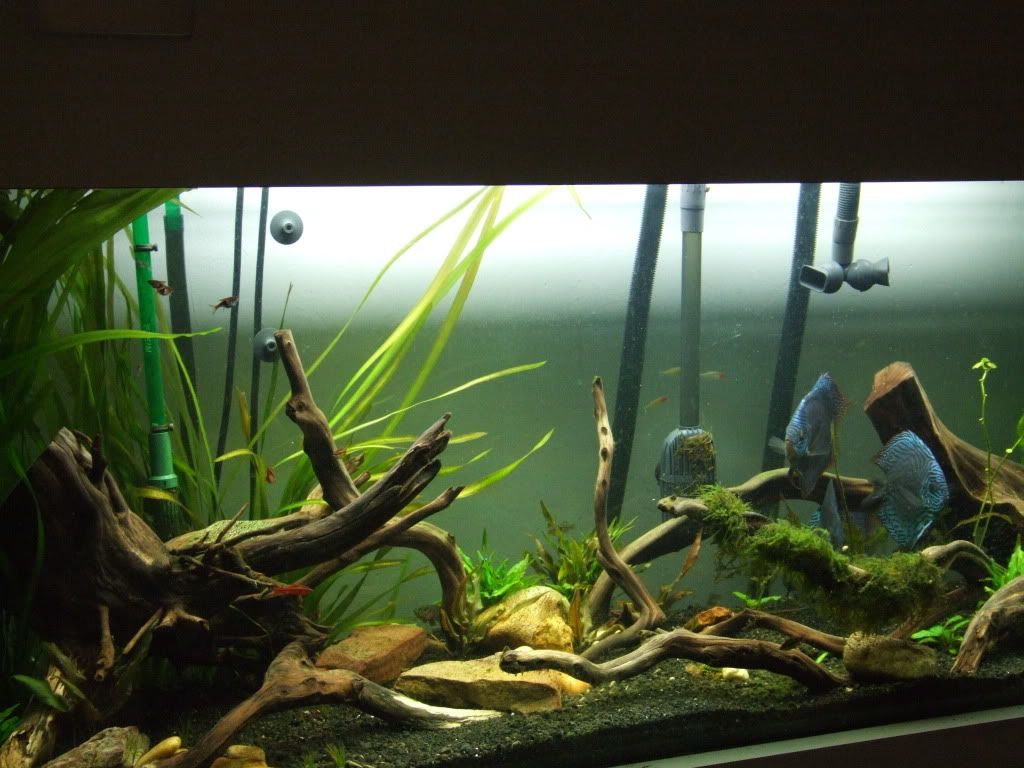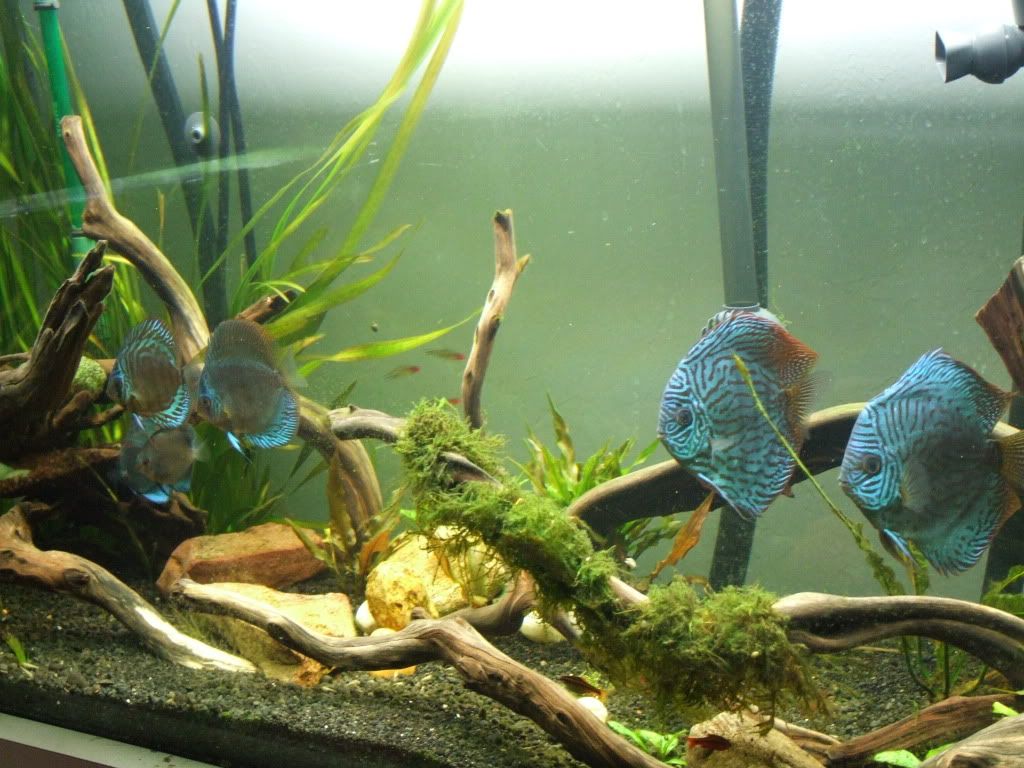 Love the wood and discus.Its gonna look great when all the plants grow in.
---
Your's truly,
Lee
new plants nice tank =) they got killed by the algae but at least you got rid of the problem
---
5x2x2 aro,highfin bat,fei feng,ST,albino tinfoil,c.perch
4x1.5x1.5 planted tetras,harlequins,
otto,WMM,2 types of celebes rainbows,rcs,amano, bamboo,red ramhorns,MTS
3.5x2.5x2 flowerhorn,pleco
3x1.5x1.5 russel's lion,blue cleaner,sixline and leopard wrasse,maroon clown pair,green chromis,scorpion,tiger cowrie,turbo,lyretail anthias,jewel,anemone,star polyp,marbled and giant green mushi,zoa
2x1x1 nano sw shrimps
22 May 2012
The algae didn't kill the plants; they had insufficient nutrients (no fertilization). The light must balance the 17 nutrients (CO2 is only one of the 17). To cite from Dr. Christel Kasselmann:

Always typical of natural waters with rich plant populations is the presence of all the vital nutrients important for growth. If even a single nutrient is missing or is present in insufficient supply it will, according to Liebig's Minimum Law (1855), constitute the one growth-impeding factor. In contrast to natural water, tap water contains many of the essential nutrients for plants--such as iron, potassium, manganese, sodium, etc.--in inadequate quantities or not at all. Other nutrient components, on the other hand, like nitrogen and phosphorus, are presently in mostly high concentrations. Therefore, it is occasionally necessary to add fertilizer to the aquarium water which contains all available nutrients for plant growth in a favourable combination. ... Finally, it should not be forgotten that nutrients are absorbed in different quantities and composition by ea=very plant species.

Algae occurs due to excessive light, nothing more. The limited nutrients (the organics in this case) were insufficient to balance the light and carbon and the plants could not use the light and carbon so algae did. While brown algae was probably normal, green should not be if the nutrients are balanced with the light for the plants. The lack of sufficient nutrients through lack of fertilization from day one was the sole cause of the problems. I explain this in the articles "A Basic Approach..." with respect to low-tech (natural) planted tanks, but the principle is identical in all planted tanks. Nothing changes except the quantities.

Byron.
---
Byron Hosking, BMus, MA
Vancouver, BC, Canada

The aquarist is one who must learn the ways of the biologist, the chemist, and the veterinarian. [unknown source]

Something we all need to remember: The fish you've acquired was quite happy not being owned by you, minding its own business. If you're going to take it under your wing then you're responsible for it. Every aspect of its life is under your control, from water quality and temperature to swimming space. [Nathan Hill in PFK]
=S not enough nutrient.the algae ate up all the plant food.poor plants.i founf the mopani wood.damm expensive. a Y shaped twig cost rm20
only a few inches long
---
5x2x2 aro,highfin bat,fei feng,ST,albino tinfoil,c.perch
4x1.5x1.5 planted tetras,harlequins,
otto,WMM,2 types of celebes rainbows,rcs,amano, bamboo,red ramhorns,MTS
3.5x2.5x2 flowerhorn,pleco
3x1.5x1.5 russel's lion,blue cleaner,sixline and leopard wrasse,maroon clown pair,green chromis,scorpion,tiger cowrie,turbo,lyretail anthias,jewel,anemone,star polyp,marbled and giant green mushi,zoa
2x1x1 nano sw shrimps
22 May 2012
Posting Rules

You may not post new threads

You may not post replies

You may not post attachments

You may not edit your posts

---

HTML code is Off

---