What should I do?!?!
---
Ok first off i have a 150 gallon tank. I had 4 four inch oscars and one 12 inch oscar, 2 catfish, and 2 alge eaters. I got rid of all the oscars they dirtyed up my tank so bad if that even is a word. i want to no what fish you guys think would go good in my tank. i want some ideas. thanks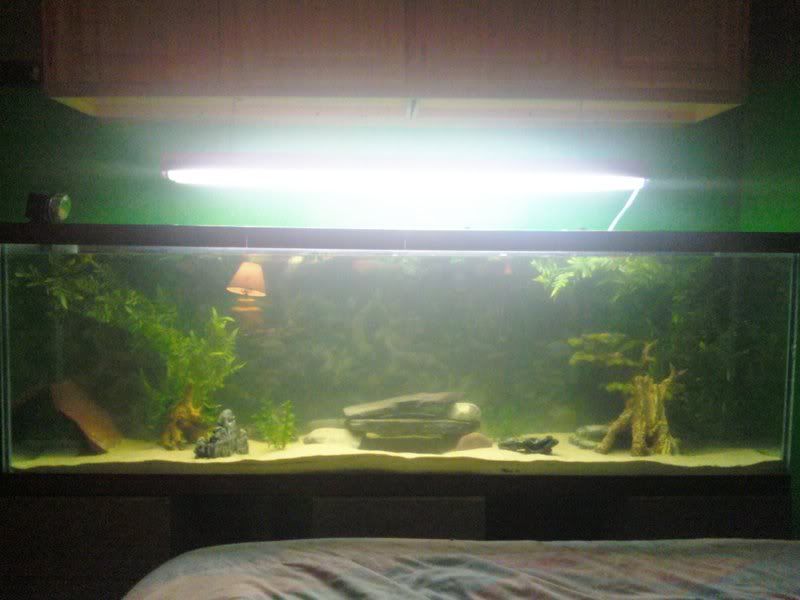 i think that angelfish would be great, depending on your tank conditions, i would go with some bigger fish, maybe some silver dollars? there are so many possibilities!!!!

but on another note, did you just get rid of all your fish? is there anything at ALL in your tank right now? cuz if not, you need to make sure that you are throwing some fish food in there a couple of times a day, to keep your bacteria alive. if not, it will all die off and you will have to completely recycle the tank.

what are your water parameters?
Are you in the mood for aggressive, semi-aggressive, or community? There's just an endless stream of options for you with that size tank. I'm the kind of person that would do a community tank with swirls of tetras, a whole herd of corydora catfish (since you have sand in there) and other small stuff.
---
This is the song that never ends...
i have 2 cat fish in there now about 8 inchs both. they only come out at night so that is why you can see them. i kinda dont want to have fish that eat other fish anymore.
If you want peaceful, I would go with many small community fish. Schools of tetras, cory cats, any sort of livebearers (if you like them), danios, etc. the possibilities are endless :) . Just make sure that they like the same water conditions, and do a little research before you buy.

Umm...I don't know for sure, but don't some large catfish eat smaller fish?? That may be a problem, and if you want to go with a peaceful community tank, you might want to rehome those as well.

Oh, if you were to get rid of them, using a small amount of ammonia daily would keep the cycle going until you get more fish. Fish food works, but is MESSY!

Have fun redoing your tank :D !
Tetras, lots and lots and lots of tetras. Seriously though, tetras, cory catfish, live bearers, and maybe a few peaceful cichlids.

Threads like this tend to end up with everyone volunteering their favorite kind of tank.
---
Tetra Fanatic
Watch my tank progress from Craigslist salvage to fishy habitat:
Aaron's Tank
The only things that happen quickly in an aquarium are bad things.
A big school of harlequin rasboras, a big school of hatchets for the top, some swordtails for color, a herd of cories and another herd of chain loaches, then single specimens of dwarf cichlids: a krib, a ram, an apisto, and maybe some bigger ones like festivums or keyholes.
---
4 8 15 16 23 42
Angels and Festivums with cories and maybe bleeding heart tetras.

Or, if you can afford them, a big school of Redline Torpedo barbs. Yea baby!

Lots of possibilities.

(But maybe we should know your water parameters first...Ph, Kh, Gh, etc.)
---
150 Gallon - Mostly American Cichlids
135 Gallon - Angelfish Community
75 Gallon - Odd couple (Polleni/Angelfish)
55 Gallon - African tank
20 Gallon Long - QT
10 Gallon - Empty

thanks yeah i think i need to get my water tested but keeep it comeing with the ideas
What kind of catfish do you have? Its pretty important to know before we tell you all these community fish and then you put then in there and your cat fish eats them up.

But so far I am agreeing with everyone else. You could make this tank look amazing with tons of community fish. Personally I think you should add a whole wack load of plants in there. The tank looks sooooo much better when you have tons of shoaling fish in a huge tank with lots of plants.
---
And just before you laid dead weight upon its shores, I stung you in the face for that's the nature of my core.
Posting Rules

You may not post new threads

You may not post replies

You may not post attachments

You may not edit your posts

---

HTML code is Off

---