No... hahahaha... water tub to Bucket! Bucket to sink. I have a 75 gallon. I have a Python hose!! OMG!!
---
Every kid, regardless of what they are going through, is ONE caring adult away from being a success story. ~ Josh Shipp, Teen Behavior Expert
Phewww!!!!! That's a lot of info but it's a much more clear picture now of what I need to do... Notice the more this post\progress is moving along the less and less I'm using the word WE (as in me and hubby)... SMH. I'm acctually looking forward to checking out the fish tonight.
Posted via Mobile Device
Hahah, I'm sure the fish will grow on you.
Fishkeeping gets very exciting, especially if you go have a look at what other people are doing with their tanks!
---
taking a break from fish-keeping.
3 lovely male betta still keep me company.

Jakiebabie, I forgot to mention. I've had Betta's before... 3 of them acctually (separate times). I was thinking of filling the tank with plants and getting 1 betta but then it's a little too lonely in there... And probably boring to watch.
Posted via Mobile Device
The vac is a must. And if you go with sand, it wont suck up very much at all into the hose. Kind of just fluffs it IMO.

In the beginning, you can't overdo pwc. No good bacteria yet so the nasty stuff can build up fast. That's also a reason for having the tank understocked in the beginning and building it up over time.

Once it cycled and is on it's way, the number of pwc depernds on the number of fish and their bioload. Also, don't do a gravel vac for the first few weeks as you want the bacteria to grow in the substrate. Get water off the top.

I pre-treat about 1.5gal of water in a contanier and have it a degree or 2 warmer than my tank. I turn off my filter and scoop out water with a mixing bowl and dump it in a bucket. By the time I'm ready to pour my fresh water in, it has cooled to tank temp. I don't pour it directly in the tank, but rather I pour it in the back of the filter canester. No current that way. I do it 3x a week.
Posted via Mobile Device
---
Last edited by Bluewind; 12-28-2012 at

12:58 PM

.
When looking at starter fish, the only thing I would recommend at the beginning stages would be smaller fish, with consequently lighter bioloads. But for now I'd just go have fun at the fish store with looking at everyone :)
So I went...and took down alot of names of "possibilities". They had some "dwarf angels"...that's at least what was on the label and I am sure if hubby sees those he's ask why we can't have those.
I like the fancy guppies...awesome colors, patterns and I love the way they swim...
I also looked at some tetra's (neon/glo are okay) , zebra danio's are the only one's I found nice.........just seem plain to me. I like different shapes.
The Gouramis looked nice...pretty colorful. I also like some pleco's but apparently some are not a good fit for our tank as they will get big. Platies also seemed plain to me.
They had a lot of types of sharks...but we can't have those...they need a 50 gallon tank.
It's a bit disappointing to see that the fish I do find "cool" are not a good fit for our tank.
For example, I love discus fish. I think they look so awesome but again, too big for our tank.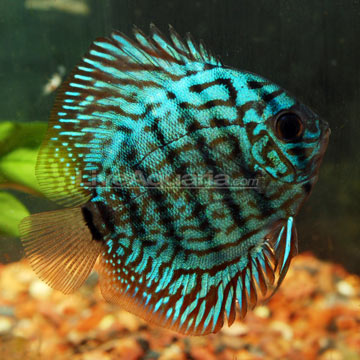 Anyway, a coworker is going to give us his 30 gallon filter (our tank is 20) and a heater that he has (he has a ton of extra's from his old tanks)...That won't be until Wednesday when I go back to work though. So until then we will clean the tank out tomorrow morning, get some gravel, add water, some plants. I am strongly considering adding a betta at first since I know from experience how hardy they are and I am sure it will do fine with a 10 gallon filter and it may help the tank cycle. We'll also get testing strips and next weekend depending where we are at we may be able to start adding fish.
My hubby seems to have the same tastes in fish as me and also found most of the ones I took pics of plain.
I just wish we could find a COOL different looking colorful fish...even two would be fine but the little ones are not so fun to me. I don't know....
Regarding plants, they have a decent variety...although they didn't have anacharis. I did like the green cabomba, banana plant,java fern, wisteria...I think 4-5 plants will work well in our size tank without over crowding it.
Now, the gravel. I took a look at the small pebble like gravel and I had no idea that some come "wet" with "bacteria" already??? Most were wet. Now I have no idea which to get. I do know the color and that's it. Should I get the wet one and just add it or the dry and wash it then add it. A little confused here. Hope I get an answer by tomorrow because I hate to ask FS people questions since some have no clue.
Anyway...sorry for the long post. Any advice is welcome...
---
Last edited by Fishybusiness; 12-28-2012 at

08:01 PM

.
Any idea what your PH is??
---
Every kid, regardless of what they are going through, is ONE caring adult away from being a success story. ~ Josh Shipp, Teen Behavior Expert
Well, before you add fish I would definitely check out your ph. Some fish prefer higher ph, some fish prefer lower.
Either gravel should work fine, I would definitely go with something 'smooth' though. If its dry just give it a quick rinse, if it's wet (mine always was), I just poked a hole in the bottom with a fork and let it drain outside, then poured it in the tank.

Also, just a foreword. The tank will be cloudy for awhile after the gravel is added, a few hours at the most. This is totally okay. And when your bacteria is being 'cultivated', your tank will get cloudy then too. This is totally okay :)

Also, most people prefer planting before the water is added. So perhaps buy the gravel and plants at the same time, plant the tank, and then add your water. I would do this after you get the new filter so you can begin getting good bacteria started.

Honestly I wouldn't bother with test strips :/ They can be pretty unreliable. I got my API Master Test kit for $20 online at Drs. Foster&Smith, and it's more than worth the money. It will last a very long time, and is quite accurate. Your LFS may also sell them.

If you added the Betta, would he stay in the tank as a permanent resident? It can be a bit difficult to plan a tank around them, especially if they're the first introduced. They get territorial.
Posting Rules

You may not post new threads

You may not post replies

You may not post attachments

You may not edit your posts

---

HTML code is Off

---