LOL, you guys. . . C.Alore has to get back here and give us some guesses as to what on Earth is in that tank!
Obviously I agree with MM here, or my camera wouldn't be glued to my face a good portion of every day.
IF
these are one of the buggies I suspect they are, chances are exceptionally slim that you'll be able to get a picture that would be of any use. But you're the one with the tank, we're only guessing - if it isn't too tiny for you to clearly see some details of it's form, then try to get a picture for us - or a clearer description - and we'll give you a few other options to look into.
If it IS one of the smaller critters that have been mentioned, that's okay too - we have Google
. . . since it was the one most mentioned, this is a Copepod: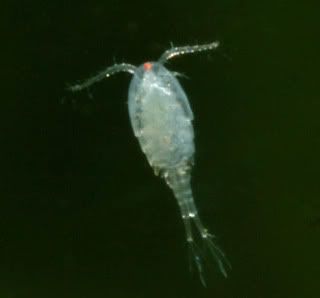 **an image from the interwebz thank you to Tyler-the-Possesed(?!!)**
It may not do OP very much good, since to our eyes they look like nothing but
Quote:
tiny white dots on the glass
being at
largest
0.1*ish* inches. but that's where YouTube comes in handy. . .
Here's
one of the first vids that came up with a simple search - there are others that give a better idea of movement, I chose this one because it shows scale a bit. . .
Look into the others that have been suggested, too - then let us know what you have! We can give you more info from there if you need it. :)