Upgraded to a 37gal!
---
I just moved everything from like 28gal to my new 37gal tank I found on craigslist!

I've still got to figure out how to arrange all my plants.. And I've got to nurse some back because my lighting died about two weeks ago and I wasn't home enough to notice that one bulb was out.

I've still got to finish my plans to stock it too. I have I think 14 cardinal tetras, they'rw never still enough to count lol. And I have a few cories. I plan on adding some marbled hatchets whenever they come in stock at my LFS.

Trying to keep with South American fish and plants. :) I will probably escape it this weekend.
---
+ Planted 75 Gallon Amazonian Tank +
Cardinal Tetras -- Rosy Tetras
Ember Tetras -- Silver Hatchetfish
Diptail Pencilfish -- Cories
Bristlenose Pleco
Lyretail Checkerboard Cichlids
Hahaha so stupid. That's my auto correct! I was trying to post that before my lunch ended (at 1:30) and so I was in a hurry. Heehee, help! I can't escape my aquarium!

Thanks. I am 95% sure it's actually 25" tall. I'm glad it's got a 30" length instead of just 24".. My cardinals are still young, but I know they'll appreciate the space as they get larger!
Posted via Mobile Device
You're completely correct on the size of the tank. It seems endlessly taller haha.

It is on the deep side, totally. I think I'll need a new gravel vac, or at least a longer hose for it.. I had to stack some books to put my canister filter on top of cause I didn't want to buy new tubing, lol. And my heater's cord barely reaches.

The reason I went with this size is because it's the largest tank I could fit on the stand I already own. Plus all of my equipment, except possibly my light, work with it. I just needed to buy some more sand.

I went to the LFS to look at possibly getting something like a gourami and instead came home with a Red Lizard Whiptail. I guess time will tell if it's truly the actual fish.. but it does have a reddish hue to it. I got the only one! I need more plants for it.


I keep seeing vals listed as South American plants.. Not sure they really are. Im debating on adding some now that I've been adding a GH increasing product. The last time I grew vals they all melted on me and everyone said it was either the play sand I had them in, or the soft, acidic water. I don't think my Alternanthera reineckii will survive. Looking for some additional background plant options from South America..

Current plant list is:

> Parviflorus parviflorus 'Tropica' – Sword 'Tropica'
> Lilaeopsis novae-zelandiae - Microsword
> Cabomba Carolina
> Hydrocotyle Leucocephala – Pennywort
> Alternanthera reineckii - Telanthera Rosefolia
> Mystery red colored sword from the baggie plants

I haven't decided on floating the pennywort or using it in the 'scape.. Or both. I'm going to have to look at some natural looking aquascapes over the next few days. I know my driftwood doesn't look like the natural amazon, but I would like the plant arrangements to look somewhat natural. Though I bet this tank is good for a dutch style aquascape.. I don't have time for all that though.
Posted via Mobile Device
Lol, I think I'm going to switch to having a few different swords in the back with some pennywort growing around it. My cabomba already grows really stem-y, and I'm sure with the added depth it'll just get worse. I'll just float it until I can get some actual floaters established. I don't have high expectations for the alternanthera. With the height of the tank, I think some large swords will look good. :) And I shouldn't need to upgrade my light either.
Here's the whiptail... I figured I'd take pics while he was in the bag and I could get a good glimpse. Then I turned out the lights to calm him/her down.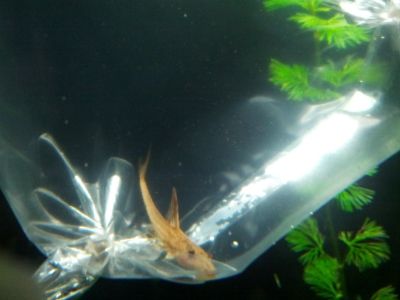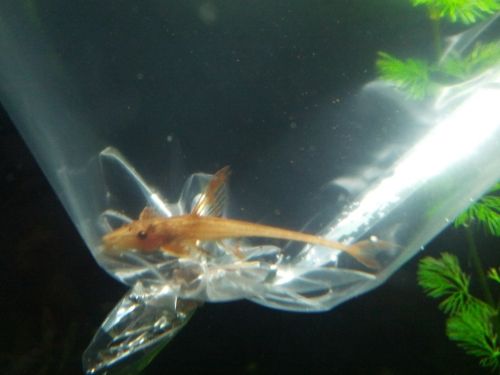 And in the tank a bit later..
And the tank, with random baby plants. Gotta hide that equipment!
---
+ Planted 75 Gallon Amazonian Tank +
Cardinal Tetras -- Rosy Tetras
Ember Tetras -- Silver Hatchetfish
Diptail Pencilfish -- Cories
Bristlenose Pleco
Lyretail Checkerboard Cichlids
Posting Rules

You may not post new threads

You may not post replies

You may not post attachments

You may not edit your posts

---

HTML code is Off

---